Last Updated on July 7, 2021 by Chris
Over the last ten years or so, Funko Pop! toys have gained massive popularity! You can find toy figures based stuff from movies, TV, music, video games, comic books, anime, cartoons, books, and sports. So with that, I'm gonna take a look and see what Funko Pop guitar figures are available and if there are even any lefty ones to buy.
So Who Is Funko?
Funko is a toy company that designs and produces toy figures based on different characters from popular culture. The company began in 1998 when founder Mike Becker started making Funko bobbleheads called Wacky Wobblers. The first of which was the fast-food restaurant mascot Big Boy.
In 2005, Becker sold his company to his friend, current CEO, Brian Mariotti, who then expanded on the different licensed brands. Later in 2010, Funko debuted a new range of figures based on characters from DC Comics. The way that these figures were styled was what would later be the style of their POP! range, which they started selling the following year.
What Is a Funko Pop Figure?
Probably Funko's most popular toy line are the Funko Pop! Vinyl figures, which are based on the Japanese Chibi style. There are literally thousands of different Funko Pop figures available, which includes the Pop! Rocks range. The Funko Pop! Rocks range includes figures that are based on popular bands and musicians.
Let's have a look and see what cool figures are available!
Lefty Funko Pop Guitar Players
I managed to find 8 lefty guitarist Funko Pop figures. Not that many, considering the many thousands of figures available out there, but at least there are some!
Some Funko Pop figures can be bought new for less than $10; some, however, are no longer in production, so have increased in value, so to get one would cost quite a fair bit more than that $10 price tag. These are now collector's items, with some collectors willing to part with hundreds of dollars to get hold of certain figures!
Of these lefty Funko Pops that I've featured here, many of them are now collector's items, so they can command pretty high prices. Most of the other Funko Pop guitar figures featured here are a lot more affordable, though.
Please note: As an Amazon Associate I earn from qualifying purchases, so if you decide to buy anything through any of the links on this page, I'll get a commission at no extra cost to you. I may also earn from other links on this page too. Thank you so much if you do buy anything!
Buying gifts for the guitar player in your life? Or maybe you want to treat yourself. Check this list of the best gifts for guitar players!
Kurt Cobain
Funko have actually released four different Kurt Cobain Funko Pop! Rocks figures back in 2017; my favorite being the Kurt with Sunglasses figure. It's quite rare, however, so expect a fairly hefty price tag!
Funko Pop! Rocks #64 – Kurt Cobain with Sunglasses
This is my favorite of the four Kurt Cobain figures. This one features him wearing his famous white Christian Roth Series 6558 sunglasses. He wore these sunglasses in what was to be Nirvana's final photoshoot, taken by photographer Jesse Frohman in New York, 1993.
Funko Pop! Rocks #65 – Kurt Cobain – Smells Like Teen Spirit
This figure has Cobain in the outfit he wore for the Smells Like Teen Spirit music video, recorded on August 17, 1991.
He is also playing his famed 1969 Lake Placid Blue Fender Competition Mustang, which was known to have a black single coil pickup fitted at the neck and a Seymour Duncan Hot Rails at the bridge. The guitar also features in the video.
This figure is not too rare right now, so it can be found fairly easily.
Funko Pop! Rocks #66 – Kurt Cobain MTV Live and Loud '93
Nirvana performed at Seattle's Pier 48 on December 13, 1993, while promoting their third album In Utero, and this figure shows what Cobain was wearing that night. The concert was edited and broadcast on MTV, but we had to wait 20 years to see and hear the full version.
The concert wasn't released until September 2013, which signified the 20th anniversary of Nirvana's third album.
The figure is fairly common, so you should be able to find it quite easily.
Funko Pop! Rocks #67 – Kurt Cobain – MTV Unplugged '93
This figure features Kurt Cobain dressed as he was during Nirvana's legendary live recording session at the MTV studios in New York on November 18, 1993. His iconic green cardigan which he wore that day was sold at auction in October 2019 for a staggering $334,000! Apparently, it had also never been washed!
The live album Nirvana MTV Unplugged in New York was to be Nirvana's final full-length recording, recorded a few months before Cobain's untimely death, which went on to become one of the most famous live albums in Rock music history.
Cobain played a rare Martin D-18E (only 302 were ever made), which was plugged into a Fender Twin Reverb amp, so it wasn't truly unplugged; this fact was most evident on Nirvana's performance of David Bowie's The Man Who Sold the World.
Buying gifts for the guitar player in your life? Or maybe you want to treat yourself. Check this list of the best gifts for guitar players!
Jimi Hendrix
Funko have released three different Jimi Hendrix Funko Pop! Rocks figures.
Funko Pop! Rocks #53 – Jimi Hendrix Monterey Pop!
This Pop! Rocks figure was released in 2017; it's of Jimi when he performed live at the Monterey Pop Festival on June 18, 1967.
This figure commemorates Hendrix's legendary performance, which is remembered primarily at the conclusion of the song Wild Thing, where he lays his Strat flat on the stage, proceeds to squirt lighter fluid over it and then sets it on fire! After that, Jimi continues to smash the thing up!
Another fairly rare figure, commanding quite high prices at the time of writing.
Funko Pop! Rocks #54 – Jimi Hendrix – Woodstock '69
Also released in 2017, this figure shows Hendrix as he was during his performance at Woodstock on August 18, 1969.
While his outfit resembles what he was wearing that day, his guitar, however, seems to be a different color to the one he used for that performance; the upside down right handed 1968 Olympic White Fender Stratocaster, later given the name Izabella. It's strange then that Funko has given this figure's guitar a natural or butterscotch finish.
The performance at Woodstock is remembered for Hendrix's historical rendition of The Star-Spangled Banner.
Funko Pop! Rocks #01 – Jimi Hendrix Purple Haze
Released in 2011, the Jimi Hendrix Purple Haze figure was the very first in the Pop! Rocks series. This Jimi Hendrix figure is wearing his famous military jacket and probably his iconic guitar; the 1968 Olympic White Fender Stratocaster. Looking online, however, I can't find any photos of him with both military jacket and white Strat!
This being the very first Pop! Rocks figure, is pretty rare, and at the time of writing is worth quite a lot of money! It's amazing really, how much these figures can go for, considering it was originally sold for $8.95!
There was also a 2012 "Metallic Chase" version that now estimated to be worth more than $2400!
Buying gifts for the guitar player in your life? Or maybe you want to treat yourself. Check this list of the best gifts for guitar players!
Paul McCartney
Funko Pop! Rock #28 – Paul McCartney Yellow Submarine
This figure features Paul McCartney in Pop! Vinyl style of his already stylized image in the animated movie Yellow Submarine. It's the only famous left handed guitarist figure in this list that doesn't come with a guitar.
Another rarity, and therefore expensive figure!
Other Funko Pop Guitar Figures
Here are some of the other Funko Pop figures that I think are pretty cool! And much less expensive than the left handed Funko Pop guitar figures!!
Funko POP! Heroes #381 – Death Metal Batman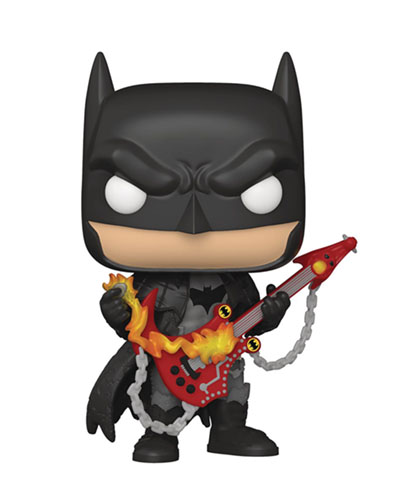 Enter the Dark Multiverse! What makes the already cool Batman even cooler? Making him evil, and giving him a flaming guitar of course!
From DC Comics' Dark Nights: Death Metal limited series by Scott Snyder and Greg Capullo, comes the Funko POP! version of Death Metal Batman.
Does this look awesome or what?!
Funko POP! Rocks #51 – Guns N' Roses – Slash
One of the few musicians who can be recognized purely by his headgear! Slash made his fame as guitarist with Guns N' Roses. In terms of guitars, he is synonymous with the Gibson Les Paul, with several signature models bearing his name.
Funko POP! Rocks #91 – AC/DC – Angus Young

AC/DC's lead guitarist is instantly recognizable by the school uniform he wears during their live shows, as demonstrated here in Funko Pop form! Angus Young is famously a Gibson SG player.
Funko POP! Rocks #57 – Metallica – James Hetfield
Guitarist and vocalist for Thrash Metal legends Metallica, James Hetfield is known for playing ESP guitars. Most notably his ESP Snakebyte on this figure, similar in shape to the Gibson Explorer, which he also has played.
Buying gifts for the guitar player in your life? Or maybe you want to treat yourself. Check this list of the best gifts for guitar players!
Funko POP! Rocks #157 – Slayer – Kerry King
Here's the Slayer founder member and guitarist in Pop! Vinyl form! I love the Dean V guitar and the perfectly smooth, round head!
Funko POP! Rocks #49 – Motorhead – Lemmy Kilmister
The instantly recognizable founder of Motörhead, Lemmy Kilmister was lead singer, bassist, and songwriter for the band. He was known for his overdriven, powerful, rhythmic basslines. He was known for playing Rickenbacker bass guitars and this figure comes with one!
Funko POP! Rocks #121-124 – KISS – Collectors set (These figures are also available separately)
Starchild (Paul Stanley), The Demon (Gene Simmons), Spaceman (Ace Frehley), and Catman (Peter Criss); the original lineup of KISS – what better way to represent Rock 'n' Roll can you get than the black and white faces of these Rock icons?!
Buying gifts for the guitar player in your life? Or maybe you want to treat yourself. Check this list of the best gifts for guitar players!
Funko POP! Rocks #164 – ZZ Top – Billy Gibbons (Dusty Hill version also available)
ZZ Top are possibly as recognizable by their guitarist Billy Gibbons' and bassist Dusty Hill's beards, as they are their music. Drummer Frank Beard is also available as a Funko Pop! Vinyl.
Funko POP! Rocks #79 – Prince – Purple Rain
Dressed in his outfit from the film Purple Rain, this Prince Funko Pop also comes with his iconic Cloud guitar, which was custom made for Prince, who asked for it to be white, with gold hardware, and EMG pickups. It was fitted with an SA Stratocaster pickup at the neck, and an 81 humbucker at the bridge.
Funko POP! Movies #602 – Back to the Future – Marty McFly
In the movie, time traveler Marty McFly travels back in time to 1955. Here he gets immortalized as a Funko Pop, complete with cherry red Gibson ES-345 TDC with Bigsby tremolo. Fun fact; this guitar was not made until 1959!
Check out Marty playing Earth Angel and Johnny B. Goode!
Buying gifts for the guitar player in your life? Or maybe you want to treat yourself. Check this list of the best gifts for guitar players!
Funko POP! Animation #489 – Rick and Morty – Tiny Rick w/Guitar
In the 2nd season episode "Big Trouble in Little Sanchez" of Rick and Morty, Rick transfers his mind to a teenage clone of himself, called Tiny Rick, so that he can kill a vampire! Also in this episode, Tiny Rick grabs a guitar and plays the Tiny Rick song!
Funko POP! Television #357 – Doctor Who – 12th Doctor with Guitar
The 12th Doctor, as portrayed by actor Peter Capaldi in the TV series. One scene has the Doctor playing a Yamaha SGV-800 "Black Sparkle" guitar, riding on top of a tank in medieval England!
Funko POP! Rocks #111 – Post Malone
Although known more for being a singer/rapper, Post Malone also plays guitar. Unfortunately, though, his figure here doesn't have a guitar.
Also, check out his recent tribute to Nirvana live stream COVID-19 fundraiser!
Buying gifts for the guitar player in your life? Or maybe you want to treat yourself. Check this list of the best gifts for guitar players!
Funko POP! Games #503 – Spider-Man – Spider-Punk
A punk-rock inspired, alternate version of Spider-Man; part of the Spider-verse storyline and leader of the Spider-army. He's known for using an electric guitar for both playing punk rock, and attacking Norman Osborn!
Funko POP! Rocks #76 – Ed Sheeran
The English singer/songwriter is a multi-award-winning artist, known for his Martin LX1E acoustic guitar and use of a looper pedal.
Help! They Don't Make the Funko Pop! Vinyl That I Want
What if the Funko Pop figure you're looking for doesn't exist? What can you do?
Well, you have three options:
One thing to do is to get on the Funko website and let them know what they should make by submitting a figure idea on their figure and product suggestion page and then wait to see if they decide to produce it.
If you can't wait for that to happen, you could buy one of Funko's D.I.Y. Pop! Custom figures, which are available as male or female, and make one yourself using modeling clay and paints.
If you're not so artistically minded, you could always see if someone else could make one for you, to your own specifications. There is quite a healthy custom Funko Pop community, ready for a challenge.
Buying gifts for the guitar player in your life? Or maybe you want to treat yourself. Check this list of the best gifts for guitar players!
Final Thoughts
So Funko do produce some lefty guitarist Pop! Vinyl figures, albeit in very small numbers. Just goes to show, there's a Funko Pop Vinyl for almost anything in pop culture.
If you're a fan of Funko Pops in general, there are Funko Pop subscription services available, like the one through Popinabox.us. You get 1, 2, 3, 6, or even 12 brand new Funko Pop figures every month in the mail, with a guaranteed no repeat on the figures they send you!
If you do subscribe, you get access to the VIP Hub where they advertise subscriber only offers such as 10% off ALL Funko items!
So, that's it for my list of Funko Pop guitar figures that I like. Did I miss any left handed Funko Pop! guitar figures? Do you collect Pop! Vinyls? If so, which ones do you have? What's the most money you'd be prepared to spend to get the one you want? Are there any you'd like to have that haven't been made yet? Let us know in the comments below!
23 Essential Funko Pop Guitar Player Figures – Who's Your Favorite?