Last Updated on January 16, 2023 by Chris
The Jamstik is a MIDI guitar and is made by a company called Zivix. They are responsible for the Jamstik Studio MIDI guitar, and the Jamstik Guitar Trainer, but are there any left handed Jamstik guitars?
Recently I featured Manson Guitar Works, which has its MA EVO MIDI guitar, which features an on-board touchpad for controlling MIDI effects. The Jamstik Studio MIDI guitar is a 24 fret electric guitar with full MIDI capabilities, allowing you to track MIDI using an instrument you're familiar with!
Who is Zivix?
Zivix is a Minneapolis, Minnesota startup. In 2013, the company raised over $178,000 via a successful Indigogo campaign to fund its portable digital guitar project; Jamstik.
By 2015, Zivix headed to Kickstarter to update the Jamstik, raising over $813,000 to fund the Jamstik+.
2016 saw the company introduce AirJamz, a Bluetooth guitar pick that allows its user to create music while playing air guitar!
In 2018, another Indiegogo campaign raised over $655,000 to refine its Jamstik even further, launching the Jamstik 7, and the planned Jamstik 12, which was unfortunately shelved, but later evolved to a full-sized Jamstik MIDI guitar.
The new Jamstik Studio MIDI guitar was unveiled at the 2020 NAMM show.
What Do I Think of Jamstik?
I first heard of Jamstik in 2020, but at the time, I had no interest in a MIDI controller, or what I'd do with one. I still don't need one, I don't really do any recording, or play with synth sounds, so I'd say that unless you are specifically looking for a MIDI controller, then you may not really need this.
I suppose if you're reading this, however, then you probably do need one!
Even though I don't need a Jamstik, I do think they're pretty cool and interesting, and you can definitely do a lot with them.
Different Types of Jamstik Guitars
There are just two types of Jamstik guitars; the Jamstik Studio MIDI guitar and the Jamstik Guitar Trainer.
Left Handed Jamstik Guitars
Please note: Some of the links on this page are affiliate links, which means that at no extra cost to you, I may get a small commission if you buy anything when you click through. If you do make a purchase, then thank you so much! It really helps me keep this website going.
Good news for left handed guitarists interested in the Jamstiks; both right handed Jamstiks are available to lefthanders! See below for more details.
Jamstik Studio MIDI Guitar – Lefty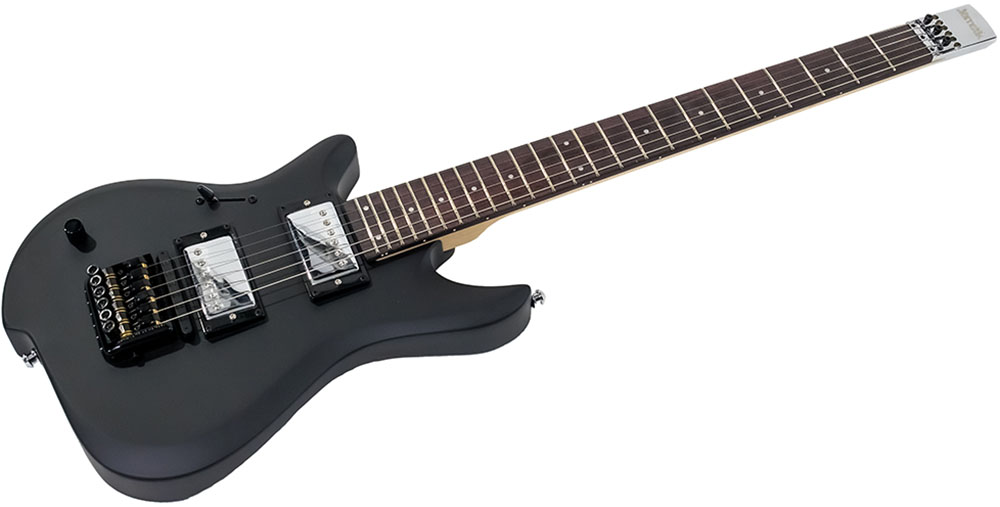 The left handed Jamstik Studio MIDI Guitar is both a regular electric guitar and a MIDI controller all in one handy package.
So you can use this just like a regular electric guitar, using its two humbuckers (with coil tap) and 3-way switch, plugged into your usual amplifiers, pedals, or interfaces using a standard 1/4″ output.
It can also be used as a MIDI controller, using its onboard Hex Pickup, so guitarists interested in producing digital music can use this for tracking or performing with MIDI instruments live or recording into your favorite MIDI-capable Digital Audio Workstation, without having to learn how to play piano/keys.
It was created to be a portable all-in-one performance and recording solution and comes bundled with the Jamstik Creator Plugin, a VST with more than 125 customizable presets and high-quality audio samples, including everything from pianos and synths to strings and bass sounds.
Note: there are no onboard sounds or effects.
Check out GuitarZero2Hero's demo:
$799.99 MSRP, Made in the USA
Specs:
STRINGS: 6
WEIGHT: 5.5lb / 2.5kg
BODY: Mahogany
SCALE: 25.5" / 648mm
NECK: Bolt-On Maple
PROFILE: C-Shape
FINGERBOARD: Rosewood with Mother of Pearl Dot inlays
FINGERBOARD RADIUS: 13.78″ / 350mm
FRETS: 24
NUT WIDTH

: 1.57" / 40mm

NECK PICKUP: LIGHTNING LH-N Humbucker
BRIDGE PICKUP: LIGHTNING LH-B Humbucker
CONTROLS: Volume Knob with Coil Tap, 3-Position Toggle
HARDWARE COLOR: Black
FINISH: Matte Black
CONNECTIVITY: Bluetooth, USB-C for MIDI Out & Charging, 3.5mm TRS-MIDI Out Option
IN THE BOX: Jamstik Creator Software (Mac/PC), Padded Gig Bag, USB C to A cable & adapter, 3.5mm TRS-MIDI cable, 1/4″ guitar cable, Strap Locks, Allen Keys, Manual, Pick
Check price/availability at:
Jamstik Guitar Trainer – Lefty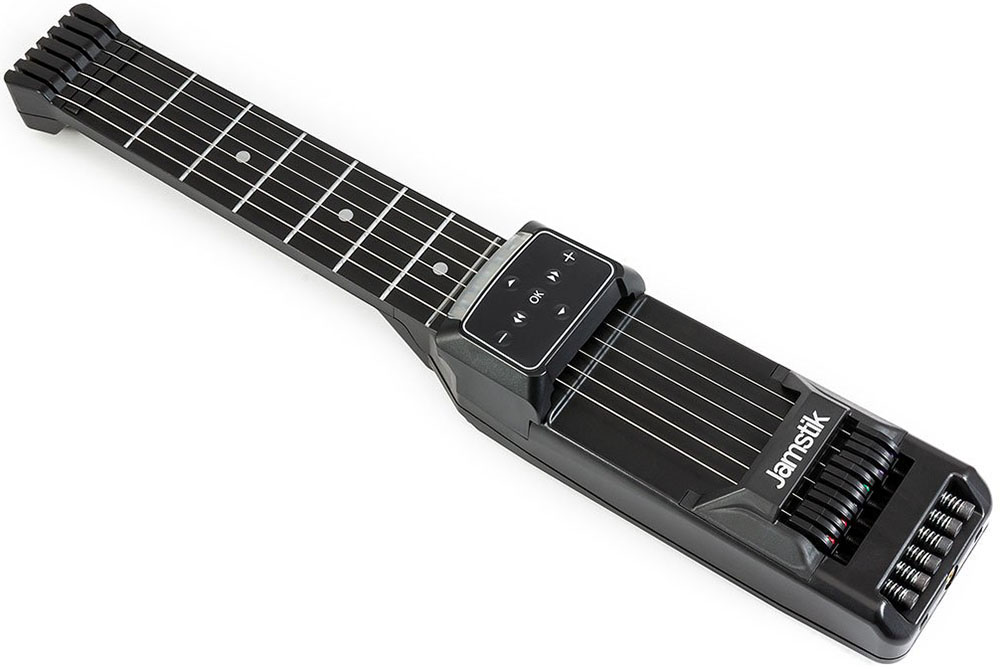 The Jamstik Guitar Trainer was designed with beginner guitarists in mind, enabling them to learn guitar on the move.
It's a highly portable guitar instruction tool, which comes bundled with apps and software to use in conjunction with either your Apple iPad or iPhone, or an OSX, Windows 10, or Chromebook device.
Used in conjunction with the Jamstik Portal app, or the online Jamstik Portal, players can learn where on the fingerboard to place their fingers, as shown in real-time on their screen, helping them to learn chords and play songs.
You can also use it with any MIDI-capable Digital Audio Workstation.
$199.99 MSRP, Made in the USA
STRINGS: 6
WEIGHT: 1.38 kg
BODY: Plastic
LENGTH: 18″
NECK: Plastic
FINGERBOARD: Plastic
FRETS: 24
HARDWARE COLOR: Black
FINISH: Black
CONNECTIVITY: Bluetooth 4.0 and optional USB
IN THE BOX: 4 AA Batteries, Guitar Strap, Strap Pegs, Allen Key, 2 Picks, Manual, Warranty, Padded Travel Case (Bundle Only), Add-on Body (Bundle Only)
Left Handed Jamstik Bass Guitars
At the time of writing, there are no left handed Jamstik bass guitars available. In fact, they don't make right handed ones either.
Final Thoughts
I think it's fantastic that any Jamstik guitars available to right handers are also available to lefthanders, even if there are only two different models!
If I had to complain, then I guess it'd be that lefties only get a black version of the Studio MIDI Guitar, whereas righties also get the additional choice of orange, blue, mint, pink, and white finishes.
Both Studio MIDI Guitar and Guitar Trainer are available to lefties, so the disparity between left and right in this case is much less.
If you're in the market for a left handed MIDI guitar, then this could be the one for you!
What are your thoughts on the Jamstik guitars? Ever try one? Let us know in the comments below.
Photo credits: jamstik.com