Last Updated on March 12, 2023 by Chris
Who is the most famous guitar company? To many, there are probably two that come to mind; Gibson and Fender. Pretty much any guitar player will have heard of these two giants of guitar production.
We've already checked out Gibson, so let's focus on what left handed Fender guitars are available.
March 2023 Update: Fender have recently released two new left handed models in their Player Plus Series! These being the Player Plus Stratocaster and the Player Plus Precision Bass; both available in three colors. Keep reading for more details.
Fender guitars are one of the most iconic and famous guitar brands out there. Throughout the decades, Fender has produced many classic guitar designs, and numerous famous guitar players have been associated with them.
Jimi Hendrix, Kurt Cobain, Dick Dale, and Courtney Barnett are some famous left handed guitarists who play them. Stevie Ray Vaughan, Eric Clapton, David Gilmour, and Yngwie Malmsteen are just a few righties too, but the list goes on and on!
Check out this live performance of Stevie Ray Vaughan performing "Texas Flood". One of the greatest guitarists ever in my mind, and guess what? He's a Fender Stratocaster player!
Fender is also well known for owning the Squier brand, which they acquired in 1965.
Other Fender acquisitions and partnerships include EVH, Charvel, Jackson, and Gretsch.
Go straight to the left handed Fender guitars.
Please note: As an Amazon Associate I earn from qualifying purchases, so if you decide to buy anything through any of their links, I'll get a commission at no extra cost to you. I may also earn from other links on this page too. If you do make a purchase, then thanks so much!
Who Are Fender Guitars?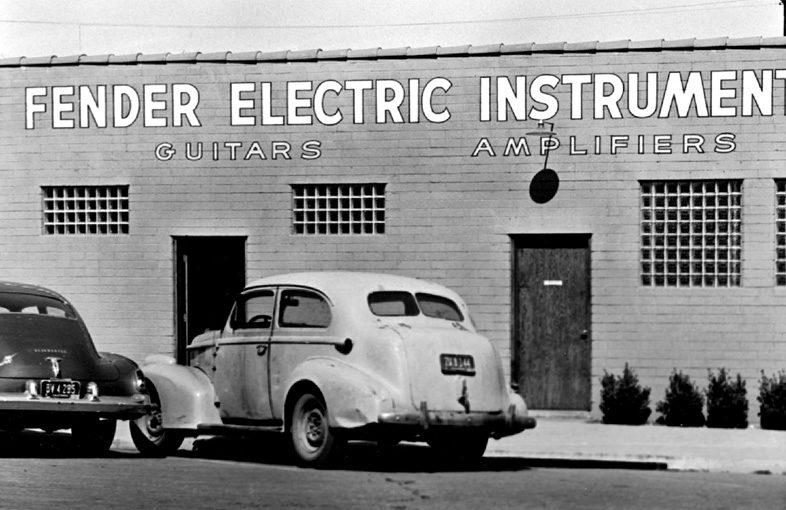 Fender Beginnings
Leo Fender started out fixing faulty amplifiers in a small workshop in Fullerton, California. Teaming up with a local musician Doc Kaufmann in 1943, they formed the K&F Manufacturing Corp., and produced amps and lap steel guitars.
A few years later, they parted company, with Leo Fender starting the Fender Electric Instrument Company in 1946 building amps; namely the Princeton, Deluxe, and Professional, which were the first to bear the Fender name; they proved popular and were highly regarded.
After this, Fender went on to develop a new solid-bodied guitar. At this time, the big artists were all playing hollow-bodied guitars.
In the fall of 1950, he introduced the Fender Broadcaster, his new solid-body guitar that had none of the feedback problems of the hollow-body guitars. It was able to produce a bright, clear tone at high volume, very much the requirement for instruments for performing on stage.
In 1951, Fender was approached by Gretsch, who were concerned that the guitar's name was too similar to their Broadkaster drumkit. They asked Fender to change the name, so he decided to remove the Broadcaster title, and continued to produce the guitar without a name.
These guitars were later named Nocasters, as they were sold with no model name on the headstock, and have since become highly sought after.
Birth of the Telecaster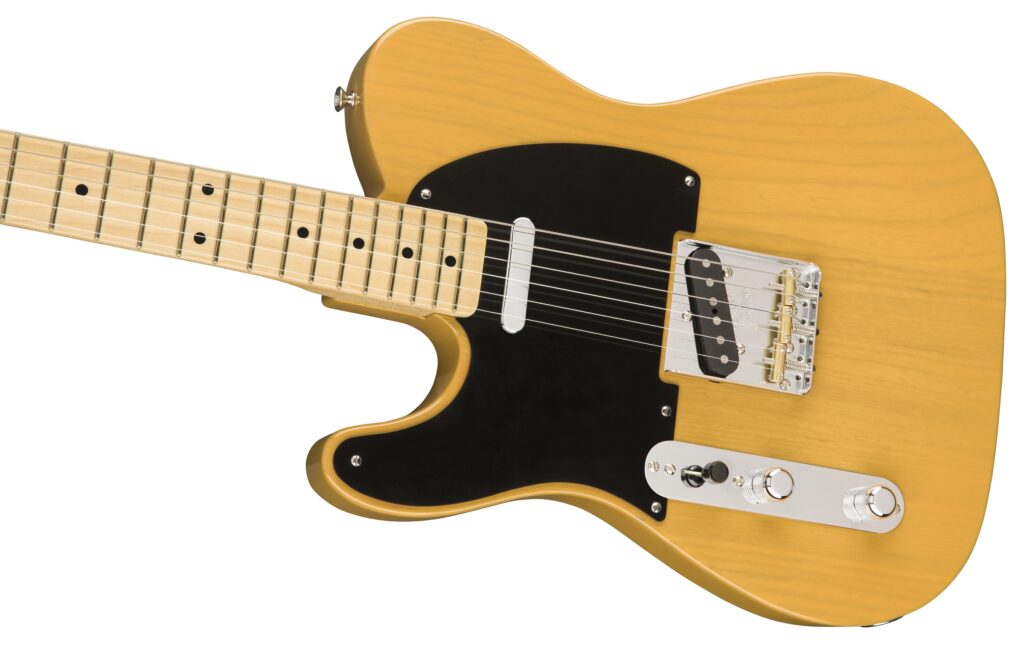 By September 1951, Fender chose the name Telecaster, which soon appeared on the headstocks of these fine instruments. They continue to be so named to this day.
The Telecaster was the first mass-produced solid-body guitar; it became known for its bright, clean sound, and it would go on to become very popular with many guitarists, from R&B, Rock & Roll, and Country.
The same year, Fender also introduced the Precision Bass, as well as the Bassman amp, helping musicians free themselves from the heavy and bulky upright bass used by many of the big Swing bands of the time, making it easier for smaller bands to be heard. These new electric bands ushered in a new age of Rock and Roll, and the rest is history!
Three years on, Fender released what has probably become the most popular and enduring electric guitar ever made; the Stratocaster. This new design was like no other guitar before. Its futuristic looks incorporated a double cutaway and a sleek, smooth, contoured body, making it easy and comfortable to play. These together with Fender's new synchronized floating tremolo made this influential instrument one of the most versatile guitars around.
Fender later went on to release more classic guitars and amps, including both Jazzmaster and Jaguar guitars, the Mustang, as well as the Jazz Bass, growing the brand to become one of the top names in guitar history.
CBS Era
Due to ill health, Leo Fender decided to sell his company to television and radio company CBS (Columbia Broadcasting System) in 1965. As with Nocasters, pre-CBS Fender guitars have become highly sought-after instruments. Many regard these instruments as the pinnacle of Fender guitars' high quality, as well as being historically important.
After selling Fender to CBS, Leo Fender went on to design instruments for Music Man for several years, before starting G&L Musical Instruments in 1979 with co-founder George Fullerton, taking each co-founder's first initial for the brand's name.
During the CBS era, Fender's popularity took a bit of a dive, as many felt that the quality of their instruments was not as good as it used to be.
By the 1980s, CBS recruited John McLaren, Dan Smith, and William Schultz from Yamaha Musical Instruments to try to turn Fender's fortunes around. The only way they thought this could be done, was to start over and re-learn how to make Fender guitars the proper way.
Post-CBS
By 1985, Schultz along with a group of Fender employees and investors bought the Fender company from CBS for $12.5M and renamed it the Fender Musical Instruments Corporation.
Unfortunately, the sale didn't include many of Fender's patents or the original Fullerton factory, so production of Fender instruments in the US had to be shut down. So for a few months, all Fender guitars were made in Japan! Later that year, Fender opened their flagship factory and headquarters in Corona, California, followed by another manufacturing plant in Ensenada, Mexico in 1987.
That same year, Fender opened its Custom Shop in Corona, California, and the following year they announced the first Fender artist signature guitars; the Eric Clapton Signature Stratocaster and the Yngwie Malmsteen Signature Stratocaster.
In 1991, Fender's corporate headquarters moved from Corona, California to Scottsdale, Arizona, and the instruments made at Ensenada, Mexico became Fender's primary export line, with the Japanese-made Fenders being made specifically for the Japanese market, though a small number of these are available outside of Japan.
Present Day Fender
More recently, the company launched Fender Digital in 2015, focusing on digital innovation. One standout development of Fender Digital's is their digital learning platform, Fender Play, launched in 2017, which is aimed at beginners and intermediate players wanting to improve their playing.
Fender has also branched out into using digital technology to connect their smartphone app with their Mustang GTX, Mustang GT, and Rumble amplifiers, enabling users to edit their sound from their phones and saving presets to the cloud.
In 2019, Fender launched its Fender Next program. New and emerging artists can apply to join Fender Next, and if chosen by Fender, they'll be provided with gear and support, bringing their music to a wider audience.
Fender has been focusing a lot more on getting their name out to a younger audience with these innovations, and in doing so, they continue to stay relevant in today's age.
What Do I Think of Fender Guitars?
One of the first guitar brands I'd ever heard of was Fender. Back in the days of catalog shopping, before I knew I wanted to play guitar, I used to look at the guitars being sold in catalogs, and there'd always be a Fender Stratocaster, as well as whatever the cheap copy was at the time (and of course, there'd only be right-handed guitars available).
However, this was before I even knew that left handed guitars were a thing. So I'd just see them in the catalog and know that I wanted one!
Of course, when I actually started playing guitar and started buying guitar magazines and going to guitar shows, I couldn't help but hear about Fender.
Many guitar players that I liked played Fender guitars, including Stevie Ray Vaughan, Jimi Hendrix, Rory Gallagher, Joe Strummer, Andy Summers, John Squire, and Kurt Cobain.
I've been a fan of Fender ever since those early days; the Stratocaster at first, but in recent years, I have become a big fan of Jaguars and Jazzmasters!
Different Types of Fender Guitars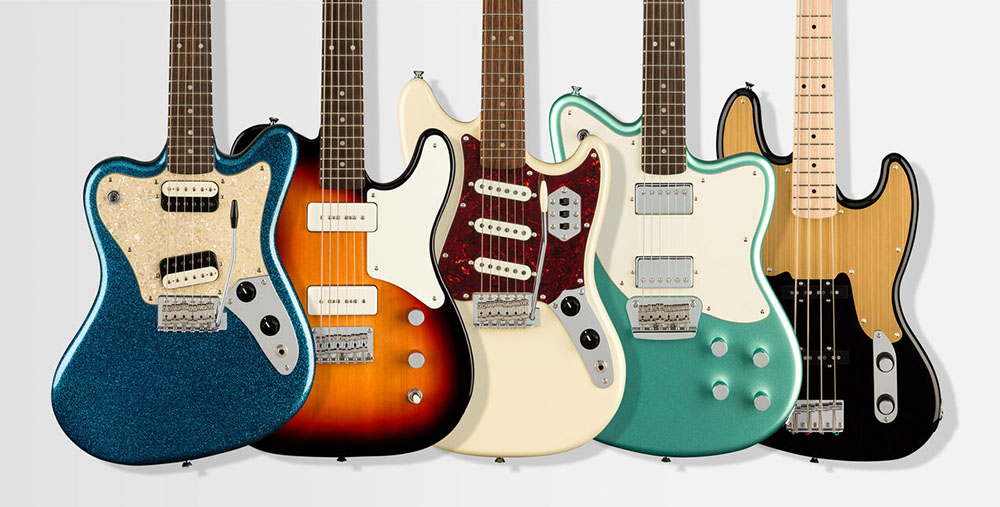 Electric Guitars
Aerodyne Special Series
American Vintage II
American Professional II
American Ultra
American Ultra Luxe
American Original
American Performer
75th Anniversary
Vintera
Noventa
JV Modified
Player Plus
Player
Artist
Made in Japan
Limited Edition
Fender Custom Shop
Acoustic Guitars
American Acoustasonic
California
Paramount

Classic Design

Artist Design

Fender Alternative
Bass Guitars
American Vintage II
American Professional II
American Ultra
American Original
American Performer
Vintera
Player Plus
Player
Artist
Made in Japan
Limited Edition
Fender Custom Shop
Are All Fender Guitars Made in the USA?
In short, no.
Fender started out making all of its guitars in Fullerton, California.
By late 1981, Fender was also making guitars in Japan at the FujiGen Gakki Corp. manufacturing plant. These guitars were all labeled "MADE IN JAPAN" and were mainly for the Japanese market, though some of these were also sold overseas. Many players said that the quality of these instruments rivaled that of their USA-made counterparts.
In 1987, a factory was also opened in Ensenada, Mexico. These days, the Fender Player guitars and basses are made in Mexico, along with Player Plus, 75th Anniversary (excludes 75th Anniversary Commemorative guitars), Vintera, Noventa, and some of the Artist series.
Some Fender guitars are made in Far Eastern countries such as Indonesia and China. The Special Edition Custom Telecaster® FMT HH, as well as many of Fender's acoustic guitars, are made in the Far East.
Left Handed Fender Electric Guitars
At the time of writing, there are nine solid-body and seven acoustic left handed Fender guitars. There're also four left handed Fender bass guitars and one left handed Acoustasonic guitar available. I've included last year's models too as some of them are still available at some retailers.
I've also included Fender's "Made in Japan" guitars as well, as you may be able to get a hold of them from some non-Japanese retailers. Of these, there is one Stratocaster and one Telecaster.
Please note: Some of the links on this page are affiliate links, which means that at no extra cost to you, if you decide to make a purchase when you click through I may get a small commission. If you do buy something, then I'd like to say "thank you so much"! It really does help me keep this website going.
Shop Rare and Boutique Guitar Effects Pedals at PerfectCircuit.com!
Fender Player Plus Stratocaster



$1099.99 MSRP, Made in Mexico
Specs:
STRINGS: 6
SCALE: 25.5″ (647.7 mm)
BODY: Alder
NECK: Bolt-on Maple with Single Action, Head Adjust Truss Rod
NECK PROFILE: Modern "C"
NECK FINISH: Satin Urethane
FINGERBOARD: Pau Ferro with White Pearloid Dot Inlays
FINGERBOARD RADIUS: 12″ (305 mm)
FRETS: 22 Medium Jumbo
NUT TYPE: Synthetic Bone
NUT WIDTH: 1.685″ (42.8 mm)
BRIDGE: 2-Point Synchronized Tremolo with Block Saddles
NECK PICKUP: Player Plus Noiseless Strat
MIDDLE PICKUP: Player Plus Noiseless Strat
BRIDGE PICKUP: Player Plus Noiseless Strat
CONTROLS: Master Volume, Tone 1. (Neck/Middle Pickups), Tone 2. (Bridge Pickup), 5-Position Blade
TUNERS: Deluxe Cast/Sealed Locking (all short posts)
HARDWARE COLOR: Nickel/Chrome
FINISH: Gloss Polyester – 3-Color Sunburst, Olympic Pearl, Tequila Sunrise
Check price/availability at:
Fender American Vintage II 1957 Stratocaster Left-Hand



$2,099.99 – $2,249.99 MSRP, Made in USA
STRINGS: 6
SCALE: 25.5″ (648 mm)
BODY: Ash
NECK: 4-Bolt 1-Piece Maple with Vintage-Style Butt Adjust Truss Rod
NECK PROFILE: 1957 "V"
NECK FINISH: Gloss Nitrocellulose Lacquer
FINGERBOARD: Maple with Black Dot Inlays
FINGERBOARD RADIUS: 7.25″ (184.1 mm)
FRETS: 21 Vintage Tall
NUT TYPE: Bone
NUT WIDTH: 1.650″ (42 mm)
BRIDGE: Pure Vintage Synchronized Tremolo with Bent Steel Saddles
NECK PICKUP: Pure Vintage '57 Single-Coil Strat
MIDDLE PICKUP: Pure Vintage '57 Single-Coil Strat
BRIDGE PICKUP: Pure Vintage '57 Single-Coil Strat
CONTROLS: Master Volume, Tone 1. (Neck/Middle Pickup), Tone 2. (Bridge Pickup), 5-Position Blade
TUNERS: Fender Vintage-Style
HARDWARE COLOR: Nickel/Chrome
FINISH: Gloss Nitrocellulose Lacquer – Sea Foam Green, 2-Color Sunburst, Vintage Blonde
Fender American Vintage II 1961 Stratocaster Left-Hand



$2,099.99 MSRP, Made in USA
STRINGS: 6
SCALE: 25.5″ (648 mm)
BODY: Alder
NECK: 4-Bolt Maple with Vintage-Style Butt Adjust Truss Rod
NECK PROFILE: 1961 "C"
NECK FINISH: Gloss Nitrocellulose Lacquer
FINGERBOARD: Slab Rosewood with Clay Dot Inlays
FINGERBOARD RADIUS: 7.25″ (184.1 mm)
FRETS: 21 Vintage Tall
NUT TYPE: Bone
NUT WIDTH: 1.650″ (42 mm)
BRIDGE: Pure Vintage Synchronized Tremolo with Bent Steel Saddles
NECK PICKUP: Pure Vintage '61 Single-Coil Strat
MIDDLE PICKUP: Pure Vintage '61 Single-Coil Strat
BRIDGE PICKUP: Pure Vintage '61 Single-Coil Strat
CONTROLS: Master Volume, Tone 1. (Neck/Middle Pickup), Tone 2. (Bridge Pickup), 5-Position Blade
TUNERS: Pure Vintage Single Line "Fender Deluxe"
HARDWARE COLOR: Nickel/Chrome
FINISH: Gloss Nitrocellulose Lacquer – Olympic White, 3-Color Sunburst, Fiesta Red
Fender American Vintage II 1951 Telecaster Left-Hand
$2,249.99 MSRP, Made in USA
STRINGS: 6
SCALE: 25.5″ (648 mm)
BODY: Ash
NECK: 4-Bolt 1-Piece Maple with Vintage-Style Butt Adjust Truss Rod
NECK PROFILE: 1951 "U"
NECK FINISH: Gloss Nitrocellulose Lacquer
FINGERBOARD: Maple with Black Dot Inlays
FINGERBOARD RADIUS: 7.25″ (184.1 mm)
FRETS: 21 Vintage Tall
NUT TYPE: Bone
NUT WIDTH: 1.650″ (42 mm)
BRIDGE: Pure Vintage 3-Saddle Tele with Brass Barrel Saddles, Serialized
NECK PICKUP: Pure Vintage '51 Single-Coil Tele
BRIDGE PICKUP: Pure Vintage '51 Single-Coil Tele
CONTROLS: Master Volume, Master Tone, 3-Position Blade
TUNERS: Pure Vintage Single Line "Fender Deluxe"
HARDWARE COLOR: Nickel/Chrome
FINISH: Gloss Nitrocellulose Lacquer – Butterscotch Blonde
Fender American Original '50s Stratocaster

$2,249.99 MSRP, Made in USA
Specs:
STRINGS: 6
SCALE: 25.5″ (648 mm)
BODY: Ash
NECK: Bolt-on Maple with Vintage-Style Truss Rod
NECK PROFILE: Soft "V"
NECK FINISH: Gloss Nitrocellulose Lacquer
FINGERBOARD: Maple with Dot Inlays
FINGERBOARD RADIUS: 9.5″ (241 mm)
FRETS: 21 Vintage Tall
NUT TYPE: Bone
NUT WIDTH: 1.650″ (42 mm)
BRIDGE: Pure Vintage 6-Saddle Synchronized Tremolo
NECK PICKUP: Pure Vintage '59 Single-Coil Strat
MIDDLE PICKUP: Pure Vintage '59 Single-Coil Strat
BRIDGE PICKUP: Pure Vintage '59 Single-Coil Strat
CONTROLS: Master Volume, Tone 1. (Neck Pickup), Tone 2. (Bridge/Middle Pickup), 5-Position Blade
TUNERS: Pure Vintage Single Line "Fender Deluxe"
HARDWARE COLOR: Nickel/Chrome
FINISH: Gloss Nitrocellulose Lacquer – White Blonde
Check price/availability at:
Fender American Ultra Stratocaster



$2,149.99 MSRP, Made in USA
Specs:
STRINGS: 6
SCALE: 25.5″ (648 mm)
BODY: Alder
NECK: Bolt-on Maple
NECK PROFILE: Modern "D"
NECK FINISH: Ultra Satin Urethane with Gloss Headstock Face
FINGERBOARD: Maple or Rosewood (depending on finish) with Rolled Edges and Pearloid Dot Inlays
FINGERBOARD RADIUS: 10″ to 14″ Compound Radius (254 mm to 355.6 mm)
FRETS: 22 Medium Jumbo
NUT TYPE: Bone
NUT WIDTH: 1.685″ (42.8 mm)
BRIDGE: 2-Point Deluxe Synchronized Tremolo with Pop-In Arm
NECK PICKUP: Ultra Noiseless Vintage Strat
MIDDLE PICKUP: Ultra Noiseless Vintage Strat
BRIDGE PICKUP: Ultra Noiseless Vintage Strat
CONTROLS: Master Volume (with S-1™ Switch), Tone 1. (Neck/Middle Pickups), Tone 2. (Bridge Pickup), 5-Position Blade
SWITCHING: S-1 Switch Down: Position 1. Bridge & Neck. Position 2, 3, or 4: All 3 Pickups On. Position 5. Bridge & Neck
TUNERS: Deluxe Cast/Sealed Locking
HARDWARE COLOR: Nickel/Chrome
FINISH: Gloss Urethane – Ultraburst, Arctic Pearl, Mocha Burst, Texas Tea, Cobra Blue
Check price/availability at:
Fender American Original '50s Telecaster

$2,149.99 MSRP, Made in USA
Specs:
STRINGS: 6
SCALE: 24″ (610 mm)
BODY: Ash
NECK: Bolt-on Maple with Vintage-Style Heel Adjust Truss Rod
NECK PROFILE: 1952 "U"
NECK FINISH: Gloss Nitrocellulose Lacquer
FINGERBOARD: Maple with Dot Inlays
FINGERBOARD RADIUS: 9.5″ (241 mm)
FRETS: 21 Vintage Tall
NUT TYPE: Bone
NUT WIDTH: 1.650″ (42 mm)
BRIDGE: 3-Saddle American Vintage Strings-Through-Body with Brass Saddles
NECK PICKUP: Pure Vintage '52 Single-Coil Tele
BRIDGE PICKUP: Pure Vintage '52 Single-Coil Tele
CONTROLS: Master Volume, Master Tone, 3-Position Blade
TUNERS: Pure Vintage Single Line "Fender Deluxe"
HARDWARE COLOR: Nickel/Chrome
FINISH: Gloss Nitrocellulose Lacquer – Butterscotch Blonde
Check price/availability at:
Fender American Original '60s Stratocaster

$2,099.99 MSRP, Made in USA
Specs:
STRINGS: 6
SCALE: 25.5″ (648 mm)
BODY: Alder
NECK: Bolt-on Maple with Vintage-Style Heel Adjust Truss Rod
NECK PROFILE: '60s "C"
NECK FINISH: Gloss Nitrocellulose Lacquer
FINGERBOARD: Round-Lam Rosewood with 7mm Pearloid Dot Inlays
FINGERBOARD RADIUS: 9.5″ (241 mm)
FRETS: 21 Vintage Tall
NUT TYPE: Bone
NUT WIDTH: 1.650″ (42 mm)
BRIDGE: Pure Vintage 6-Saddle Synchronized Tremolo
NECK PICKUP: Pure Vintage '65 Gray-Bottom Single-Coil Strat
MIDDLE PICKUP: Pure Vintage '65 Gray-Bottom Single-Coil Strat
BRIDGE PICKUP: Pure Vintage '65 Gray-Bottom Single-Coil Strat
CONTROLS: Master Volume, Tone 1. (Neck Pickup), Tone 2. (Bridge/Middle Pickup), 5-Position Blade
TUNERS: Pure Vintage Single Line "Fender Deluxe"
HARDWARE COLOR: Nickel/Chrome
FINISH: Gloss Nitrocellulose Lacquer – Olympic White
Check price/availability at:
Fender American Professional II Jazzmaster