Last Updated on August 15, 2023 by Chris
Whatever the occasion, be it Christmas, a birthday, or Valentine's Day, it can be a difficult task to think of the best presents to buy for your guitar-playing loved ones. If you know any guitarists and are wondering what the best gifts for guitar players are, take a look at this list. You can ditch the idea of buying them a new pair of guitar socks or musical tie, and get some of these essential gifts instead!
This list is ideal for Christmas gifts for guitarists, but it's just as handy if you're looking to buy some guitar Valentine gifts, birthday gifts for guitar players, or even for Father's Day or Mother's Day.
If you're not a guitarist yourself and don't have much knowledge when it comes to guitars, then this list of the best gifts for guitar players could come in handy. If you do play guitar, then you may even want to buy a nice gift for yourself!
I've split this gift guide for guitarists into four different price ranges to suit a number of different budgets. Also, I've decided against adding any guitars to the list, as the type of guitars a guitarist might want can be a very personal and subjective thing.
So, let's get on with it! Here's my list of the 31 best gifts for guitar players.
Under $30 Gifts For Guitar Players
First of all, let's take a look at some of the less expensive presents for guitar players. These could make good stocking fillers at Christmas, or if you're on a limited budget, or you need something quick and easy to get hold of.
Please note: As an Amazon Associate I earn from qualifying purchases, so if you decide to buy anything through any of the links on this page, I'll get a commission at no extra cost to you. I may also earn from other links on this page too. Thank you so much if you do buy anything!
Guitar Strings
One of the most purchased guitar-related products ever are guitar strings. Every guitarist needs guitar strings!
Whether it's to replace broken strings, or as part of a guitar maintenance routine, a pack or more of new strings will make any guitar sound fresh and new! It's a perfect, yet inexpensive gift to give to any guitar player.
Personally, I use Ernie Ball Skinny Top Heavy Bottom and Ernie Ball Super Slinky strings on my guitars, but there are a wide variety of string gauges (string thickness for you non-guitarists), so it may be worth having a nose at what gauge strings your guitarist friend or loved one uses before deciding to buy.
Generally, strings are available as a single set of six strings, a pack of three sets of six strings, or even a pack of six sets. Sometimes even more!
No guitarist should ever be disappointed at receiving strings as a gift.
Shop for guitar strings at:
Shop for bass strings at:
Image credit: ernieball.com
A Guitar T-Shirt
T-shirts are one of the most popular and enduring items of clothing around. Everyone loves a t-shirt, don't they?
For many decades, people have been wearing t-shirts with an almost infinite variety of designs to help reflect their personalities and tastes. So buying a t-shirt for a guitarist is an ideal gift to get.
Musicians are one group of people who, the vast majority of which, love wearing music-related t-shirts. I know I do!
Check out these guitar shirts for some great designs!
One of my favorites is this one; Pandas of Death Metal: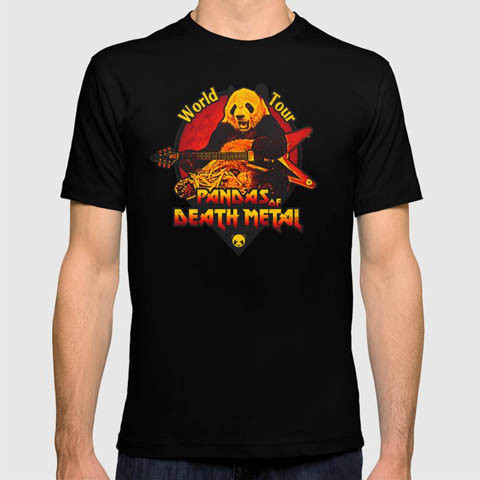 A Bottle of Lemon Oil
Lemon oil is an essential part of a guitarist's guitar maintenance routine. As a guitar gets played, the fingerboard can pick up all sorts of dirt, dust, and grime, mixed with the sweat of a long practice session!
As this stuff dries out, it can form a horrible layer of crud along the fingerboard, making it feel nasty and very unsmooth to play.
Many guitarists use lemon oil to clean rosewood or ebony fingerboards, which helps to condition and protect them.
I personally use Jim Dunlop Lemon Oil, but many brands are available; the D'Addario Planet Waves Lemon Oil is one of the most popular and reasonably priced brands. One thing to remember is that it's best to buy a guitar lemon oil, rather than pure lemon oil, as guitar lemon oil contains other oils too, such as mineral oil, that help with the cleaning of the fingerboard.
Check price at:
Image credits: jimdunlop.com, daddario.com
Fast Fret String Cleaner
A tin of Fast Fret String Cleaner is a brilliant gift to help lubricate and protect a guitar's strings. A great addition to add to a guitarist's guitar maintenance routine. Just run the applicator up and down the strings, fretboard, and even the back of the guitar neck.
This protects the strings from all the sweat and dead skin that comes off from a hard session of playing, helping them to last longer.
The guitarist in your life's fingers will glide along the strings, and they'll feel silky smooth to the touch! The first time I tried this out, I was amazed at how smooth everything was afterward. That's one satisfying feeling!
Check price at:
A Funko Pop! Figure
Funko Pop! figures have become ridiculously popular in the last ten years or so, with literally several thousand different celebrities, musicians, TV, movie, and comic book characters being made into a Funko Pop! figure.
They have a very distinctive look, using the Japanese Chibi illustrative style, these figures have grown exponentially in popularity.
Get a Funko Pop! figure of your guitar-loving friend's favorite musician or guitar-playing celebrity/character. There are thousands to choose from!
One of my favorites is Funko Pop! Rocks #64 – Kurt Cobain with Sunglasses. This one is pretty rare though and can cost quite a lot!
For a selection of guitar-playing Funko Pop! figure ideas for your friends or loved ones, check out Lefty Guitarist's favorite Funko Pop! figures.
Another favorite of mine, and a whole lot less expensive, is the Funko Pop! Rocks #91 – AC/DC – Angus Young figure.
Check price at:
Schaller Security S-Locks
Imagine the scene… Your guitarist friend is playing the show of their lives. The crowd is going wild! They're chanting along, in time with the music. Your friend breaks out into an amazing display of dexterity, and sonic wizardry! A wildly impressive solo erupting from the fingers of your musical genius friend.
Then, suddenly, CRASH! Their guitar strap somehow slips from the guitar, and the guitar drops to the stage like a ton of bricks, silencing the crowd!
No guitarist wants their guitar to smash onto the floor in the middle of a performance. With a traditional guitar strap, your strap could come loose from the strap button at any time, especially in the middle of an energetic performance. Help keep that guitar securely around your guitarist friend's neck with a quality set of Schaller Security straplocks!
Check price at:
Guitar Gig Bag
Playing the guitar is great fun! And as a guitarist, we love getting new stuff; accessories, effects, tuners, cables, and much more. This stuff can build up over time and can become a real pain to transport from place to place.
It definitely helps to have something to carry these things around in, maybe to a show, or to a practice session. A good gig bag will come in handy.
Whether it be a dedicated bag for all these extra things or a guitar bag with big ol' pockets, one thing's for sure, you can never have enough space.
A gig bag is a very handy item to give to your favorite guitar-playing friends and loved ones!
Shop for gig bags at:
Image credit: thomann.de
String Swing Guitar Hanger Wall Mount
Doesn't it look great, to walk into a guitar store, and see all of those guitars everywhere? Some of them are on stands, and many more hanging on the wall. A massive wall of guitars is an awesome sight to behold!
Guitars look pretty cool when hanging on a wall, especially if there are several of them next to each other. It's also a fantastic way to store guitars at home; it looks great and makes guitars easily accessible for when it's time to practice, while at the same time freeing up some much-needed floor space.
So why not get a few of these for your guitar-playing friend to display their cool axes on their wall?
Check price at:
Image credit: stringswing.com
Guitar Picks
Another guitar product that many guitar players use is the humble guitar pick, or plectrum. Of course some guitarists go the finger-picking route, but the guitar pick is one of the most used guitar items out there.
Due to the nature of guitar picks, they need to be relatively small, so they're pretty easy to lose. I don't know how many I've lost over the years, but I've definitely found it very handy to have a few spares.
They're pretty cheap too, and make a great stocking filler at Christmas time.
These D'Addario picks are one of the most popular packs of picks out there. There are also guitarist signature guitar picks, such as these John Petrucci picks or these Steve Vai picks.
For an extra personal touch, and for a few dollars more, you can even buy personalized guitar picks for your friend or loved one.
Check price at:
Image credit: daddario.com
Personalized Capo
Why stop at a personalized guitar pick, when you can go one further and get your guitar-loving friend a personalized capo.
For the non-guitarists out there, a capo is a clamp that fastens across all the strings of the guitar at any point up the guitar neck. This raises the pitch of the strings, which raises their tuning, usually to raise the guitar's pitch to suit the singer's voice.
Capos are great little devices, especially for learners, as you can learn more songs, even if you don't know many chords, as you can reuse chord shapes to play at different tunings.
Shop for Personalized Capos on Etsy
Image credit: etsy.com
Guitar Stand
A new guitar stand is a good safe option when buying gifts for guitar players. They allow us guitarists to keep our guitars relatively safe and within easy reach.
Some guitarists, if they don't have a guitar stand, tend to just stand their guitars upright on the floor and leaning against an amplifier or wall. If it's a hard floor, then it's possible that they could damage the strap button on the guitar, which could, over time, cause the guitar strap to unexpectedly slip off; another reason why you might want to buy them some straplocks as well!
Apart from that, guitars aren't the most stable things to stand up by themselves and can easily fall over when knocked. So, to prevent any damage being done to the strap button, or any accidental falls, get your friend a good guitar stand!
Shop for guitar stands at:
Image credit: thomann.de
Pick-a-Palooza Pick Punch / Plectrum Maker
Guitarists often drop and lose their guitar picks, and it's pretty annoying if you turn up to practice with your band, only to find that you've forgotten to bring any with you.
With this device, anyone can make a guitar pick out of any card or thin plastic material. It's so easy; the Pick-a-Palooza is very much like an ordinary office hole punch, but instead of making little round holes in paper, it makes bigger guitar pick shaped holes in plastic, giving you a perfectly formed guitar pick to play with!
Anything from credit cards, gift cards, toy packaging, carton lids, CDs, DVDs, and more can all be used to make a guitar pick.
It even comes with a leather guitar pick holder key chain that holds up to ten picks, and some strips of plastic to get you started.
Your guitar-playing friend won't be without a guitar pick ever again! Unless of course, they forget their pick punch too!
Image credit: pickapalooza.com
A Glass, Brass, Steel or Ceramic Slide
There's nothing quite like the sound of slide guitar. It's a very cool sound if you ask me. Evoking the sound of the Blues of the Mississippi Delta, or the relaxing Hawaiian Guitar style, it's hard to deny that slide guitar has a unique and memorable sound that makes you sound pretty impressive if you learn to do it right.
Blues guitarists such as Elmore James and Muddy Waters helped popularize the slide guitar technique and became highly influential on many players such as Ry Cooder, Duane Allman, as well as Rolling Stones guitarists Brian Jones, Keith Richards, Mick Taylor, and Ronnie Wood.
Here's Joe Bonamassa playing Ry Cooder's Feelin' Bad Blues:
The slide is widely used in Blues, Rock, Country, and many other genres to achieve the distinctive glissando effect. Why not help your guitarist friends to do the same with a slide of their own.
Slides are available in several different materials, each giving a slightly different feel and tone.
Glass – Smooth, warm tone
Steel – Bright tone with great sustain,
Brass – Very similar tone and feel to steel, but brass is slightly denser and softer, so the sound is slightly louder, but darker.
Ceramic – Somewhere between glass and brass for its tone
Shop for guitar slides at:
KLIQ UberTuner – Guitar Tuner
All guitarists need to keep their guitars in tune, otherwise, we'd all sound terrible! Imagine your friend trying to play a soulful and emotional solo, but all the notes sound wrong and out of tune! Aaaarrrgghhh, my ears!
One of the easiest ways to keep a guitar in tune is with a guitar tuner of course. So this is one essential piece of guitar equipment that any guitarist would be happy to have in their guitar case.
The KLIQ UberTuner is one of the more popular clip-on guitar tuners. It's known for using a very sensitive Piezo sensor that detects the vibrations in the guitar when a string is plucked, making the tuner very accurate and super-easy to use, even in a noisy venue or practice room.
It has a nice clear and bright display, so it's easy to see when the string has reached the correct pitch.
The tuner has a 360° swivel, so can be used on pretty much any stringed instrument and poses no problems with viewing the screen, regardless of whether right or left handed.
It has five different tuning modes: Chromatic tuner, Guitar, Bass, Violin, and Ukulele. It's also possible to tune to different keys; C, Bb, Eb and F.
Clip one of these bad boys onto the guitar's headstock and your friend will be in tune in no time at all!
Image credit: kliqmusicgear.com
Guitar Tuition Books
No matter what skill level a guitarist is at, there's always something new to learn and if your guitarist friend hasn't been playing too long, then what better gift to get them than a guitar tuition book or two.
There are literally thousands of guitar tuition books out there, but how do you know which to go for?
Well, it depends really on what skill level your guitar friend is at.
For beginner to intermediate rock guitarists, you could try Creative Guitar 1: Cutting Edge Techniques by Guthrie Govan. Guthrie is one of my favorite guitar players; very expressive, but also very technical. This book is a great way to build a solid foundation in music theory and applying it to the guitar.
I'd also recommend his follow-up to this book; Creative Guitar 2: Advanced Techniques by Guthrie Govan. It's more for intermediate to advanced skilled guitarists. This follow-up focuses more on playing techniques, and more advanced ways to apply them.
Another good intermediate level book is Guitar Aerobics by Troy Nelson. The sub-title of this book is "A 52-Week, One-lick-per-day Workout Program for Developing, Improving and Maintaining Guitar Technique". It's just as the title suggests and gives plenty of exercises to sharpen the dexterity of any player.
Guitar Fretboard: Memorize The Fretboard In Less Than 24 Hours by Guitar Head is a book that can help to remember where all the notes on a guitar are. This is handy if music theory is an important part of your guitar friend's playing. Knowing where all the notes are can also help with communicating ideas with other musicians and very handy when jamming with others.
It's always useful to know lots of guitar chords. The Picture Chord Encyclopedia by Hal Leonard Corp. is a very handy book in this respect, as it has photos and fret diagrams for 2,640 chords!
Image credit: halleonard.com
Guitar Tablature Books
These guitar books will show your guitar-loving friends how to play their favorite songs note for note. As long as you know your friend's taste in music, you can't go wrong with a guitar tablature book!
Buying guitar tablature books are pretty straightforward gifts to get. Follow this easy step-by-step guide!
Find out what bands/artists/musicians your guitar-playing friend likes.
Buy any number of guitar tablature books of said bands/artists/musicians.
Gift these books to your guitar-playing friend.
Your guitar-playing friend is happy!
Shop for guitar tablature at:
You can also buy guitar tablature for individual songs in digital form!
Shop for digital guitar tablature at:
Guitar Tablature or Music Notation Paper
Do you find that your guitarist friend or loved one loves to serenade you with their own fanciful compositions? Do they aspire to write the next number one hit song with billions of downloads and streams? Or are they masters of listening to other artists' songs and can work out how to play them with ease, but also want to write it down?
If any of these are true of your guitar-playing friends and loved ones, then these are ideal gifts!
Check price at:
Pick Holder for a Mic Stand
As mentioned earlier on this page, it's really easy for guitarists to drop or lose guitar picks. So obviously it's a very good idea to buy some more as spares, but where are they gonna put them while performing?
If a guitarist drops a pick while performing, they don't want to be fumbling around in their pockets trying to find a spare. Much better to have a few handy within arm's reach, and ready for quick access, isn't it?
These pick holders and accessory trays are perfect for the performing guitar players who need quick access to spare picks when needed. The trays are especially handy for other items such as a guitar slide, capo, or even a cool thirst-quenching drink!
So if your guitar playing friend enjoys playing to audiences and has a habit of dropping picks while playing, then either of these are great gifts to get for them.
Check price at:
Image credit: gatorframeworks.com
$30 – $100 Gifts For Guitar Players
Want to spend a little more on your guitar-loving friends or family? Check out these essential gifts $100 or less!
GuitarGrip Guitar Hanger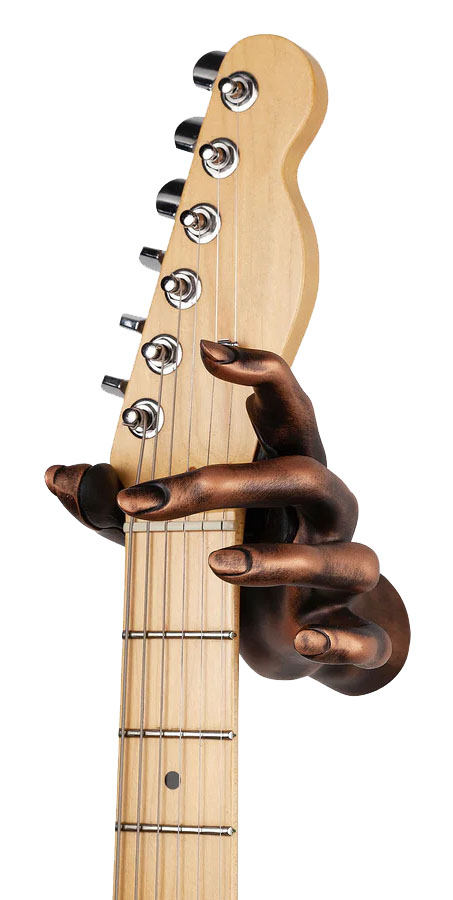 For a really unique look, check out these "handy" guitar hangers. As I said earlier on this page, guitars look pretty cool when hanging on a wall, especially if there are a load of them!
It's one of the best ways to store guitars at home; it looks great and makes guitars easily accessible for when it's time to practice, while freeing up floor space.
These hand-crafted Guitar Grips look amazing, and make an excellent and unique gift for any guitarist.
You can also buy a GuitarGrip gift card in $50, $100, $200, or $300 denominations.
Find out more in this LeftyGuitarist GuitarGrip article.
Positive Grid BIAS FX 2
Positive Grid's BIAS FX 2 is one of the most popular and highly rated amp modeler and guitar effects software around.
Basically, use this along with a recording interface, and your guitarist friends may never need to buy another amp or effects pedal again!
It can be used as a standalone software or as VST or AAX plugin on Windows PCs or an AU plugin on Mac OS X computers. So a huge array of guitar tones can be recorded with a DAW of choice.
You can also make any guitar sound like a different one with Positive Grid's Guitar Match Technology.
It's offered in three different packages; Standard ($99), Pro ($199), and Elite ($299), each giving a different number of amp models, effects, and other features.
The Standard version of the software can be bought for less than $100. This gets you:
30 amps, 43 Effects, and 70 Factory Presets
Guitar Match – 4 Guitar Models
A Looper/Backing Track Player
Download Thousands of Presets on Positive Grid's ToneCloud
The Pro version gives you:
Everything the Standard version offers
60 Amps, 115 Effects, 130 Factory Presets
Guitar Match – 8 Guitar Models
14 HD Rack Units
Dedicated IR Loader
MIDI/Automation Functionality
Get the Elite version, and you get a very impressive selection of features:
Everything the Pro version offers
100 Amps, 122 Effects, 210 Factory Presets
Guitar Match – 20 Guitar Models
18 HD Rack Units
Fuzz Modeler
Time Modeler
Harmonizer Modeler
FREE – BIAS Pedal software (included : Distortion, Delay, and Modulation)
There's even a FREE iOS mobile version too with options to buy at similar tier levels as the computer software. However, you can buy the Elite version for less than $100!
KLIQ AirCell Guitar Strap
Most guitar straps are quite similar to each other. Usually, they're a couple of inches wide, made of nylon, polyester, leather, etc., and not particularly very good!
One thing that a lot of those straps have in common is that, with the weight of a guitar pulling down on them, they can really dig right into your shoulder after playing for a while. That's no fun at all!
Imagine playing for an hour or more with something digging into your shoulder all the time! That's where the KLIQ AirCell Guitar Strap comes in handy.
Unlike most other straps, it's actually three inches wide with thick neoprene padding. The wider strap helps to evenly distribute the weight of the guitar over a larger surface area and the thicker AirCell padding ensures that it doesn't dig in so much, and therefore hurts so much less!
It's also slightly stretchy, adding an extra cushioning effect, as well as the padding.
It comes in three adjustable lengths too.
Read LeftyGuitarist's more detailed review.
Image credit: kliqmusicgear.com
Ernie Ball 30′ White Classic Coiled Cable
Help your friends get that Jimi Hendrix look! Erm… No… I don't mean that you should buy them a Hussar military jacket!
I mean, you should get them this '60s/'70s style instrument cable and help your guitar-playing friend look effortlessly cool with this classic vintage-style guitar cable from Ernie Ball!
It's tangle resistant and corrosion resistant with a durable shell casing too so should last a long time.
Ah, go on then… You might as well get that military jacket too! And a Hendrix wig while you're at it!
Check price at:
Image credit: ernieball.com
Marshall or Fender Jack Rack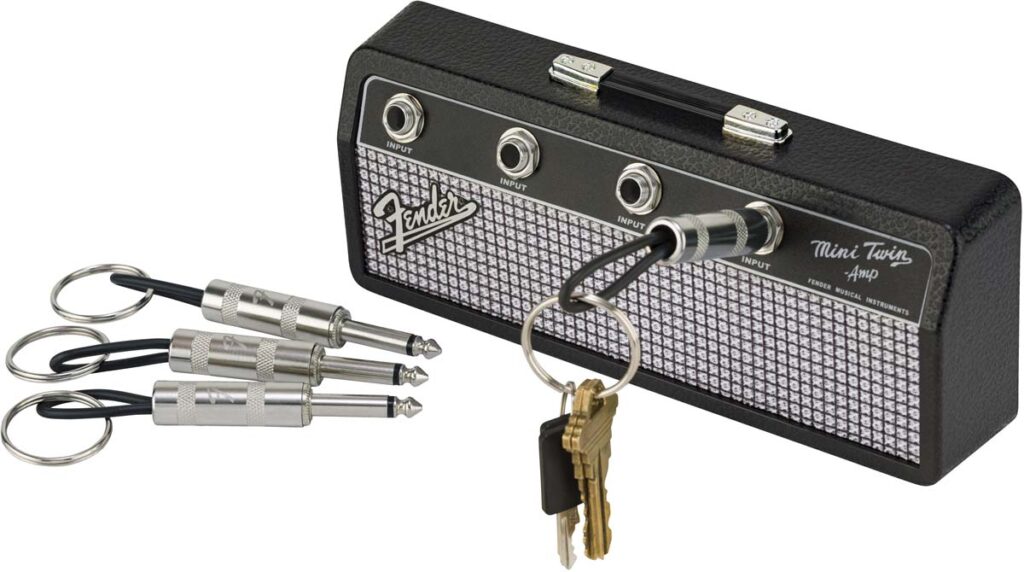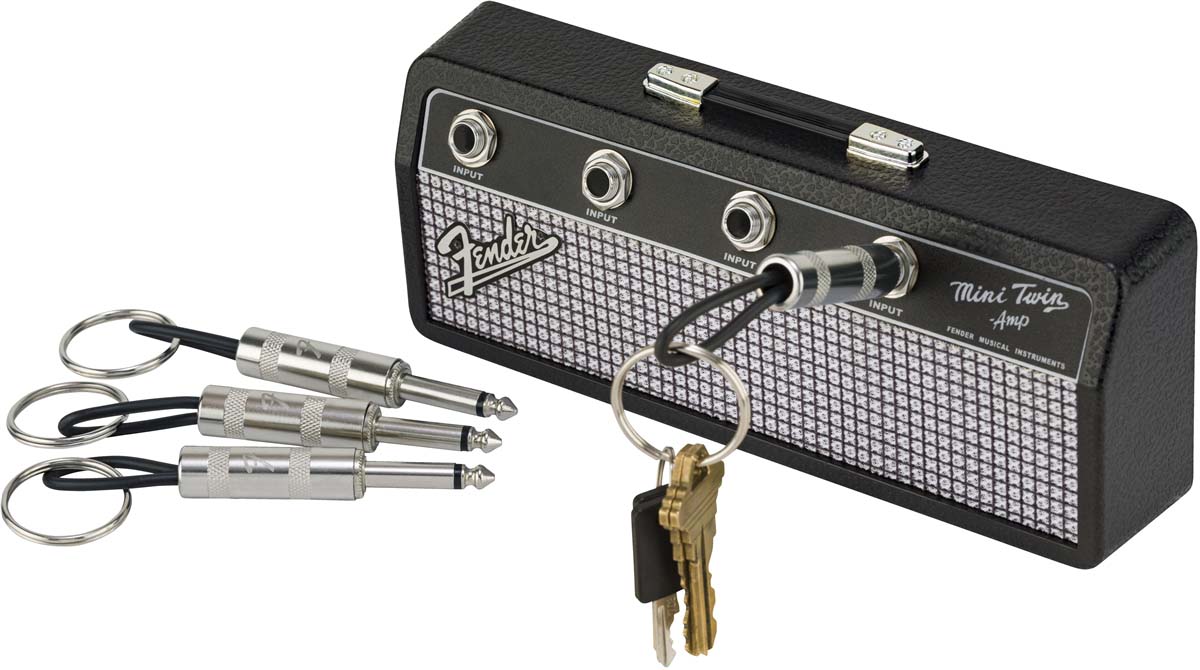 Does your guitar-playing friend mislay their keys easily? Are they searching high and low for them most days? Then why not get them one of these Marshall or Fender licensed wall-mounted key hangers. You can either get one styled like a Marshall JCM800 guitar amp, or a Fender Mini Twin amp.
Either way, your friend can plug the keychain into the amp when not in use, and then easily retrieve them when going out. They may never lose their keys again!
Each includes 4 guitar plug keychains and a wall mounting kit for easy installation.
Check price at:
Photo credits: marshall.com, fender.com
VOX amPhones AC30 – Active Guitar Amp Headphones
If your guitar playing loved one is a fan of the British '60s and '70s sound from bands like The Beatles, The Rolling Stones, The Who, Queen, Led Zeppelin, or Deep Purple, right through to more modern bands like Muse, Radiohead, or Arctic Monkeys, then these amPhones are an ideal gift!
These specially made Audio-Technica headphones have VOX's amPlug amp simulators built into them, allowing any guitarist to plug these straight into their guitar to get that classic VOX AC30 tone pumped straight down into their ear canal! WOW!
As well as the AC30, VOX also have released Lead, Twin, and Bass versions too.
Not only do the amPhones faithfully recreate the AC30 sound, they also provide chorus, delay, and reverb effects for the guitar versions, and a compressor for the bass version.
They can also double up as normal headphones too, when the amp simulator is switched off, making them a really versatile gift.
Check price at:
VOX AP2AC amPlug 2 AC30 Headphone Amplifier
If the VOX amPhones are a little too expensive, or your friend would prefer to use their own headphones when playing quietly, then why not try the VOX AP2AC headphone amplifier instead.
They're built on the same audio technology, but are less than half the price of the VOX amPhones! Be sure a good quality set of headphones are plugged into it though for maximum effect!
Each model provides three amp modes, and nine selectable effects (Chorus x3, Delay x3, Reverb x3). There is also an AUX input for jamming along to any kind of audio player you want to plug in.
Also available are a Blues, Classic Rock, Clean, Lead, Metal, and Bass versions.
Check price at:
Donner DP-1 Guitar Power Supply
Does your guitarist friend like using effects pedals when playing? Do they constantly run out of batteries, and keep on having to replace them for new ones? Then what better gift than to get them a power supply that can run up to ten pedals at the same time?
This power supply includes seven 9V 100mA outputs, one 9V 500mA output, one 12V 100mA output and one 18V 100mA output. So it can power anything from standard effects pedals to delays, wash, and equalizers.
All 10 outputs in this unit have separate short-circuit protection, so a short circuit in one channel won't affect any of the other channels, and will also produce less noise than if the pedals were connected to each other (daisy chaining).
Your friend can say goodbye to batteries!
Image credit: donnerdeal.com
G7th Performance 3 Capo with ART
We've already had a look at personalized capos; now let's take a look at a top quality capo instead.
If you know any guitarists who play with capos, they'll love this! It may cost some, but it's arguably one of the best capos around.
It's easy to use and move up and down the guitar neck, as it's designed to be used with one hand. It also has a specially designed string pad that mechanically adapts to match the curvature of any guitar neck, so the guitar won't need to be re-tuned at whatever position on the guitar neck it's placed.
They're pretty pricey for a capo, but they are built to last, and made with high quality materials.
Check price at:
$100 – $250 Gifts For Guitar Players
Focusrite Scarlett Solo Studio (3rd Gen)
The Focusrite Scarlett Solo interface is an affordable, entry level USB audio interface, that makes it easy for any guitar player friends to get their ideas recorded onto their computer.
If your friend is a beginner at recording, the Focusrite Scarlett Solo Studio bundle is a perfect starting point and great value; in terms of hardware, you get the Focusrite Scarlett Solo USB audio interface, a pair of Focusrite Scarlett HP60 MkIII headphones, a Focusrite Scarlett CM25 MkIII condenser microphone, a 10′ (3 m) XLR microphone cable, and a microphone stand clip.
Also included is a fantastic bundle of software; the Scarlett Solo Studio Pack, which includes Pro Tools First Focusrite Creative Pack, Ableton Live Lite, as well as a few other goodies including loops and plugins that'll get your guitarist friend recording and mixing their latest masterpiece in no time!
Check price at:
Guitar Lessons With Tom Morello or Carlos Santana
What better way to treat your guitar-loving friends than to give them the gift of guitar lessons with two legends of the guitar music world!
Tom Morello, one of the founding members of rock bands Rage Against the Machine, Audioslave, and Prophets of Rage. His guitar work with Rage Against the Machine was pioneering, and he created techniques nobody else was employing at the time.
Rage Against the Machine went on to become one of the most popular and influential rock bands of the '90s, and Tom Morello has won two Grammy awards and has been acknowledged by Rolling Stone as one of the "100 greatest guitarists of all time".
In his MasterClass, Morello shares his approach to making music and teaches the riffs and techniques he uses to create kickass rock!
See more details of Tom Morello's MasterClass
Carlos Santana has been in the music business for some 50 years! He's known for fusing Rock and Blues music with Latin American Jazz, backed with Latin and African rhythms.
His guitar style is very emotive and full of expression, yet soothing, laid back and relaxed. He has influenced countless guitarists, and Rolling Stone also acknowledged him as one of the "100 greatest guitarists of all time". He has won a massive 10 Grammy awards too!
In his MasterClass, Santana reveals the process he uses to create his awe inspiring music.
See more details of Carlos Santana's MasterClass
At the time of writing, it costs $180 for a year's subscription, which not only includes the classes from Tom Morello and Carlos Santana, but also every other class (85+) available on the website, including singing lessons with Christina Aguilera, cooking lessons with Gordon Ramsay, acting lessons with Samuel L. Jackson, magic lessons with Penn & Teller, and many more!
Lessons on Being a Band with Metallica
Are you in a band? Or do you want to be? Well, MasterClass has now signed Metallica on to teach you how to be in a band!
Metallica has been together as a band for more than 40 years! They've been through it all, and now they're here to teach you what it takes to be in a band and create success.
They go through their lyrics and songwriting process, honing your stagecraft, connecting with your fans, and much more.
See more details of Metallica's MasterClass
Rock Guitar Lessons With Paul Gilbert
Paul Gilbert is one of my favorite guitar players and has been since his Mr. Big days in the '80s and '90s. Since then, I've gone on to enjoy his work with his band Racer X and his solo material too. His playing never ceases to amaze me!
Anyone who has seen Paul Gilbert live or has watched any of his tutorial videos will know that he's a really likable guy and explains things well. I was lucky enough to see him live at a guitar masterclass in 2019, which really inspired me to play, armed with some simple musical techniques that he'd demonstrated on the night.
There are three tiers that you can buy; a 3-month plan costs $105, a 6-month plan costs $179, and a 12-month plan costs $279.
You can even submit videos of your playing for the man himself to offer feedback to you!
With the 3-month plan, you get:
Unlimited Access to Lessons
Unlimited Access to Video Exchange Library
Up to 5 Video Submissions to Teacher
Music Theory Workshop
The 6-month plan gives you all of the 3-month plan, plus:
12 Video Submissions to Teacher
25 Backing Tracks across Instruments
The 12-month plan gives you all of the 3-month plan, plus:
Unlimited Video Submissions to Teacher
Backing Tracks across Instruments
VIP Bonus Content
Why not give the gift of a gift card from Artistworks to your guitar playing friends, or if you're buying for yourself, check the link below. Also see the link below for all the details of the course lessons.
A Good Quality Hardshell Case
If your friend has a guitar maintenance routine (and if not, why not?!), it's a good idea to keep guitars in hardshell guitar cases. Not only will they keep the dust and dirt away from the switches and pots, but a good hardshell case will also protect a guitar from any bumps and scrapes.
There are cases available for all types of guitar; electric, acoustic, bass, classical, and more!
Some hardshell cases are shaped to fit particular models of guitar, for example Stratocaster (ST) or Telecaster (TE) type guitars, so you may want to make find out what guitar your friends own so you can make sure that any case you buy will fit your friend's guitars.
Shop for guitar cases at:
Image credit: thomann.de
$250+ Gifts For Guitar Players
IK Multimedia Amplitube TONE X Pedal
The TONEX Pedal is a sweet-sounding stompbox that uses AI to create killer guitar tones. It comes with 1000 pre-set tones, or you can capture your own (using the TONEX Machine Modeller software and a separate re-amp box).
The controls are really easy to use; dial in your gain, bass, mids, treble, and volume, and you're good to go. They also double up as Reverb, Compression, Noise Gate, Presence, and Depth controls.
The three footswitches let you navigate the menus, and access 3 banks of 100 presets!
Not only that, you get a full copy of TONEX MAX software thrown in, giving you access to ToneNET where you can download thousands of user-captured tones, as well as all the IK Multimedia ones.
The TONEX Pedal is a fantastic choice for guitarists who want a versatile and easy-to-use amp modeling solution. It's also an excellent option for guitarists who want to create their own custom tones.
Here are some of the things I like about the TONEX Pedal:
Comes with TONEX MAX and Amplitube 5 (Standard) software.
Impressive AI modeling technology. The tones are super realistic and versatile.
1000 presets which can be easily tweaked to your liking.
Can be used as an audio interface.
Really simple and easy to use.
The IK Multimedia TONEX Pedal is a great amp modeling solution for guitarists of all levels. It's versatile, easy to use, and sounds amazing. If you're looking for a new amp modeler, check it out!
Check price/availability at:
Image credit: IK Multimedia
Positive Grid Spark 40 Amplifier
The Positive Grid Spark 40 amplifier is one of the best practice amplifiers out there. It can help to learn songs by slowing them down and analyzing the chord structure. It can help to recreate almost any guitar tone you could wish for. Whatever way your guitarist friend might use this amp, they'll have enormous FUN!
It's packed with a ridiculous number of features, loads of tones, and loads of effects. In fact, this amp can do almost everything your guitarist friend would ever want in a guitar practice amplifier.
Check out some of these amazing features:
Over 10,000 downloadable tones from Positive Grid's Tone Cloud
Virtual band that analyzes playing to create a backing track to play along to
Streamable backing tracks to play along with
Plug the amp into a computer and use it as an interface to record
Free copy of PreSonus Studio One Prime digital audio workstation
Built in guitar tuner
30 different amplifier models, including 4 acoustic and 4 bass amps
40 different effects, from a Noise Gate, 5 Compressors, 9 Drives, 10 Modulation, 6 Delays, and 9 Reverbs
24 built in preset tones
Voice commands
Image credit: positivegrid.com
Final Thoughts
So there you have it! LeftyGuitarist's list of the best gifts for guitarists. I'm sure there's something in this list that would make suitable gifts for any guitar players in your life!
If anyone has any other great ideas for presents for guitar players, please let me know in the comments below!
Header image credit: George Dolgikh