Last Updated on October 12, 2022 by Chris
While writing about Gibson's electric guitars, I was initially going to include left handed Gibson acoustic guitars as well.
However, when looking at what lefty Gibson acoustics were available, there were so many that I thought it'd be much better to give them a post of their own.
I thought Gibson was generous when it came to electric guitars; at the time of writing, there are twenty-four left handed Gibson electric guitars. However, when it comes to left handed Gibson acoustic guitars, there are a massive forty-two available at the time of writing. That's from the range of fifty-five right handed models!
Great stuff!
Go straight to the left handed Gibson acoustic guitars
Please note: Some of the links on this page are affiliate links, which means that at no extra cost to you, I may get a small commission if you buy anything when you click through. If you do make a purchase, then thank you so much! It really helps me keep this website going.
Who Are Gibson Guitars?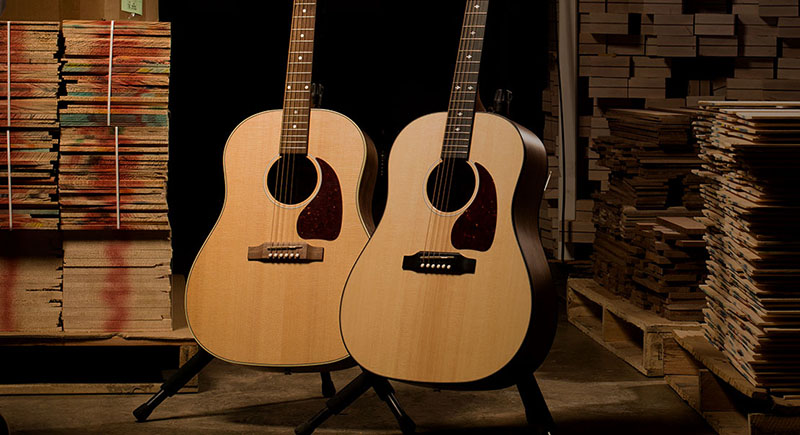 If you play guitar, you've more than likely heard of Gibson guitars, but if you haven't, here's a brief history.
The Gibson Guitar Corporation began in 1902 in Kalamazoo, Michigan; it was founded by Orville Gibson, who originally called his company the Gibson Mandolin-Guitar Mfg. Co. Ltd. which produced Orville Gibson's original designs.
Unfortunately, this time was short-lived, as Orville Gibson was in and out of various hospitals, spending several extended periods there and in 1918, aged 62, he died of chronic endocarditis.
The Gibson company carried on, and later went on to invent the Archtop guitar. Gibson also produced flattop acoustic guitars and hollow-bodied electric guitars.
In 1944, Gibson was purchased by Chicago Musical Instruments, and four years later, a man named Ted McCarty was hired, who, in 1950, became Gibson's President.
He also famously went on to become Paul Reed Smith's mentor, founder of PRS Guitars.
By 1969, Chicago Musical Instruments was acquired by Norlin Corporation, so ownership transfered to them until 1986 when the company was struggling, almost going out of business. Norlin Corporation were then acquired by Henry E. Juszkiewicz, David H. Berryman, and Gary A. Zebrowski.
This time was seen by some as a decline in quality, blaming the company's senior officers for pursuing financial success over the quality of their products.
The company was renamed Gibson Brands, Inc. in 2013, after acquiring and partnering with various audio technology companies, but by 2018 the company filed for bankruptcy.
Later that year, Gibson began to reorganize and restructure, focusing on the business of selling guitars. They closed down the Gibson Innovations division which sold audio equipment outside of the USA.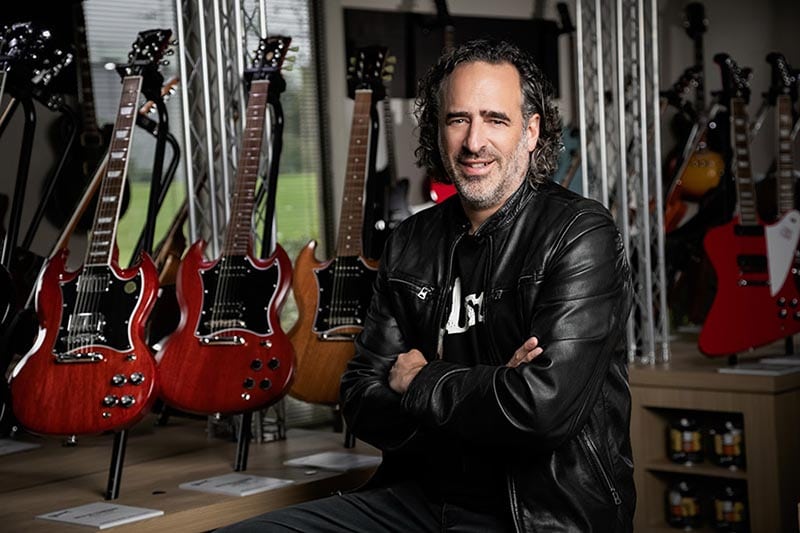 Henry Juszkiewicz also relinquished his role as CEO, and the following month James "JC" Curleigh was brought in as Gibson's new President and CEO. Curleigh himself is a guitar player, and many believe that Gibson are addressing the issues that contributed to Gibson's decline under Juszkiewicz's presidency.
Related reading: Check out the massive range of left handed Martin acoustic guitars!
What Do I Think of Gibson Guitars?
Gibson is one of the classic brands. There are so many guitar players over the years who play them, that it's almost impossible not to have heard of them.
Naturally, when I first got into guitar playing, I'd buy guitar magazines and read interviews and features on guitarists that I liked, finding out what kind of gear they used. Many of my favorite players played Gibsons.
Some of the guitarists I was into back then included Jimi Page, Angus Young, Slash, Gary Moore, B.B.King, and Tony Iommi; all well known for playing Gibson guitars.
Jimi Hendrix was also a guitarist who was pretty much impossible to miss, as he was always featured in many articles. When I first saw a photo of him playing a Flying V, it really stuck in my mind, as I was used to seeing him playing Fender Stratocasters.
Ever since those early days of learning to play guitar back in the 1990s, I've been a fan of Gibson and the guitars they produce.
Different Types of Gibson Guitars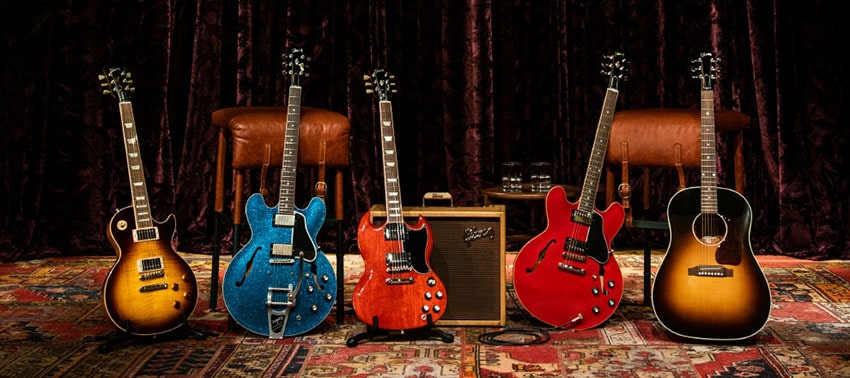 Acoustic Guitars
The Modern Collection
The Original Collection
The Custom Shop Collection
The Artist Collection
Electric Guitars
The Original Collection
The Modern Collection
The Custom Shop Collection
The Artist Collection
The Slash Collection
The Murphy Lab Collection
Bass Guitars
The Original Collection
The Modern Collection
Are All Gibson Guitars Made in the USA?
Gibson is known for making all of its guitars in the USA across two different locations. Gibson's acoustic guitars are made at a factory in Bozeman, Montana.
They make solid-body guitars, such as the Les Paul and SG models at their Nashville, Tennessee factory, which opened in 1974.
From 2000, Gibson made semi-hollow and hollow-body guitars in Memphis, Tennessee, but moved their production to the Nashville factory in 2018.
Almost all Epiphone Guitars, owned by Gibson, are made in China.
Related reading: Take a look at these award-winning Faith acoustic gutars…
Left Handed Gibson Acoustic Guitars
At the time of writing, there are a massive forty-five left handed Gibson acoustic guitars!
Please note: Where lefty guitar images haven't been provided on the official website, I've flipped the right handed image to show what the left handed version might look like.
Modern Acoustic
Gibson G-00

$999.00 MSRP, Made in USA
Specs:
STRINGS: 6
TOP: Sitka spruce
BACK: Walnut
SIDE: Walnut
BRACING: Traditional scalloped X-bracing
SCALE: 24.75″ (628.65mm)
NECK: Utile
NECK PROFILE: Advanced Response
NECK JOINT: Compound Dovetail Neck-to-body Joint; Hot Hide Glue
FINGERBOARD: Ebony with Acrylic Dot inlays
FRETBOARD RADIUS: 16″
FRETS: 20 Standard
NUT TYPE: Tusq
NUT WIDTH: 1.725″ (43.815mm)
BRIDGE: Rectangular, Closed Slot, Striped Ebony with Tusq Saddle
PICKUP: None
CONTROLS: None
TUNERS: Grover Mini Rotomatic
HARDWARE COLOR: Chrome
FINISH: Satin Nitrocellulose Lacquer – Natural
Check price/availability at:
Gibson G-45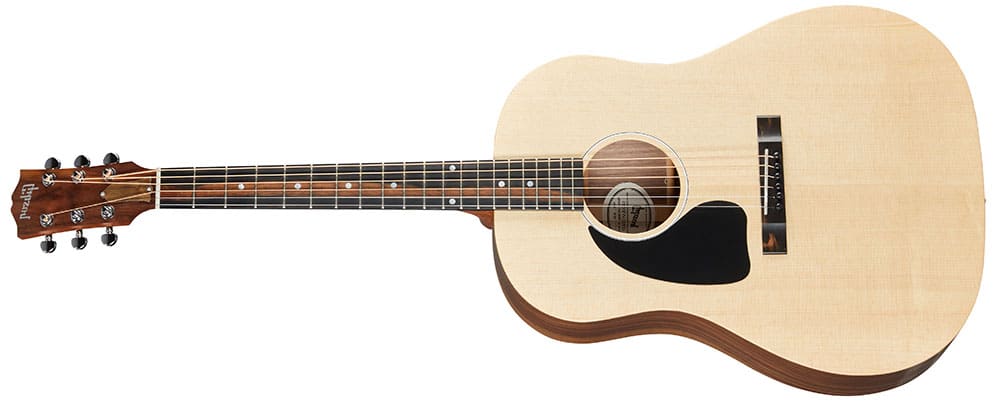 $1,199.00 MSRP, Made in USA
Specs:
STRINGS: 6
TOP: Sitka spruce
BACK: Walnut
SIDE: Walnut
BRACING: Traditional scalloped X-bracing
SCALE: 24.75″ (628.65mm)
NECK: Utile
NECK PROFILE: Advanced Response
NECK JOINT: Compound Dovetail Neck-to-body Joint; Hot Hide Glue
FINGERBOARD: Ebony with Acrylic Dot inlays
FRETBOARD RADIUS: 16″
FRETS: 20 Standard
NUT TYPE: Tusq
NUT WIDTH: 1.725″ (43.815mm)
BRIDGE: Rectangular, Closed Slot, Striped Ebony with Tusq Saddle
PICKUP: None
CONTROLS: None
TUNERS: Grover Mini Rotomatic
HARDWARE COLOR: Chrome
FINISH: Satin Nitrocellulose Lacquer – Natural
Check price/availability at:
Gibson G-Writer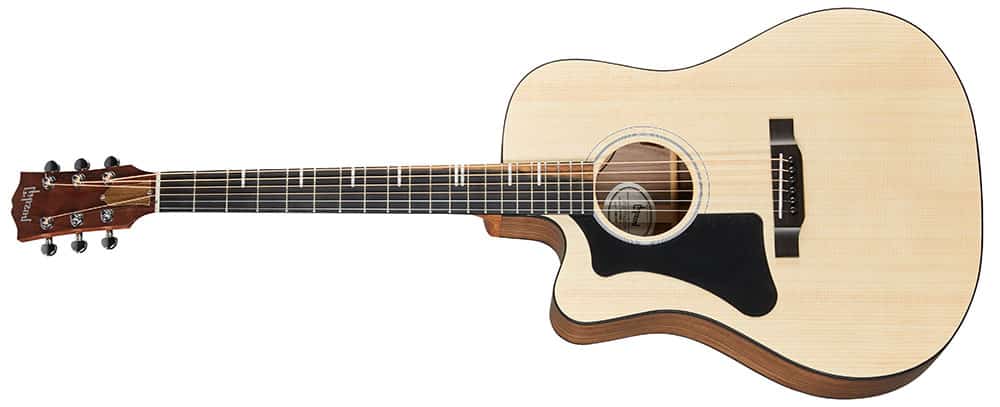 $1,599.00 MSRP, Made in USA
Specs:
STRINGS: 6
TOP: Sitka spruce
BACK: Walnut
SIDE: Walnut
BRACING: Traditional scalloped X-bracing
SCALE: 25.5″ (647.7mm)
NECK: Utile
NECK PROFILE: Advanced Response
NECK JOINT: Compound Dovetail Neck-to-body Joint; Hot Hide Glue
FINGERBOARD: Ebony
FRETBOARD RADIUS: 16″
FRETS: 20 Standard
NUT TYPE: Tusq
NUT WIDTH: 1.725″ (43.815mm)
BRIDGE: Belly Down, Closed Slot, Striped Ebony with Tusq saddle
PICKUP: Under-saddle LR Baggs Element Bronze with LR Baggs Element Bronze preamp
CONTROLS: Soundhole Mounted Volume
TUNERS: Grover Mini Rotomatic
HARDWARE COLOR: Chrome
FINISH: Satin Nitrocellulose Lacquer – Natural
Check price/availability at:
Gibson G-200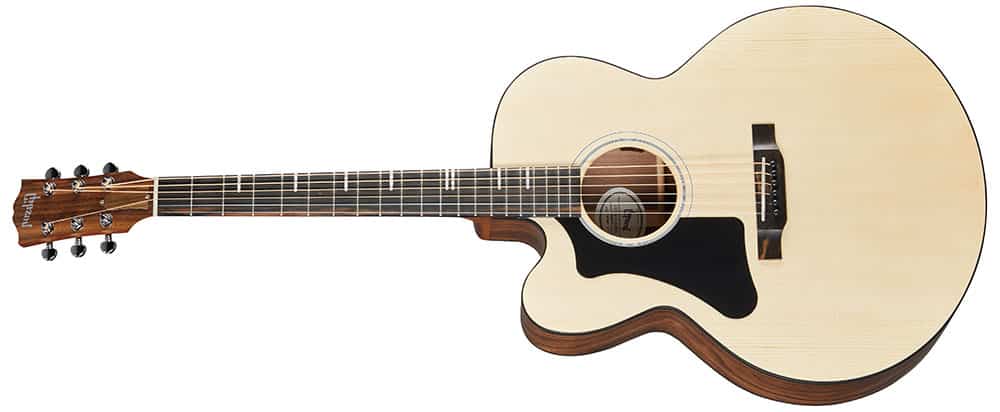 $1,999.00 MSRP, Made in USA
Specs:
STRINGS: 6
TOP: Sitka spruce
BACK: Walnut
SIDE: Walnut
BRACING: Traditional scalloped X-bracing
SCALE: 25.5″ (647.7mm)
NECK: Utile
NECK PROFILE: Advanced Response
NECK JOINT: Compound Dovetail Neck-to-body Joint; Hot Hide Glue
FINGERBOARD: Ebony
FRETBOARD RADIUS: 16″
FRETS: 20 Standard
NUT TYPE: Tusq
NUT WIDTH: 1.725″ (43.815mm)
BRIDGE: Belly Down, Closed Slot, Striped Ebony with Tusq saddle
PICKUP: Under-saddle LR Baggs Element Bronze with LR Baggs Element Bronze preamp
CONTROLS: Soundhole Mounted Volume
TUNERS: Grover Mini Rotomatic
HARDWARE COLOR: Chrome
FINISH: Satin Nitrocellulose Lacquer – Natural
Check price/availability at:
Gibson J-45 Studio Walnut LH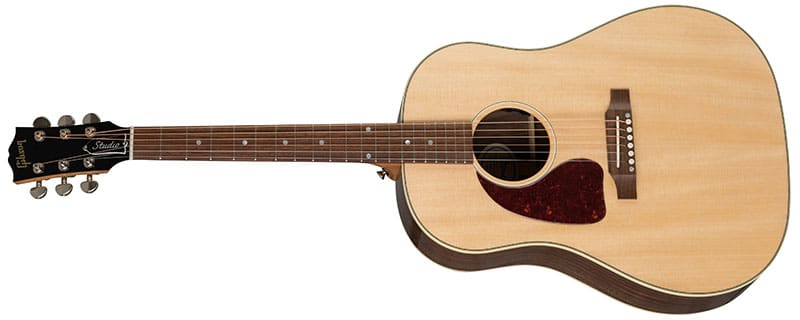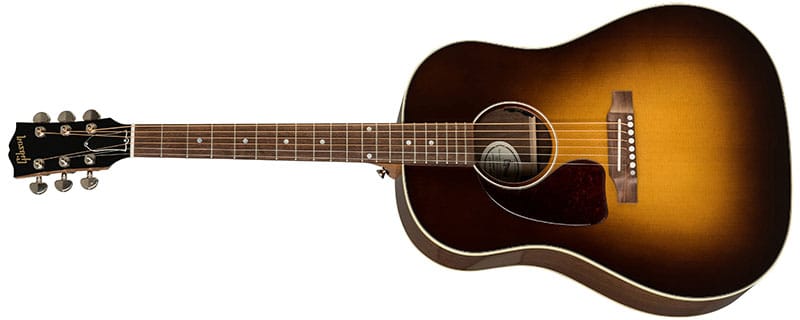 $2,299.00 MSRP, Made in USA
Specs:
STRINGS: 6
TOP: Sitka spruce
BACK: Walnut
SIDE: Walnut
BRACING: Traditional hand scalloped X-bracing
SCALE: 24.75″ (628.65mm)
NECK: Mahogany
NECK PROFILE: Advanced Response
NECK JOINT: Compound Dovetail Neck-to-body
FINGERBOARD: Walnut
FRETBOARD RADIUS: 16″
FRETS: 20 Standard
NUT TYPE: Tusq
NUT WIDTH: 1.72″ (43.81mm)
BRIDGE: Traditional belly up
PICKUP: Active Under-saddle Piezo Pickup
CONTROLS: Soundhole Mounted
TUNERS: Grover Rotomatic w/ kidney buttons
HARDWARE COLOR: Nickel
FINISH: Nitrocellulose – Antique Natural, Walnut Burst
Check price/availability at:
Gibson J-45 Standard LH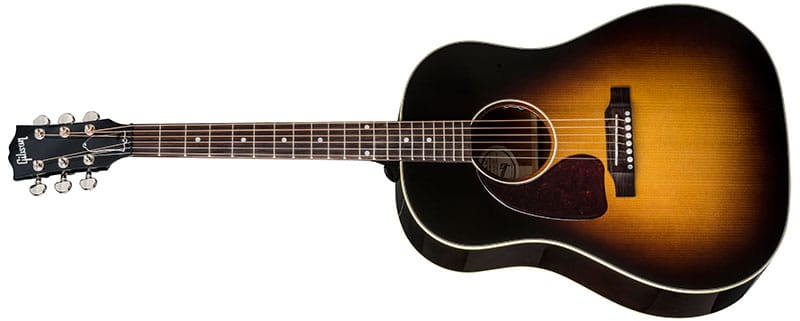 $2,849.00 MSRP, Made in USA
Specs:
STRINGS: 6
TOP: Sitka spruce
BACK: Mahogany
SIDE: Mahogany
BRACING: Traditional hand scalloped X-bracing
SCALE: 24.75″ (628.65mm)
NECK: Mahogany
NECK PROFILE: Slim Taper
NECK JOINT: Compound Dovetail Neck-to-body
FINGERBOARD: Rosewood
FRETBOARD RADIUS: 12″
FRETS: 20 Standard
NUT TYPE: Black Tusq
NUT WIDTH: 1.72″ (43.81mm)
BRIDGE: Traditional belly up
PICKUP: Under-saddle LR Baggs VTC
CONTROLS: Volume and Tone
TUNERS: Grover Rotomatics w/ kidney buttons
HARDWARE COLOR: Nickel
FINISH: Nitrocellulose – Vintage Sunburst
Check price/availability at:
Gibson J-45 Studio Rosewood LH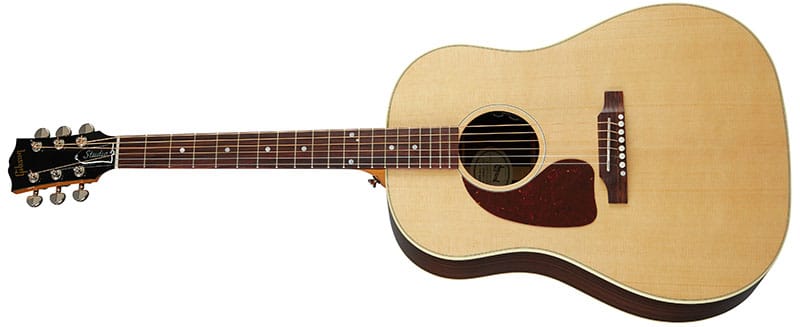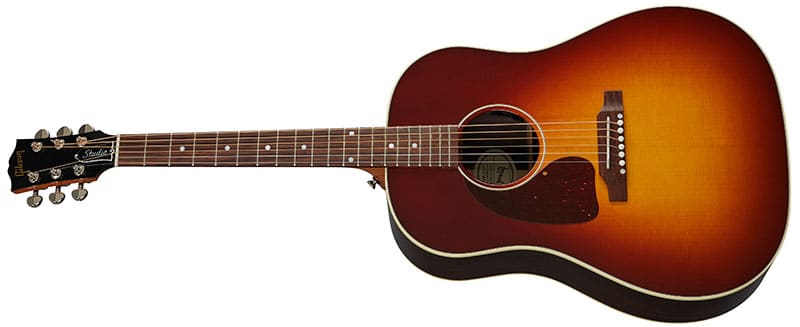 $2,399.00 MSRP, Made in USA
Specs:
STRINGS: 6
TOP: Sitka spruce
BACK: Rosewood
SIDE: Rosewood
BRACING: Traditional hand scalloped X-bracing
SCALE: 24.75″ (628.65mm)
NECK: Mahogany
NECK PROFILE: Advanced Response
NECK JOINT: Compound Dovetail Neck-to-body
FINGERBOARD: Rosewood
FRETBOARD RADIUS: 16″
FRETS: 20 Standard
NUT TYPE: Tusq
NUT WIDTH: 1.72″ (43.81mm)
BRIDGE: Traditional belly up
PICKUP: Active Under-saddle Piezo Pickup
CONTROLS: Soundhole Mounted
TUNERS: Grover Rotomatics w/ kidney buttons
HARDWARE COLOR: Nickel
FINISH: Nitrocellulose – Antique Natural, Rosewood Burst
Check price/availability at:
Gibson J-185 EC Modern Walnut LH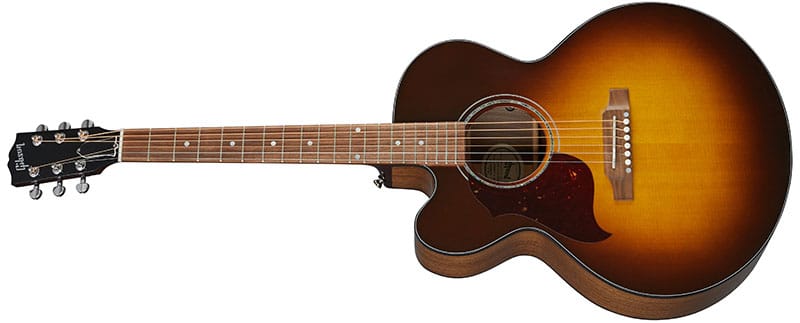 $2,549.00 MSRP, Made in USA
Specs:
STRINGS: 6
TOP: Sitka spruce
BACK: Walnut
SIDE: Walnut
BRACING: Traditional hand scalloped X-bracing
SCALE: 24.75″ (628.65mm)
NECK: 2-Piece Maple
NECK PROFILE: Advanced Response
NECK JOINT: Compound Dovetail Neck-to-body
FINGERBOARD: Walnut
FRETBOARD RADIUS: 16″
FRETS: 20 Standard
NUT TYPE: Tusq
NUT WIDTH: 1.72″ (43.81mm)
BRIDGE: Traditional belly up
PICKUP: Under-saddle LR Baggs Element
CONTROLS: 1 Volume
TUNERS: Grover Rotomatics w/ kidney buttons
HARDWARE COLOR: Nickel
FINISH: Nitrocellulose – Antique Natural, Walnut Burst
Check price/availability at:
Gibson J-185 EC Modern Rosewood LH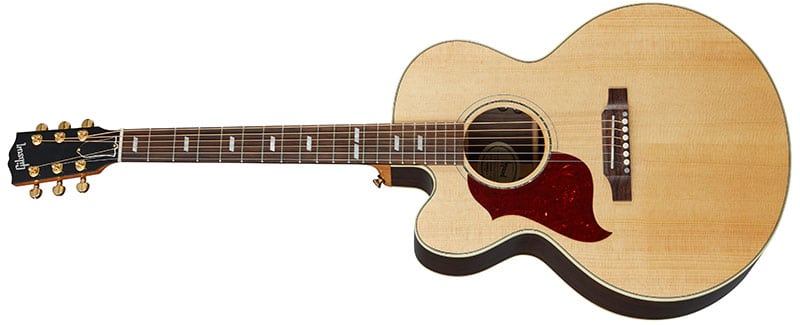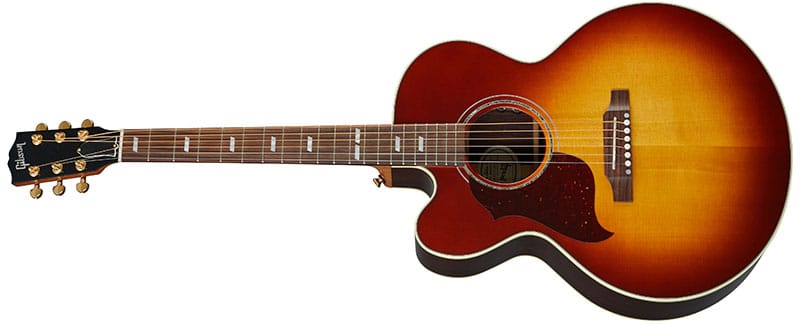 $2,949.00 MSRP, Made in USA
Specs:
STRINGS: 6
TOP: Sitka spruce
BACK: Rosewood
SIDE: Rosewood
BRACING: Traditional hand scalloped X-bracing
SCALE: 24.75″ (628.65mm)
NECK: Mahogany
NECK PROFILE: Advanced Response
NECK JOINT: Compound Dovetail Neck-to-body
FINGERBOARD: Rosewood
FRETBOARD RADIUS: 16″
FRETS: 20 Standard
NUT TYPE: Tusq
NUT WIDTH: 1.72″ (43.81mm)
BRIDGE: Traditional belly up
PICKUP: Under-saddle LR Baggs VTC
CONTROLS: 1 Volume, 1 Tone
TUNERS: Mini Grover Rotomatic w/ kidney buttons
HARDWARE COLOR: Gold
FINISH: Nitrocellulose – Antique Natural, Rosewood Burst
Check price/availability at:
Gibson Hummingbird Studio Walnut LH


$2499.00 MSRP, Made in USA
Specs:
STRINGS: 6
TOP: Sitka spruce
BACK: Walnut
SIDE: Walnut
BRACING: Traditional hand scalloped X-bracing
SCALE: 24.75″ (628.65mm)
NECK: Mahogany
NECK PROFILE: Advanced Response
NECK JOINT: Compound Dovetail Neck-to-body
FINGERBOARD: Walnut
FRETBOARD RADIUS: 16″
FRETS: 20 Standard
NUT TYPE: Tusq
NUT WIDTH: 1.72″ (43.81mm)
BRIDGE: Traditional belly up
PICKUP: Active Under-saddle Piezo Pickup
CONTROLS: Soundhole Mounted
TUNERS: Grover Rotomatic w/ kidney buttons
HARDWARE COLOR: Nickel
FINISH: Nitrocellulose – Antique Natural, Walnut Burst
Check price/availability at:
Gibson Hummingbird Studio Rosewood LH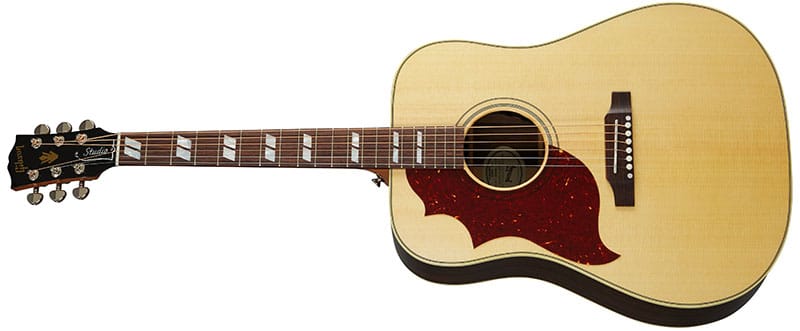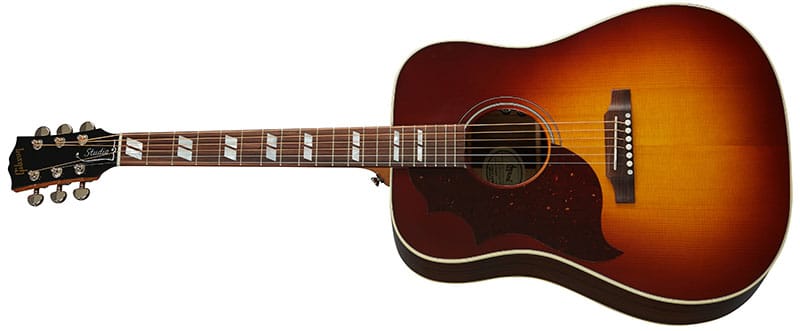 $2,899.00 MSRP, Made in USA
Specs:
STRINGS: 6
TOP: Sitka spruce
BACK: Rosewood
SIDE: Rosewood
BRACING: Traditional hand scalloped X-bracing
SCALE: 24.75″ (628.65mm)
NECK: Mahogany
NECK PROFILE: Advanced Response
NECK JOINT: Compound Dovetail Neck-to-body
FINGERBOARD: Rosewood
FRETBOARD RADIUS: 16″
FRETS: 20 Standard
NUT TYPE: Tusq
NUT WIDTH: 1.72″ (43.81mm)
BRIDGE: Traditional belly up
PICKUP: Active Under-saddle Piezo Pickup
CONTROLS: Soundhole Mounted
TUNERS: Grover Rotomatic w/ kidney buttons
HARDWARE COLOR: Nickel
FINISH: Nitrocellulose – Antique Natural, Rosewood Burst
Check price/availability at:
Gibson L-00 Studio Walnut LH

$1,849.00 MSRP, Made in USA
Specs:
STRINGS: 6
TOP: Sitka spruce
BACK: Walnut
SIDE: Walnut
BRACING: Traditional hand scalloped X-bracing
SCALE: 24.75″ (628.65mm)
NECK: Mahogany
NECK PROFILE: Advanced Response
NECK JOINT: Compound Dovetail Neck-to-body
FINGERBOARD: Walnut
FRETBOARD RADIUS: 16″
FRETS: 19 Standard
NUT TYPE: Tusq
NUT WIDTH: 1.72″ (43.81mm)
BRIDGE: Rectangle
PICKUP: Active Under-saddle Piezo Pickup
CONTROLS: Soundhole Mounted
TUNERS: Mini Grover Rotomatic
HARDWARE COLOR: Nickel
FINISH: Nitrocellulose – Antique Natural, Walnut Burst
Check price/availability at:
Gibson L-00 Studio Rosewood LH


$2,299.00 MSRP, Made in USA
Specs:
STRINGS: 6
TOP: Sitka spruce
BACK: Rosewood
SIDE: Rosewood
BRACING: Traditional hand-scalloped X-bracing
SCALE: 25.5″ (647.7mm)
NECK: Mahogany
NECK PROFILE: Advanced Response
NECK JOINT: Compound Dovetail Neck-to-body
FINGERBOARD: Rosewood
FRETBOARD RADIUS: 16″
FRETS: 19 Standard
NUT TYPE: Tusq
NUT WIDTH: 1.72″ (43.81mm)
BRIDGE: Rectangle, closed slot
PICKUP: Active Under-saddle Piezo Pickup
CONTROLS: Soundhole Mounted
TUNERS: Mini Grover Rotomatic w/ kidney buttons
HARDWARE COLOR: Nickel
FINISH: Nitrocellulose – Antique Natural, Rosewood Burst
Check price/availability at:
Gibson SJ-200 Studio Walnut LH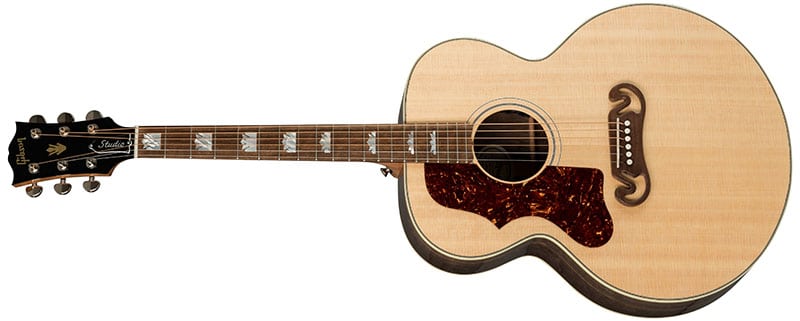 $3,499.00 MSRP, Made in USA
Specs:
STRINGS: 6
TOP: Sitka spruce
BACK: Walnut
SIDE: Walnut
BRACING: Traditional hand scalloped X-bracing
SCALE: 25.5″ (647.7mm)
NECK: Mahogany
NECK PROFILE: Advanced Response
NECK JOINT: Compound Dovetail Neck-to-body
FINGERBOARD: Walnut
FRETBOARD RADIUS: 16″
FRETS: 20 Standard
NUT TYPE: Tusq
NUT WIDTH: 1.72″ (43.81mm)
BRIDGE: Moustache, no inlay
PICKUP: Active Under-saddle Piezo Pickup
CONTROLS: Soundhole Mounted
TUNERS: Grover Rotomatic w/ kidney buttons
HARDWARE COLOR: Nickel
FINISH: Nitrocellulose – Antique Natural, Walnut Burst
Check price/availability at:
Gibson SJ-200 Studio Rosewood LH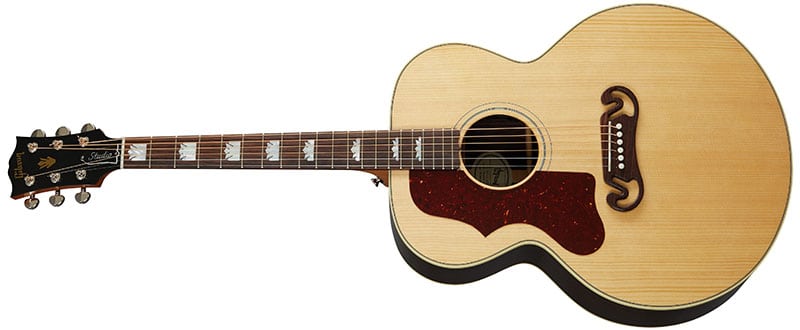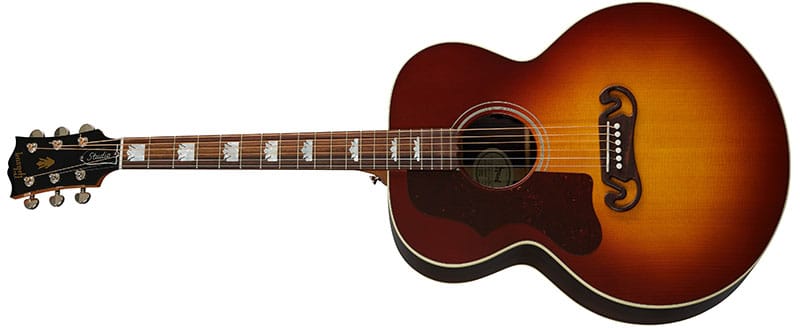 $3,999.00 MSRP, Made in USA
Specs:
STRINGS: 6
TOP: Sitka spruce
BACK: Rosewood
SIDE: Rosewood
BRACING: Traditional hand-scalloped X-bracing
SCALE: 25.5″ (647.7mm)
NECK: Mahogany
NECK PROFILE: Advanced Response
NECK JOINT: Compound Dovetail Neck-to-body
FINGERBOARD: Rosewood
FRETBOARD RADIUS: 16″
FRETS: 20 Standard
NUT TYPE: Tusq
NUT WIDTH: 1.72″ (43.81mm)
BRIDGE: Moustache
PICKUP: Active Under-saddle Piezo Pickup
CONTROLS: Soundhole Mounted
TUNERS: Grover Rotomatic w/ Kidney Buttons
HARDWARE COLOR: Nickel
FINISH: Nitrocellulose – Antique Natural, Rosewood Burst
Check price/availability at:
Original Acoustic
Gibson 50s J-45 Original LH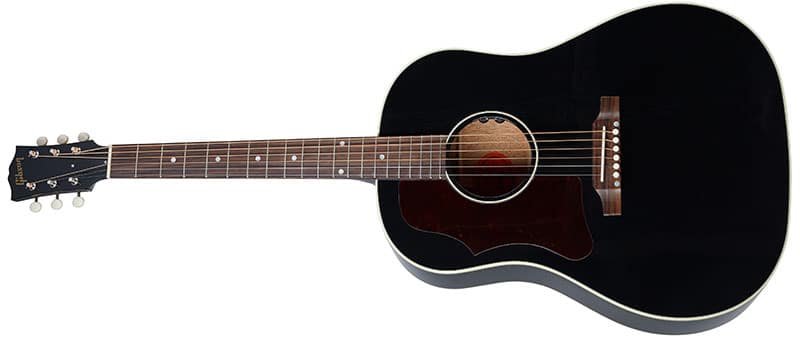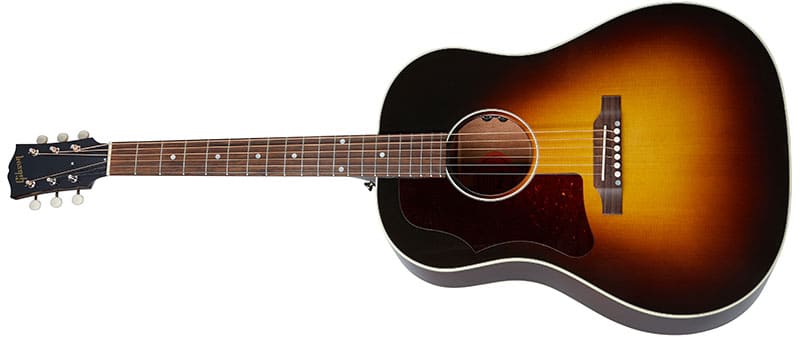 $2,849.00 MSRP, Made in USA
Specs:
STRINGS: 6
TOP: Sitka spruce
BACK: Mahogany
SIDE: Mahogany
BRACING: Traditional hand-scalloped X-bracing
SCALE: 25.5″ (647.7mm)
NECK: Mahogany
NECK PROFILE: Round
NECK JOINT: Compound Dovetail Neck-to-body
FINGERBOARD: Rosewood
FRETBOARD RADIUS: 12″
FRETS: 20 Standard
NUT TYPE: Bone
NUT WIDTH: 1.72″ (43.81mm)
BRIDGE: Traditional belly up
PICKUP: Under-saddle LR Baggs VTC
CONTROLS: Volume and Tone
TUNERS: Grover Strap Cream Button
HARDWARE COLOR: Nickel
FINISH: Nitrocellulose – Ebony, Vintage Sunburst
Check price/availability at:
Gibson 50s J-50 Original LH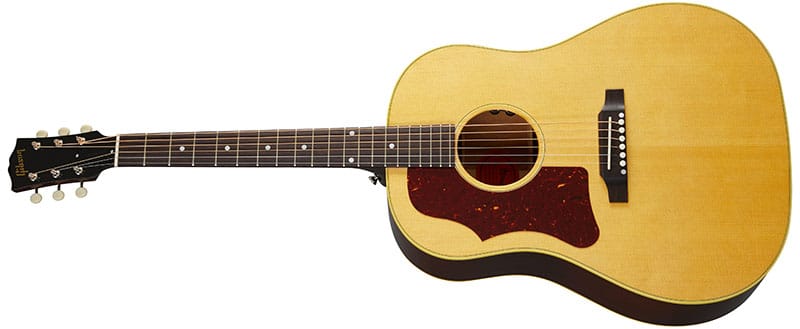 $2,799.00 MSRP, Made in USA
Specs:
STRINGS: 6
TOP: Sitka spruce
BACK: Mahogany
SIDE: Mahogany
BRACING: Traditional hand-scalloped X-bracing
SCALE: 25.5″ (647.7mm)
NECK: Mahogany
NECK PROFILE: Round
NECK JOINT: Compound Dovetail Neck-to-body
FINGERBOARD: Rosewood
FRETBOARD RADIUS: 12″
FRETS: 20 Standard
NUT TYPE: Bone
NUT WIDTH: 1.72″ (43.81mm)
BRIDGE: Traditional belly up
PICKUP: Under-saddle LR Baggs VTC
CONTROLS: Volume and Tone
TUNERS: Grover Strap Cream Button
HARDWARE COLOR: Nickel
FINISH: Nitrocellulose – Antique Natural
Check price/availability at:
Gibson 60s J-45 Original LH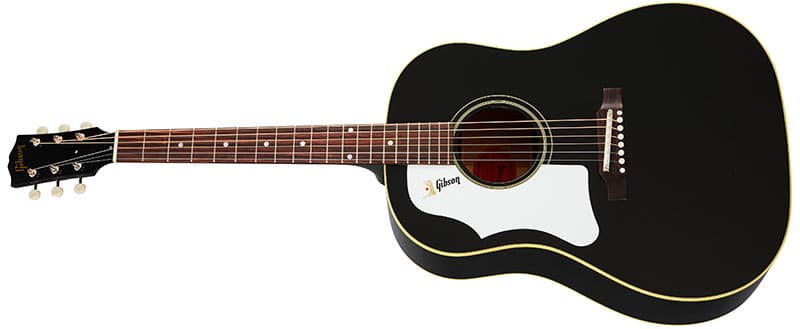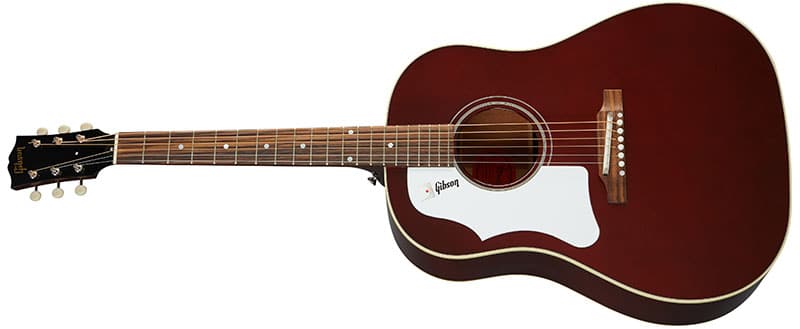 $2,649.00 MSRP, Made in USA
Specs:
STRINGS: 6
TOP: Sitka spruce
BACK: Mahogany
SIDE: Mahogany
BRACING: Traditional hand-scalloped X-bracing
SCALE: 24.75″ (628.65mm)
NECK: Mahogany
NECK PROFILE: Round
NECK JOINT: Compound Dovetail Neck-to-body
FINGERBOARD: Rosewood
FRETBOARD RADIUS: 12″
FRETS: 20 Standard
NUT TYPE: Bone
NUT WIDTH: 1.69″ (42.84mm)
BRIDGE: Traditional belly up, Adjustable
PICKUP: None
TUNERS: Grover Strap Cream Button
HARDWARE COLOR: Nickel
FINISH: Nitrocellulose – Ebony, Wine Red
Check price/availability at:
Gibson 60s J-50 Original LH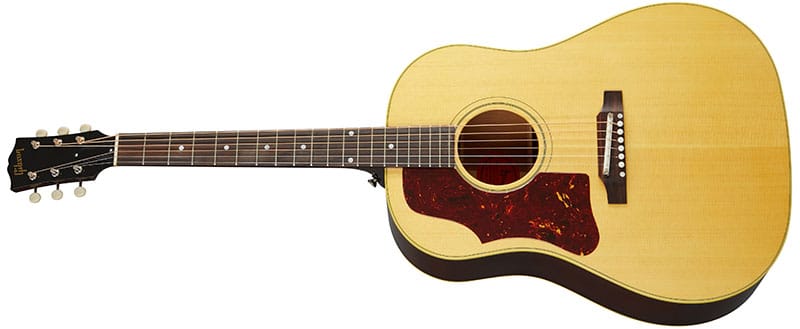 $2,599.00 MSRP, Made in USA
Specs:
STRINGS: 6
TOP: Sitka spruce
BACK: Mahogany
SIDE: Mahogany
BRACING: Traditional hand-scalloped X-bracing
SCALE: 24.75″ (628.65mm)
NECK: Mahogany
NECK PROFILE: Round
NECK JOINT: Compound Dovetail Neck-to-body
FINGERBOARD: Rosewood
FRETBOARD RADIUS: 12″
FRETS: 20 Standard
NUT TYPE: Bone
NUT WIDTH: 1.69″ (42.84mm)
BRIDGE: Traditional belly up, Adjustable
PICKUP: None
TUNERS: Grover Strap Cream Button
HARDWARE COLOR: Nickel
FINISH: Nitrocellulose – Antique Natural
Check price/availability at:
Gibson Southern Jumbo Original LH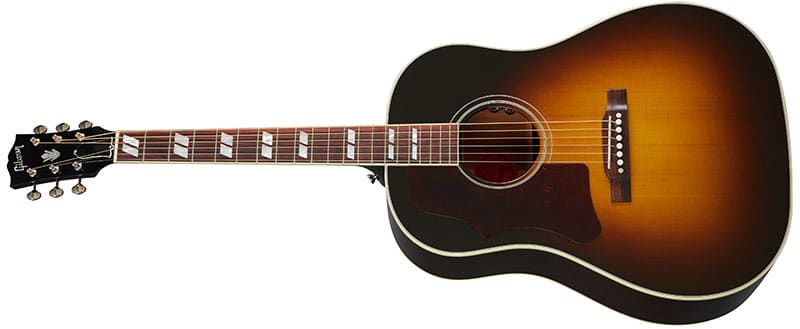 $3,199.00 MSRP, Made in USA
Specs:
STRINGS: 6
TOP: Sitka spruce
BACK: Mahogany
SIDE: Mahogany
BRACING: Traditional hand-scalloped X-bracing
SCALE: 24.75″ (628.65mm)
NECK: Mahogany
NECK PROFILE: Slim Taper
NECK JOINT: Compound Dovetail Neck-to-body
FINGERBOARD: Rosewood
FRETBOARD RADIUS: 12″
FRETS: 20 Standard
NUT TYPE: Bone
NUT WIDTH: 1.72″ (43.81mm)
BRIDGE: Traditional belly up, holes in middle
PICKUP: Under-saddle LR Baggs VTC
CONTROLS: Volume and Tone
TUNERS: Grover Strap Cream Button
HARDWARE COLOR: Nickel
FINISH: Nitrocellulose – Vintage Sunburst
Check price/availability at:
Gibson Hummingbird Original LH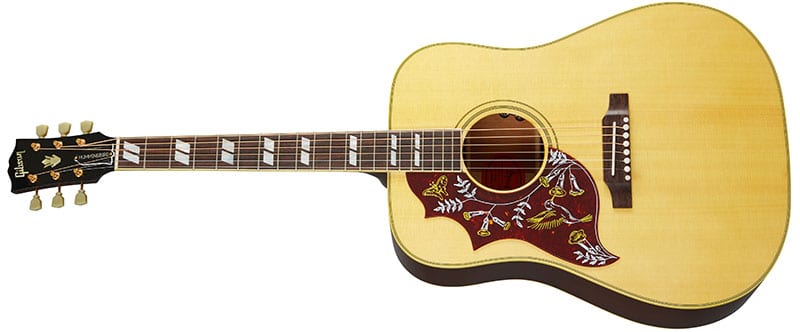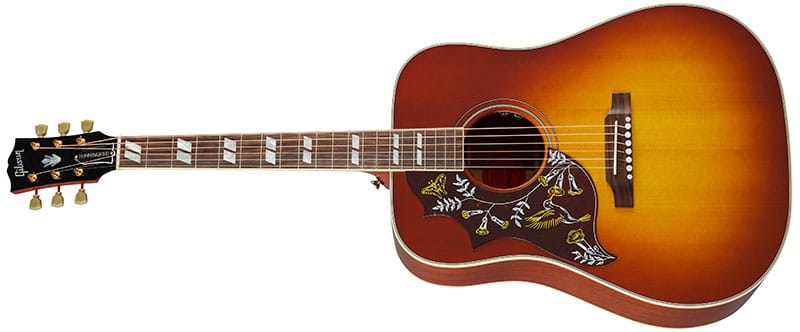 $3,999.00 MSRP, Made in USA
Specs:
STRINGS: 6
TOP: Sitka spruce
BACK: Mahogany
SIDE: Mahogany
BRACING: Traditional hand-scalloped X-bracing
SCALE: 24.75″ (628.65mm)
NECK: Mahogany
NECK PROFILE: Round
NECK JOINT: Compound Dovetail Neck-to-body
FINGERBOARD: Rosewood
FRETBOARD RADIUS: 12″
FRETS: 20 Standard
NUT TYPE: Bone
NUT WIDTH: 1.72″ (43.81mm)
BRIDGE: Traditional belly up
PICKUP: Under-saddle LR Baggs VTC
CONTROLS: Volume and Tone
TUNERS: Gotoh Keystone
HARDWARE COLOR: Gold
FINISH: Nitrocellulose – Antique Natural, Heritage Cherry Sunburst
Check price/availability at:
Gibson Dove Original LH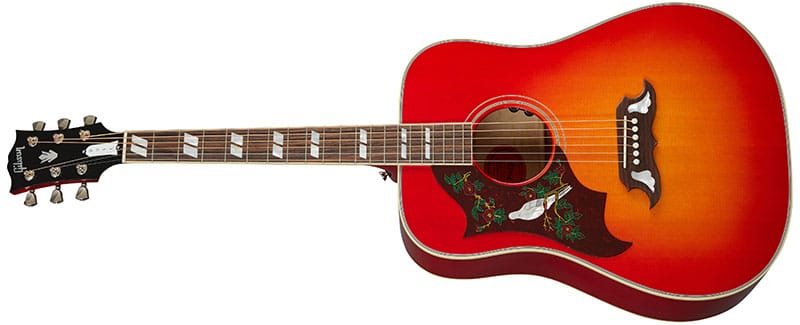 $4,499.00 MSRP, Made in USA
Specs:
STRINGS: 6
TOP: Sitka spruce
BACK: Flame maple
SIDE: Flame maple
BRACING: Traditional hand-scalloped Advanced X-bracing
SCALE: 24.75″ (628.65mm)
NECK: Three-piece maple
NECK PROFILE: Round
NECK JOINT: Compound Dovetail Neck-to-body
FINGERBOARD: Rosewood
FRETBOARD RADIUS: 12″
FRETS: 20 Standard
NUT TYPE: Bone
NUT WIDTH: 1.72″ (43.81mm)
BRIDGE: Dove
PICKUP: Under-saddle LR Baggs VTC
CONTROLS: Volume and Tone
TUNERS: Grover Keystone
HARDWARE COLOR: Nickel
FINISH: Nitrocellulose – Vintage Cherry Sunburst, Antique Natural
Check price/availability at:
Gibson J-185 Original LH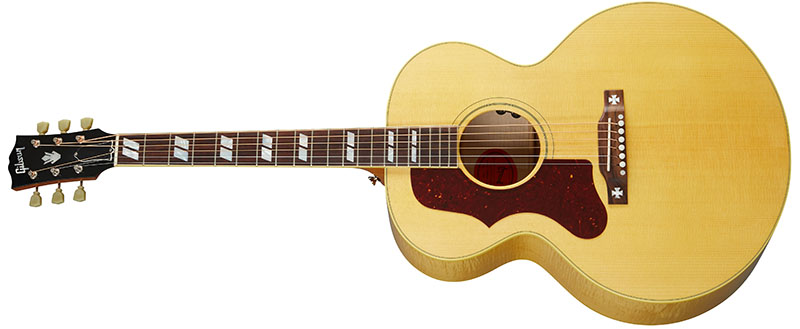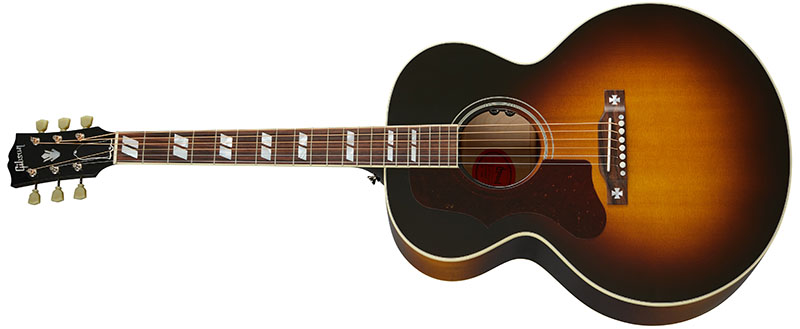 $3,749.00 MSRP, Made in USA
Specs:
STRINGS: 6
TOP: Sitka spruce
BACK: Flame maple
SIDE: Flame maple
BRACING: Traditional hand-scalloped X-bracing
SCALE: 24.75″ (628.65mm)
NECK: Mahogany
NECK PROFILE: Slim Taper
NECK JOINT: Compound Dovetail Neck-to-body
FINGERBOARD: Rosewood
FRETBOARD RADIUS: 12″
FRETS: 20 Standard
NUT TYPE: Bone
NUT WIDTH: 1.72″ (43.81mm)
BRIDGE: Traditional belly up
PICKUP: Under-saddle LR Baggs VTC
CONTROLS: Volume and Tone
TUNERS: Gotoh Keystone
HARDWARE COLOR: Nickel
FINISH: Nitrocellulose – Antique Natural, Vintage Sunburst
Check price/availability at:
Gibson SJ-200 Original LH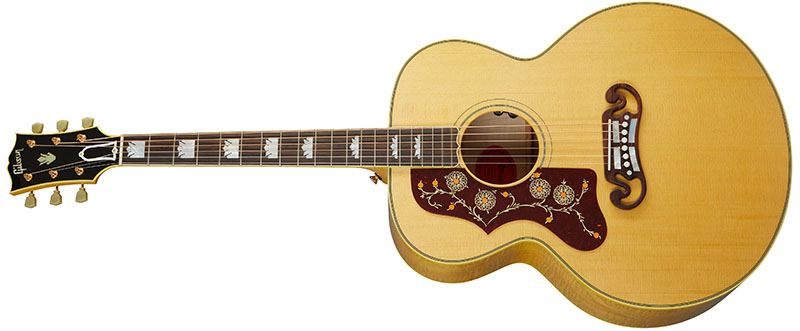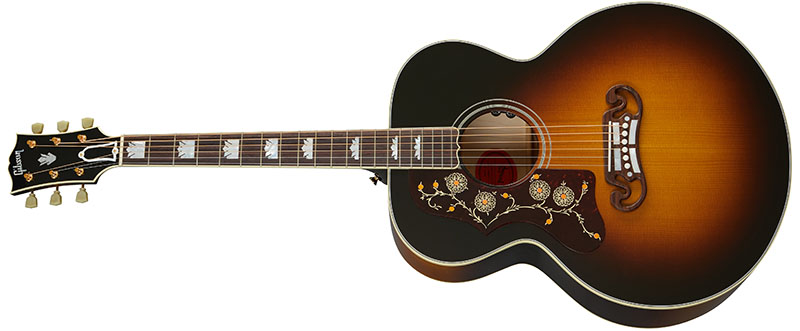 $5,299.00 MSRP, Made in USA
Specs:
STRINGS: 6
TOP: Sitka spruce
BACK: Flame maple
SIDE: Flame maple
BRACING: Traditional hand-scalloped X-bracing
SCALE: 25.5″ (647.7mm)
NECK: 2-piece maple
NECK PROFILE: Round
NECK JOINT: Compound Dovetail Neck-to-body
FINGERBOARD: Rosewood
FRETBOARD RADIUS: 12″
FRETS: 20 Standard
NUT TYPE: Bone
NUT WIDTH: 1.72″ (43.81mm)
BRIDGE: SJ-200 Four Bar Moustache
PICKUP: Under-saddle LR Baggs VTC
CONTROLS: Volume and Tone
TUNERS: Gotoh Keystone
HARDWARE COLOR: Gold
FINISH: Nitrocellulose – Antique Natural, Vintage Sunburst
Check price/availability at:
Gibson 50s LG-2 LH


$2,599.00 MSRP, Made in USA
Specs:
STRINGS: 6
TOP: Sitka spruce
BACK: Mahogany
SIDE: Mahogany
BRACING: Traditional hand-scalloped X-bracing
SCALE: 25.5″ (647.7mm)
NECK: Mahogany
NECK PROFILE: Historic V
NECK JOINT: Compound Dovetail Neck-to-body
FINGERBOARD: Rosewood
FRETBOARD RADIUS: 12″
FRETS: 20 Standard
NUT TYPE: Bone
NUT WIDTH: 1.72″ (43.81mm)
BRIDGE: Rectangle, closed slot
PICKUP: Under-saddle LR Baggs VTC
CONTROLS: Volume and Tone
TUNERS: Grover Strap Cream Button
HARDWARE COLOR: Nickel
FINISH: Nitrocellulose – Vintage Sunburst, Antique Natural
Check price/availability at:
Gibson L-00 Original LH


$2,799.00 MSRP, Made in USA
Specs:
STRINGS: 6
TOP: Sitka spruce
BACK: Mahogany
SIDE: Mahogany
BRACING: Traditional hand-scalloped X-bracing
SCALE: 25.5″ (647.7mm)
NECK: Mahogany
NECK PROFILE: Slim Taper
NECK JOINT: Compound Dovetail Neck-to-body
FINGERBOARD: Rosewood
FRETBOARD RADIUS: 12″
FRETS: 19 Standard
NUT TYPE: Bone
NUT WIDTH: 1.72″ (43.81mm)
BRIDGE: Rectangle, closed slot
PICKUP: Under-saddle LR Baggs VTC
CONTROLS: Volume and Tone
TUNERS: Golden Age
HARDWARE COLOR: Nickel
FINISH: Nitrocellulose – Ebony, Vintage Sunburst
Check price/availability at:
Acoustic Custom Shop
Gibson 1942 Banner LG-2 LH

$4,499.00 MSRP, Made in USA
Specs:
STRINGS: 6
TOP: Thermally Aged Red spruce
BACK: Mahogany
SIDE: Mahogany
BRACING: Traditional hand-scalloped X-bracing, with hide glue
SCALE: 24.75″ (628.65mm)
NECK: Mahogany
NECK PROFILE: Historic
NECK JOINT: Compound Dovetail Neck-to-body
FINGERBOARD: Rosewood
FRETBOARD RADIUS: 12″
FRETS: 20 Legend Wire
NUT TYPE: Bone
NUT WIDTH: 1.69″ (43mm)
BRIDGE: Rectangle, open slot
PICKUP: None
TUNERS: Golden Age
HARDWARE COLOR: Nickel
FINISH: Thin Finish Nitrocellulose, VOS – Vintage Sunburst
Check price/availability at:
Gibson 1942 Banner J-45 LH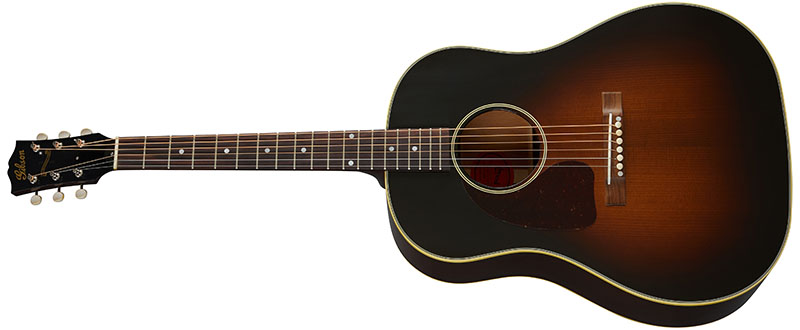 $4,999.00 MSRP, Made in USA
Specs:
STRINGS: 6
TOP: Thermally Aged Red spruce
BACK: Mahogany
SIDE: Mahogany
BRACING: Traditional hand-scalloped X-bracing, red spruce braces with hide glue
SCALE: 24.75″ (628.65mm)
NECK: Mahogany
NECK PROFILE: V
NECK JOINT: Compound Dovetail Neck-to-body
FINGERBOARD: Rosewood
FRETBOARD RADIUS: 12″
FRETS: 19 Legend Wire
NUT TYPE: Bone
NUT WIDTH: 1.72″ (43.81mm)
BRIDGE: Rectangle, open slot
PICKUP: None
TUNERS: Strap open back, cream button
HARDWARE COLOR: Nickel
FINISH: Thin Finish Nitrocellulose, VOS – Vintage Sunburst
Check price/availability at:
Gibson 1934 Jumbo LH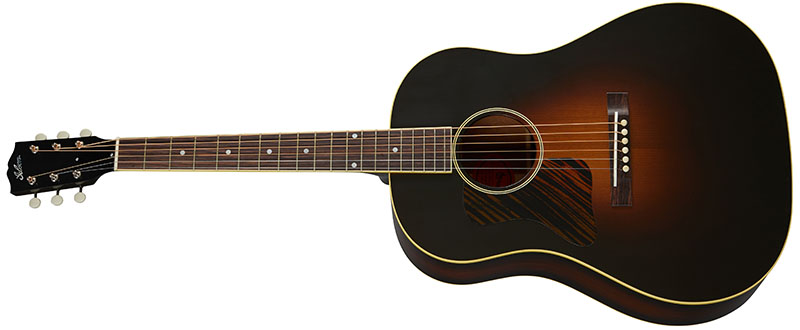 $4,999.00 MSRP, Made in USA
Specs:
STRINGS: 6
TOP: Thermally Aged Red spruce
BACK: Mahogany
SIDE: Mahogany
BRACING: Traditional hand-scalloped Advanced X-bracing, red spruce braces with hide glue
SCALE: 25″ (635mm)
NECK: Mahogany
NECK PROFILE: V
NECK JOINT: Compound Dovetail Neck-to-body
FINGERBOARD: Rosewood
FRETBOARD RADIUS: 12″
FRETS: 19 Standard
NUT TYPE: Bone
NUT WIDTH: 1.75″ (44.45mm)
BRIDGE: Rectangle, open slot
PICKUP: None
TUNERS: Waverly
HARDWARE COLOR: Nickel
FINISH: Thin Finish Nitrocellulose, VOS – Vintage Sunburst
Check price/availability at:
Gibson 1936 J-35 LH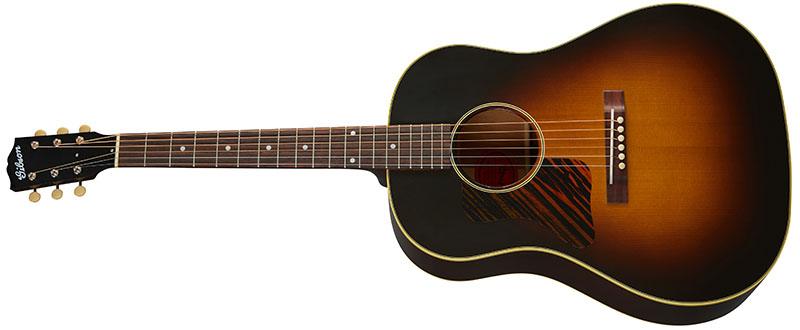 $4,999.00 MSRP, Made in USA
Specs:
STRINGS: 6
TOP: Thermally Aged Red spruce
BACK: Mahogany
SIDE: Mahogany
BRACING: Traditional hand-scalloped Advanced X-bracing, red spruce braces with hide glue
SCALE: 24.75″ (628.65mm)
NECK: Mahogany
NECK PROFILE: V
NECK JOINT: Compound Dovetail Neck-to-body
FINGERBOARD: Rosewood
FRETBOARD RADIUS: 12″
FRETS: 19 Standard
NUT TYPE: Bone
NUT WIDTH: 1.77″ (44.95mm)
BRIDGE: Rectangle, open slot, historic spacing
PICKUP: None
TUNERS: Strap cream button
HARDWARE COLOR: Nickel
FINISH: Thin Finish Nitrocellulose, VOS – Vintage Sunburst
Check price/availability at: