Last Updated on January 17, 2023 by Chris
Paul Reed Smith On Left Handed PRS Guitars
Although nowadays there are very limited numbers of PRS Core models available to lefty guitarists, there was a time when we weren't so lucky.
When asked about left handed PRS guitars, Paul Reed Smith, founder of PRS Guitars, once said "I think there were more left handed guitarists in the '50s than there are now. Left handed guitar players are on the way out."
And at one point, PRS Guitars also famously said that they would never make any left handed PRS guitars as part of their Core Electrics series!
"What?! That's not fair!" I hear you say.
It's definitely not fair on us lefties, but I guess at the time PRS Guitars were making enough money from our right handed friends to worry too much about us.
According to market research company Technavio, their global guitar market report 2017-2021 reveals that the top five leading guitar vendors are:
Karl Höfner
PRS Guitars
That makes PRS a major player!
On the ESP Guitars website, it says that there are approximately 924 million left handed people in the world, and if 0.7% of the population can play guitar, it could be estimated that there are around 64.68 million lefty guitarists in this world!
According to industrystatsreport.com, in 2019, the Global Guitar Market was valued at $432.34 million. Technavio says it is expected to grow by $468.78 million during 2020-2024, more than doubling its value.
If we take it that approximately 12% of the world is left handed, and estimating that 2019's lefty guitar market at around $51.88 million; if that figure will double in the next four years, that's obviously a massive amount of lefty guitars that are going to be sold! A figure certainly not to be sniffed at.
I think any guitar company should think twice about ignoring the lefty market. I guess PRS must have changed their minds about producing guitars for us southpaws for some reason. Could well be this!
Anyway…
Who Are Paul Reed Smith Guitars?
The company itself was founded in 1985 by Paul Reed Smith in Annapolis, Maryland. Smith is a master luthier who was mentored by Ted McCarty, former president of Gibson Guitars and creator of, among others, Gibson's Explorer, ES-335, SG, and Flying V guitars. The first PRS guitar was the PRS Custom, which they revealed at the 1985 NAMM show.
In 1992, the PRS EG II guitar was introduced, which was also PRS's first lefty guitar. Since then, there have been a number of other left handed PRS guitars available, with models including Custom 24, Custom 22, EG I, EG III, and the McCarty Model among others.
They have since gone from strength to strength to become one of the major players in the guitar manufacturing world, and are well known for their high-end, handcrafted electric guitars. These premium guitars have become highly desired by musicians and collectors throughout the world.
The main line of PRS guitars is designed and constructed in the USA and the lower-priced SE Models are produced in Korea.
The only lefty guitarists I can find who use PRS guitars are Sam Bowden of Welsh pop-punk band Neck Deep, Paulo Morete, guitarist with Spanish rock band InMune, and Willie Duncan, guitarist and vocalist with German Rock 'n' Roll revivalists Spider Murphy Gang.
Notable righties include Alex Lifeson (Rush), Carlos Santana, John Mayer, and Mark Tremonti (Alter Bridge).
Buying gifts for the guitar player in your life? Or maybe you want to treat yourself. Check this list of the best gifts for guitar players!
What Do I Think About PRS?
Despite the previous comments from Paul Reed Smith regarding left handed guitarists, I do actually like the guitars.
They are well known for their flawless workmanship, using the finest selected woods, and they have a price tag to match! This is one thing that may convince some players to go elsewhere for their guitars, but it's also one thing that makes them more desirable too!
I'm a fan of their overall shape and look, and oftentimes, many a PRS guitar has a really great-looking finish, with beautiful top woods, including flamed, spalted, and quilted maples.
The coil tapping makes for a really versatile guitar too, giving you many tonal options to play with.
I'd love to get one, but the price tag is too high for me right now!
The Different Types of PRS Guitars
PRS have 5 main ranges of guitar:
CORE ELECTRICS – The Core range are high-quality, American-crafted instruments and are made with incredible attention to detail. They are made with CNC machines and are then handcrafted to the highest standard. PRS have built a solid reputation for building guitars that are nothing short of perfection.
BOLT-ON ELECTRICS – Simply put, this range of guitars have bolt-on Maple necks, instead of Mahogany set necks used in the Core Electrics series. These bolt-on necks lend the guitars a bright and vibrant tone.
S2 ELECTRICS – Short for Stevensville 2, the S2 Series is named after a second production line at the PRS Stevensville, Maryland factory. Introduced in 2013, these are a stripped-down, no-frills USA-made guitar, that maintains the excellent playability of the Core series at half the price.
SE ELECTRICS – A more affordable PRS guitar series, introduced in the late 1990s. The early models were known as the Student Edition line and were designed to appeal to beginners and intermediate guitar players. Nowadays, with upgraded hardware and pickups, they are also popular with experienced guitarists too. The SE range is manufactured in Korea.
PRIVATE STOCK – This range offers the greatest level of customization, and uses the highest quality materials possible. Painstakingly handcrafted, the Private Stock and Built to Order models are designed and built as unique "one-off" instruments. These are guitars of sublime quality!
Are There Any Left Handed PRS Guitars Available To Buy?
Please note: Some of the links on this page are affiliate links, which means that at no extra cost to you, if you decide to make a purchase when you click through I may get a small commission. If you do buy something, then I'd like to say "thank you so much"! It really does help me keep this website going.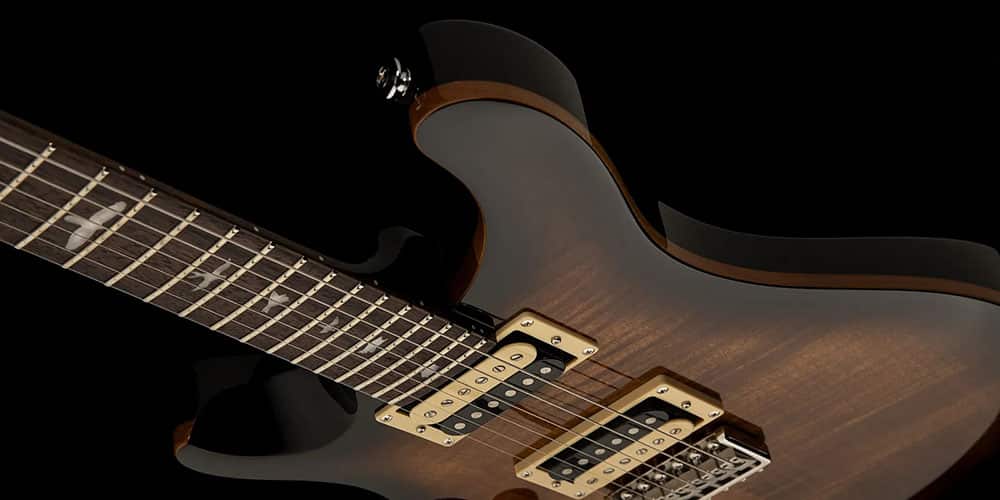 At the time of writing, only the SE Electrics are available as left handed models. Of those, there are only two left handed guitars available. They are both PRS SE Custom 24 models, available in two different finishes; Charcoal Burst and Faded Blue Burst.
Every now and then, PRS will have small batch runs of left-handed guitars at their production line in Stevensville, Maryland. So some Core models and Private Stock models will occasionally be available in select stores. It definitely pays to shop around if you want a Core lefty PRS!
Shop Rare and Boutique Guitar Effects Pedals at PerfectCircuit.com!
PRS SE Custom 24 "Lefty"


The PRS Custom 24 is the guitar that started everything for PRS Guitars. This is the SE version, from PRS's more affordable range, faithfully designed to reflect the specifications of the Core Electrics series. They may be more affordable, but they are definitely not cheap guitars!
The SE series are still high-quality instruments that have propelled PRS ahead in the mid-priced guitar market; in doing so, they now have a wider appeal, delivering these mass-produced guitars by manufacturing them in the Far East.
The PRS SE Custom 24 "Lefty" brings classic PRS features to lefty guitarists. This model brings the same specifications as the SE Custom 24, including a 3-way blade switch and push/pull tone control for coil-tapping, adding extra tone versatility to your playing.
Specs:
STRINGS: 6
SCALE: 25″
BODY: Mahogany
TOP: Beveled Maple with Flame Maple Veneer
NECK: Set-Neck Multi-Ply Maple with PRS Double-Acting truss rod
NECK SHAPE: Wide Thin
FINGERBOARD: Rosewood with PRS Bird Inlays
FINGERBOARD RADIUS: 10″
FRETS: 24
BRIDGE: PRS Patented Tremolo, Molded
NECK PICKUP: 85/15 "S"
BRIDGE PICKUP: 85/15 "S"
CONTROLS: 1x Volume, 1x Tone with Push/Pull Coil Split, 3-way Blade Switch
TUNERS: PRS Designed Tuners
FINISH: Black Gold Burst, Faded Blue
Check price/availability at:
In previous years, other finishes were available, such as:
Charcoal Burst
Fire Red Burst
Tobacco Sunburst
Trampas Green
Vintage Sunburst
Whale Blue
Faded Blue Burst
If you shop around for an earlier year's model, you may still be able to find these colors to buy.
Final Thoughts
So to answer the question, "Can I get one?", in short, it's a "yes". Sort of…
So, unfortunately, when it comes to Paul Reed Smith guitars, if you want the full-on left handed Paul Reed Smith experience, then you're gonna have to shop around to see if there are any limited run Core models, or save up the pennies and spend quite a few more dollars to get a Private Stock model on special order!
This makes left handed PRS guitars quite a rare thing! At least if you want the full spec PRS "proper", it is possible to get one.
For the most part though, if you want left handed PRS guitars, the PRS SE Custom 24 is probably the easiest option, and by all accounts is an extremely good guitar.
What do you think about PRS Guitars? Do you own one? Are there any other famous guitarists who play left handed PRS guitars? Let me know your thoughts in the comments below!
Image credits: prsguitars.com