Last Updated on April 19, 2023 by Chris
Please note: As an Amazon Associate I earn from qualifying purchases, so if you decide to buy anything through any of their links, I'll get a commission at no extra cost to you. I may also earn from other links on this page too. If you do make a purchase, then thanks so much!
Courtney Barnett is an Australian lefty indie/alternative singer-songwriter from Sydney, New South Wales, who's been making music since 2009.
Known for her witty, humorous lyrics, and deadpan delivery, Courtney Barnett has become one of the most distinctive and original artists in indie/alternative rock.
Twelve years on, in 2021, she released the video of her song If I Don't Hear From You Tonight, taken from her album Things Take Time, Take Time.
Read on to find out more about Courtney Barnett!
Who Is Courtney Barnett?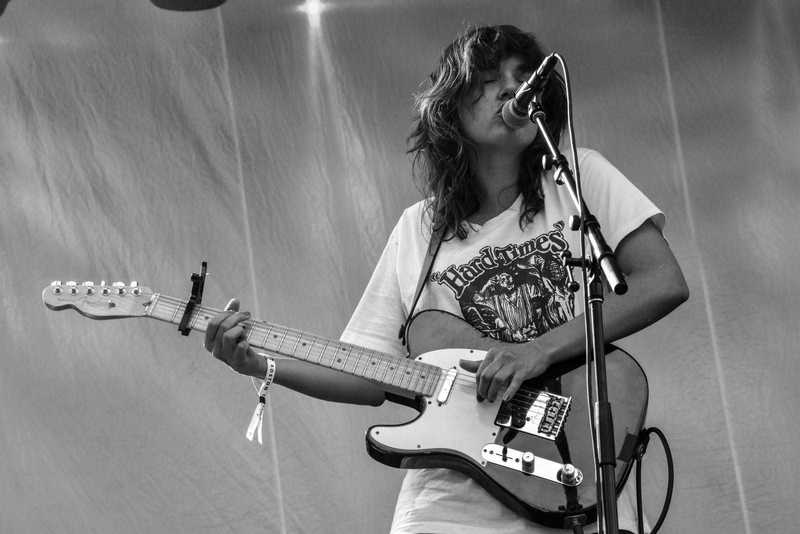 Courtney Melba Barnett was born November 3, 1987, in Sydney, New South Wales, Australia.
Her parents gave her her middle name Melba after the Victorian-era soprano opera singer Nellie Melba, also from Australia.
As with many guitar players, the first song she learned on guitar was Deep Purple's Smoke on the Water, which her dad taught her.
She grew up listening to artists and bands like Nirvana, Sonic Youth, PJ Harvey, and Jeff Buckley but it was Aussie singer-songwriters Darren Hanlon and Dan Kelly who inspired Barnett to write her own songs. She'd write poetry in her notebooks, and later put them to music.
In 2012, Barnett and fellow Aussie musician Jen Cloher founded their own record label Milk! Records.
After playing in various bands and playing guitar for other artists, including Cloher, Barnett released her first EP in 2013.
Later that year, Barnett recorded her second EP, How to Carve a Carrot into a Rose, and released it combined with her first EP as The Double EP: A Sea of Split Peas. This release gained critical acclaim, with the record and songs gaining plaudits from the likes of Q Magazine and Pitchfork.
By March 2015, Barnett released her debut album, Sometimes I Sit and Think, and Sometimes I Just Sit. In her home country, it was released on Milk! Records.
The album proved popular with the music press, gaining many positive reviews, and after this release, Barnett embarked on tours in the UK, Europe, America, and Australasia to promote it.
The same year, she was nominated for eight awards at the ARIA (Australian Recording Industry Association) Music Awards, and picked up four; Breakthrough Artist, Best Female Artist, Best Independent Release, and Best Cover Art.
At the end of the year, she was nominated for Best New Artist at the Grammys.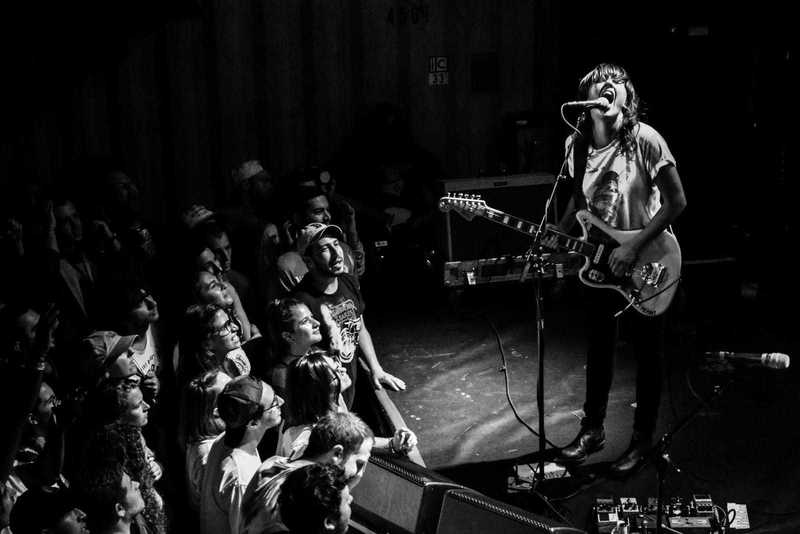 Over the next few years, Barnett released more albums; she collaborated with Kurt Vile (The War on Drugs) releasing the album Lotta Sea Lice in 2017, followed by her next solo album Tell Me How You Really Feel in 2018, and in November 2021, her third studio album, Things Take Time, Take Time.
In March 2022, a documentary about Barnett, titled Anonymous Club, which was shot over three years, following Barnett's "ups and downs both artistically and personally", had several screenings, including one at the SxSW 2022 Film Festival, Austin, TX.
What Guitars Does Courtney Barnett Play?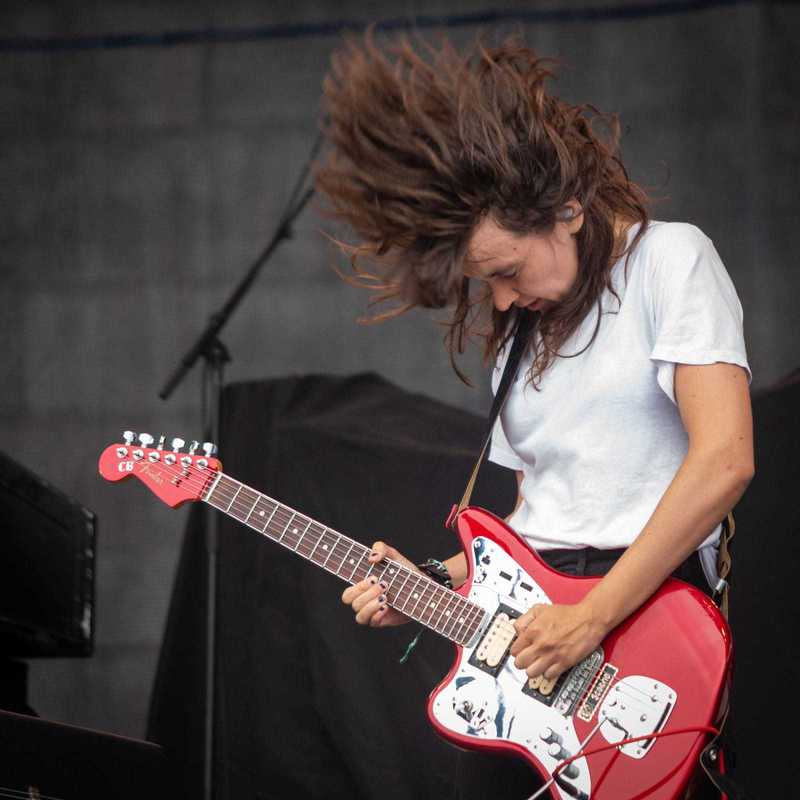 Barnett is generally known for playing left handed Fender guitars. Over the years, she's been seen playing several Fender guitars, including Telecasters, Stratocasters, Jaguars, and in her video for If I Don't Hear From You Tonight, a Jagstang.
She's also been known to play a Taylor Baby Mahogany and a Maton EMD-12 string for acoustic performances.
Other non-Fender guitars Barnett has played include a Harmony H59 Rocket Semi-Hollow and an Eastwood Airline Map DLX.
Barnett uses Ernie Ball strings.
Amps-wise, Barnett generally favors the Fender Hot Rod DeVille, Fender Twin, or Fender Deluxe.
Does Courtney Barnett use a pick?
Courtney Barnett developed her playing style (she doesn't use a pick) by playing acoustically live. As she didn't like the sound of a guitar pick on acoustic guitar, she opted to use her fingers and developed her unique fingerstyle technique from there.
When asked if she used picks by Premier Guitar in 2015, she replied:
"No. When I started doing gigs I was doing acoustic songwriter shows. I hated the sound of picks on acoustic guitar, so I never used them—I just developed whatever I do now."

premierguitar.com
Is Courtney Barnett Left Handed?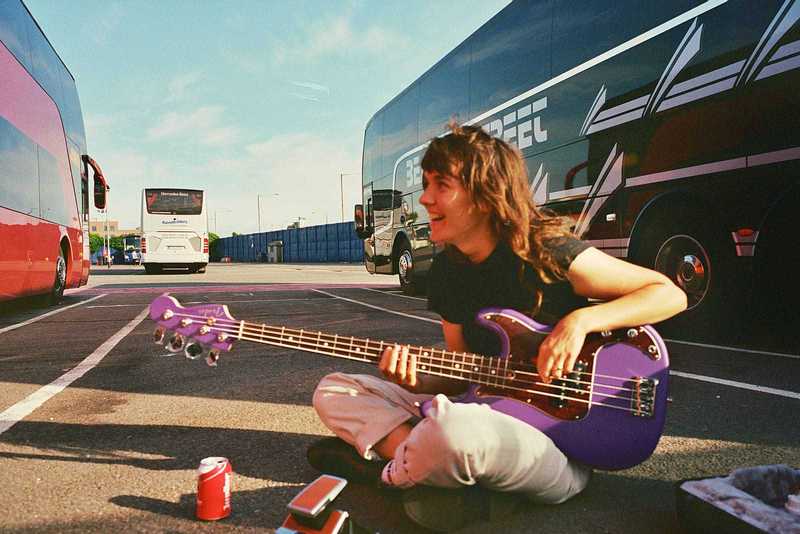 Yes! Barnett plays left handed, usually playing a left handed guitar in standard tuning. She has, on occasion, played upside-down, right handed guitars but mainly plays lefties.
At times, Barnett would play upside-down right handed guitars, but now pretty much always plays left handed ones.
On Tour 2023
At the time of writing, Courtney Barnett is not on tour in 2023. However, she will be playing Glastonbury Festival in the UK. Check out when and where below:
Europe 2022
Jun 21 – Glastonbury Festival, Worthy Farm, Pilton, Somerset, United Kingdom
More Info
Buy Tickets: Event Tickets Center / SelectATicket.com / SeatGeek (USA)
For more info on Courtney Barnett, visit the Official Website.
Image credits: courtneybarnett.com.au, courtneybarnett.live