Last Updated on April 16, 2022 by Chris
Left Handed Kramer Guitars
After writing about left handed Epiphone guitars, I thought I'd check out what left handed Kramer guitars are available, as they're also part of the Gibson Brands Family.
Who Are Kramer Guitars?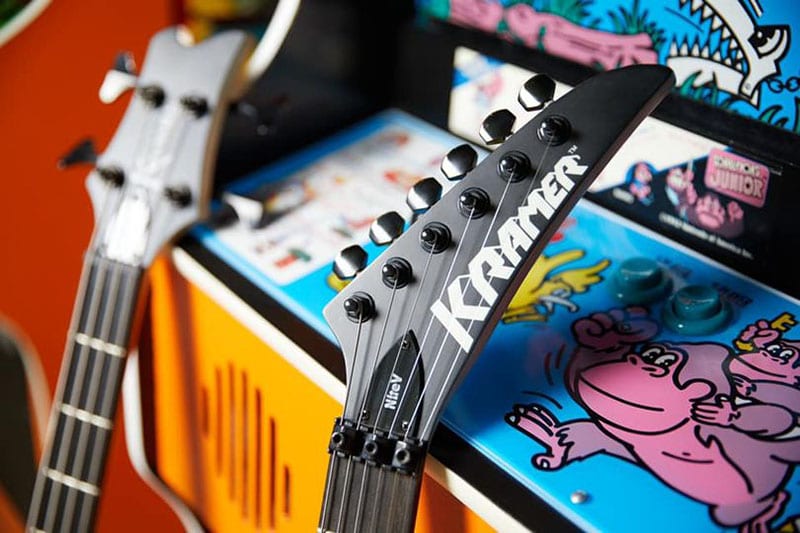 Kramer Guitars was founded in the late 1970s when Gary Kramer parted ways with his friend and business partner Travis Bean. They had started Travis Bean Guitars together in 1974.
Kramer took the Travis Bean guitar design, which used aluminum necks running through to the guitar's body and had the pickups mounted within the aluminum. Kramer used this design, but also added wooden inserts in the necks to cut down on weight and to get around the Travis Bean patent and file his own.
Gary Kramer partnered with friend Dennis Berardi, who introduced Kramer to luthier Phil Petillo who would then make prototype guitars for Kramer. Berardi also brought in Peter LaPlaca (Vice-President at Norlin, the company that owned Gibson at the time), and businessman Henry Vaccaro. Together they opened a manufacturing plant in Neptune, New Jersey.
During a successful showing at NAMM, Kramer Guitars took a large number of guitar orders and it was then time to start production.
Gary Kramer claims that LaPlaca placed all responsibility on him to sort out the mass production of these guitars, and having little knowledge of this process, he decided to move back to California. Kramer said that LaPlaca and Berardi came up with an offer to buy the company from him, allowing him to collect royalties and be Kramer Guitars' West Coast artist public relations representative.
Gary Kramer claims this never happened and things didn't work out as planned, with no royalties being paid and the agreement falling apart.
From this point, Gary Kramer no longer had any connection to the company, other than by name.
Kramer Guitars became known for producing instruments using high-quality, fancy materials and hardware, and by 1981 switched to producing guitars with wooden necks, keeping production costs down and appealing to more traditional players. By 1982, Kramer stopped producing their "Alumi-neck" guitars.
The early '80s also saw a chance meeting between Berardi and Eddie Van Halen's manager on an airplane flight. Eddie was looking for a tremolo system that stayed in tune, which Kramer guitars offered, so Eddie met up with Kramer and later began endorsing their guitars.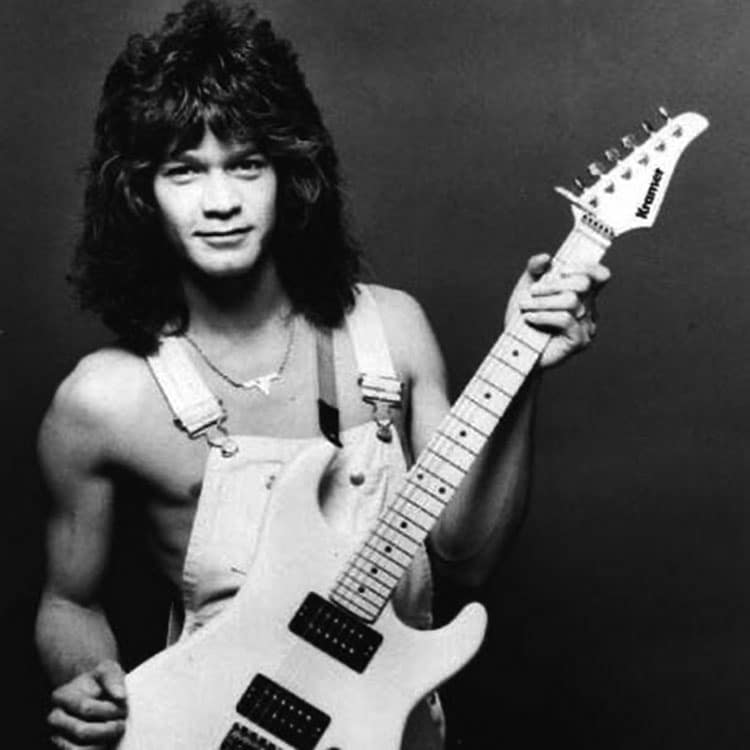 By 1983, Kramer switched to the Floyd Rose system, which proved to be a wise move. At that time, Kramer was the only guitar company that offered Original Floyd Rose tremolos stock on their production guitars, making them even more popular.
Kramer Guitars enjoyed much success over the next few years, outselling both Fender and Gibson two years in a row in 1985 and 1986. Also during this period, Kramer expanded their business and acquired Spector Bass.
By 1987 Kramer had moved all guitar neck and body manufacturing to ESP Guitars in Japan. Kramer's "American Series" were merely assembled in Neptune, New Jersey using Japanese parts. Kramer also had several cheaper guitar ranges made in Korea.
At this time, a series of unfortunate events led to the company running into financial difficulties. A labor strike in Korea left the company unable to keep up with orders, a lawsuit with Floyd D. Rose over royalties also cost them dearly, and on top of that, Kramer was over-spending on advertising and endorsements.
The Kramer company effectively came to an end in 1991, however owner Henry Vaccaro was the only original partner who wanted to keep the brand going, and in 1995 he tried producing Kramer guitars from surplus parts, but very few were actually made.
In 1997, the Kramer brand was sold to Gibson Guitar Corporation after filing for bankruptcy, and they have since reissued classic Kramer guitars and limited runs with custom art.
What Do I Think of Kramer Guitars?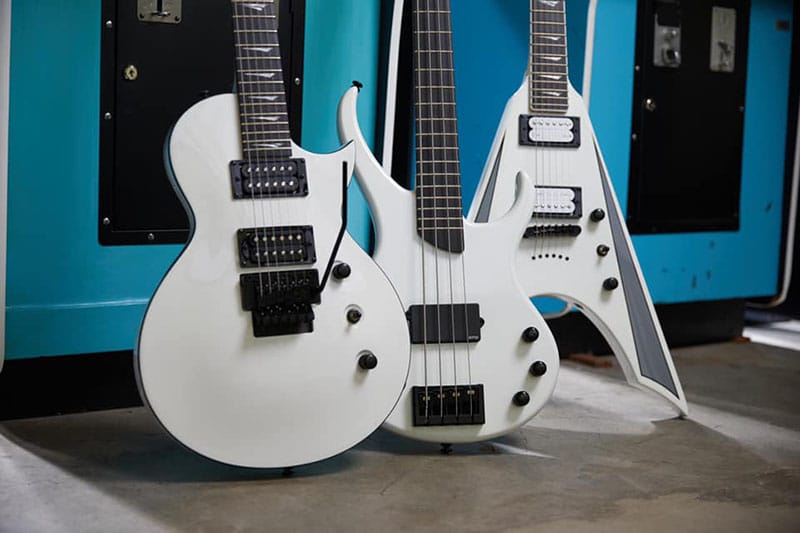 To be honest, I never knew much about Kramer guitars when I first started playing guitar; I had heard of them and was aware of the brand, but I wasn't really a fan of their "banana" headstock at the time, so didn't pay a great deal of attention to them until more recently.
Also, I started playing in 1990, so with the company pretty much ending in 1991, I didn't really get much chance to get to know them!
However, I have taken a liking to some of their interestingly decorated custom graphics guitars in recent years. Unfortunately, at the time of writing, none of them are available in left handed configuration.
Different Types of Kramer Guitars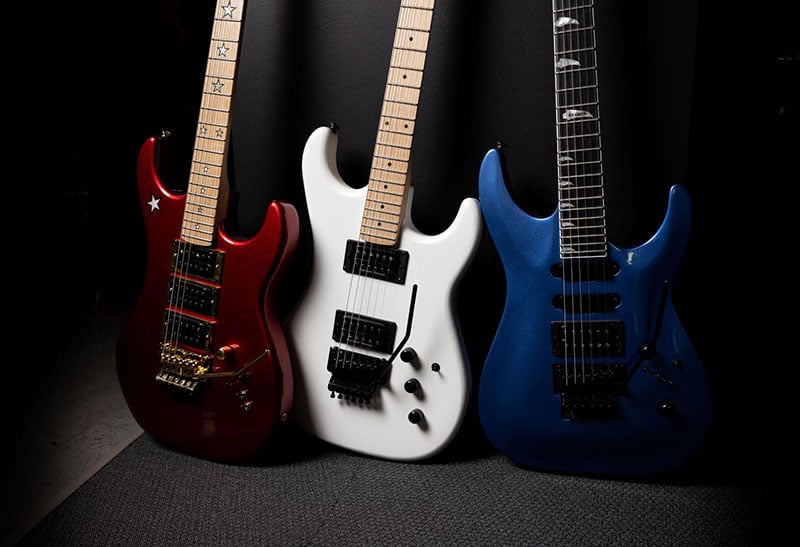 For their electric guitars, Kramer has the following different ranges of guitar available:
Original Collection
Modern Collection
Artist Collection
Custom Graphics Collection
Packs

Collection
Left Handed Kramer Electric Guitars
Please note: Some of the links on this page are affiliate links, which means that at no extra cost to you, if you decide to make a purchase when you click through I will get a small commission. If you do buy something, then I'd like to say "thank you so much"! It' helps me keep this website going.
As you may know, Kramer has a decent number of guitars, with 24 electric models available to righties. So how many left handed Kramer guitars are there?
At the time of writing, there is only one left handed Kramer guitar in their electric range. Check it out below.
Please note: At the time of writing, there are no images of any left handed models on the Kramer website. The below image has been reversed to give you an idea what the lefty version looks like.
NightSwan

$899.00 MSRP
BODY

: Mahogany

BODY FINISH: Gloss – Jet Black Metallic
SCALE: 24.75″ (628.6mm)
NECK: Bolt Neck with Black Kramer Neck Plate; 3-piece Hard Maple
NECK PROFILE

: C-Shaped

NECK FINISH: Satin
FINGERBOARD

: Ebony

with White Pearloid Dot inlays (size varies) in "Ping Pong" Configuration
FINGERBOARD RADIUS: 16″
NUT TYPE: Floyd Rose R2 Lock Nut, Black
NUT WIDTH: 1.63″ (41.28mm)
FRETS

: 24 Jumbo

HARDWARE COLOR: Black Chrome
TUNERS: Die Cast Mini 6-Inline – Black
BRIDGE

: Floyd Rose 1000 Series Tremolo

MIDDLE PICKUP

: Seymour Duncan JB

BRIDGE PICKUP

: Seymour Duncan JB

CONTROLS: Master Volume, 3-way Paddle Mini Toggle
Check price/availability at:
Left Handed Kramer Acoustic Guitars
At the time of writing, there are no left handed Kramer acoustic guitars in the current lineup.
Left Handed Kramer Basses
Unfortunately for left handed bass players, there are no left handed Kramer bass guitars available at the time of writing.
Final Thoughts
At one point, Kramer Guitars was one of the most popular and successful guitar companies in the world, and there are a number of cool-looking right handed guitars available. However, at the time of writing, there aren't many left handed Kramer guitars available to us; in fact, there's only one!
It's a shame really, as Kramer offers some really nice models to our right handed friends, including the Jersey Star, SM-1, and Baretta Hotrod. Let's hope there'll be some more lefty Kramer guitars in the future!
What are your thoughts on Kramer guitars? Do you own any? If so, what do you have and what do you think? Please share your thoughts in the comments below.
Image credits: kramerguitars.com & Kramer Guitars on Facebook