Last Updated on February 21, 2023 by Chris
Ever wondered what the most expensive left handed guitars are?
In 2020, the sale of Kurt Cobain's Martin D-18E, as used by the iconic Nirvana frontman during their MTV Unplugged performance, smashed all records to become the most expensive guitar ever sold at auction and managed to fetch just over $6 million!
I got thinking about what other lefty guitars have been sold for such astronomical amounts of money…
I've put together a list of the most expensive that I can find, but I may well have missed some, so let me know in the comments if you know of any others.
Afterwards, I'll also include some right handed guitars too, to give a little perspective on the different values of these guitars.
Please note: As an Amazon Associate I earn from qualifying purchases, so if you decide to buy anything through any of their links, I'll get a commission at no extra cost to you. I may also earn from other links on this page too. If you do make a purchase, then thanks so much!
The Most Expensive Left Handed Guitars Ever
#1 – Kurt Cobain's Martin D-18E – $6,010,000
No surprise here; it's the most expensive guitar ever! The winning bid was $6,010,000, sold at Julien's Auctions on June 20, 2020 for the 1959 Martin D-18E as used in Nirvana's MTV Unplugged in New York performance in 1993. This was Nirvana's last full-length recording session before Cobain's untimely death, aged 27, just five months later.
The multi-platinum album debuted at No.1 on the US Billboard charts, and it won a Grammy for Best Alternative Music Album in 1996.
Cobain bought the guitar at Voltage Guitars in Los Angeles, CA, and it was the seventh of only 302 D-18E guitars built by C.F.Martin & Co. He customized the guitar with a Bartolini pickup at the soundhole.
It came with its original hardshell case, which was decorated with a flyer for the band Poison Idea's 1990 album Feel the Darkness. Attached to the handle of the case were three baggage claim ticket stubs, as well as an Alaska Airlines "Fragile" sticker on the case itself.
Also included with the guitar, were three Dunlop 0.60mm guitar picks, a partial set of Martin & Co. Phosphor Bronze guitar strings, and a "suede 'stash' bag" decorated with a small silver spoon, fork, and knife.
The winner of the auction was Peter Freedman of Rode Microphones, who said that he had no limit on what he would have paid for the guitar!
In October 2019, Cobain's green cardigan from the same MTV Unplugged in New York performance also sold at Julien's Auctions for a whopping $334,000, making it the most expensive cardigan ever!
Shop for lefty Martin D-18 guitars at:
#2 – Kurt Cobain's 1969 Fender Mustang – $4,687,500


Another Kurt Cobain guitar makes it into the list of most expensive guitars!
This left handed Competition Lake Placid blue 1969 Fender Mustang has become the second most valuable guitar of all time, and the most expensive electric guitar ever.
The winning bid, $4,550,000, came courtesy of Indianapolis Colts owner and known valuable guitar collector, Jim Irsay. Before the auction took place, the guitar was estimated to fetch $800,000; so much lower than the final price!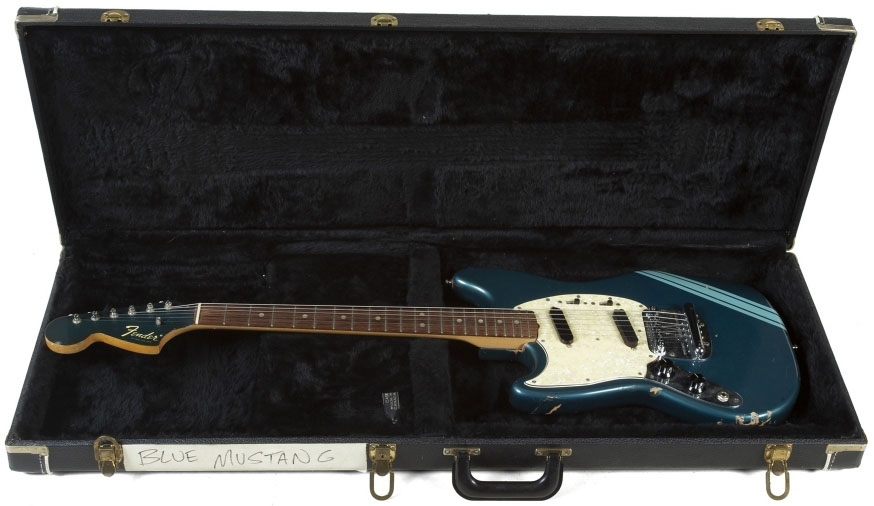 The guitar was lot #1008 in Julien's Auctions' Music Icons collection on May 22, 2022, and is the guitar that was used in the music video for grunge band Nirvana's massive breakout hit Smells Like Teen Spirit.
It's by far their most famous song, which exposed the Seattle trio's music on a global scale. Check out the guitar, as well as the song in the official video below.
Cobain bought the lefty Fender Mustang, serial number 279651, from Lloyd Chaite of Voltage Guitars in Los Angeles, around 1990-91.
He used the guitar during recording sessions for Nirvana's 1991 Nevermind album, and its 1993 follow-up In Utero, as well as numerous live shows.
In early 1992, Cobain got his guitar tech, Earnie Bailey, to replace the original bridge single coil pickup with a Duncan Hot Rails Humbucker, and later that year, replace the bridge with a Stewart MacDonald Gotoh Tune-O-Matic.
The original single coil pickup, tremolo arm, and one of Cobain's Ernie Ball guitar straps, along with its guitar case, were also included in the sale.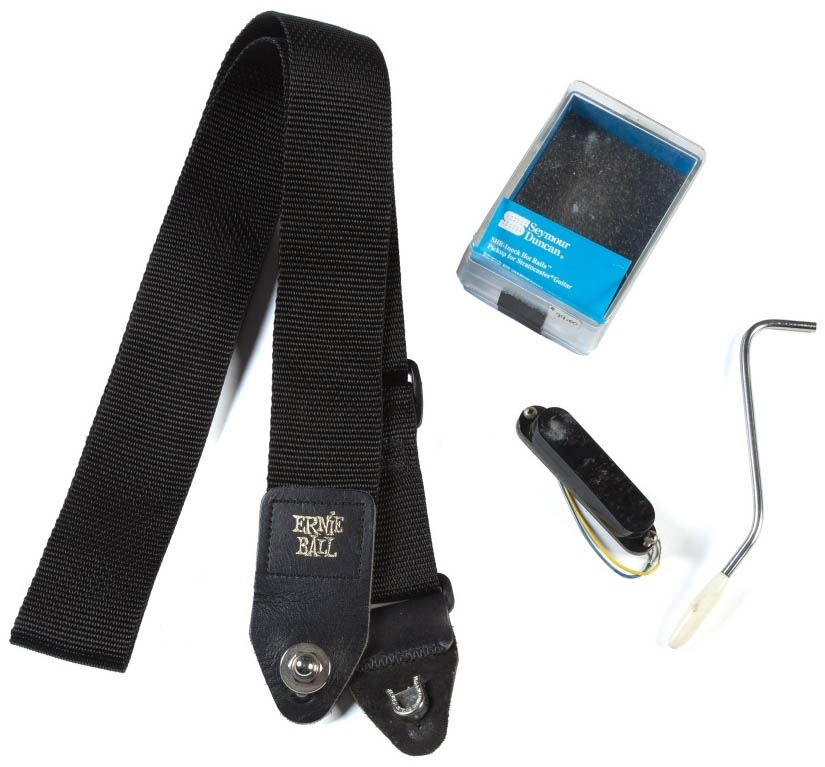 Cobain had expressed his love for the Fender Mustang in numerous interviews. In a February 1992 interview with Guitar Player magazine, he said:
"…I like guitars in the Fender style because they have skinny necks…My favorite guitar in the world is the Fender Mustang, they're really small and almost impossible to keep in tune."

L.A. Kanter. "Kurt Cobain's Well-Tempered Tantrums." Guitar Player, February 1992
In another interview published in 1992, he also described why he favored low-end guitar models:
"I don't favor them – I can afford them. [laughs] I'm left-handed, and it's not very easy to find reasonably priced, high-quality left-handed guitars. But out of all of the guitars in the whole world, the Fender Mustang is my favorite. I've only owned two of them.

"Lately, I've been using a Strat live, because I don't want to ruin my Mustang yet."

Gilbert Jeff. "Cool Hand Puke." Guitar World, January 1992
Shop for lefty Fender Mustangs at:
#3 – Jimi Hendrix' 1968 Fender Stratocaster – $2,000,000
Jimi Hendrix is arguably the most iconic and influential guitarist ever and is often cited as the greatest guitar player that ever lived. He completely changed the way the guitar was played and has influenced many a rock, blues or metal guitarist since his premature death, also at the age of 27.
The 1968 Olympic White Fender Stratocaster, later known as "Izabella", is probably the guitar most associated with Hendrix. It's a stock, right handed Strat, that Hendrix played upside-down with the strings strung left handed. It's also the guitar that he famously played his iconic performance of "The Star-Spangled Banner" at Woodstock in 1969.
The guitar, which Hendrix purchased at Manny's Music in New York City, had a 'big' Strat headstock, an alder body, three-ply Parchment pickguard, and a flatsawn maple C-shaped neck.
Paul Allen, co-founder of Microsoft, was reported to have bought it in 1998 for an estimated $2 million!
Blues artist Kenny Wayne Shepherd got to play Jimi's Woodstock Strat on Late Night with Jimmy Fallon on November 10, 2010. It was the first time the guitar had been played in 40 years!
In 2019, Fender celebrated the 50th anniversary of Woodstock with the limited-edition Custom Shop 'Izabella' Stratocaster, which was available to buy for $6,900.
Shop for lefty Stratocasters at:
#4 – Paul McCarntey's 1950s Rex Acoustic – £329,350 ($633,438.86 at the time)
This, according to the man himself, is the first guitar that Beatles legend Sir Paul McCartney ever played, and it's the guitar on which his school friend, Ian James, taught him how to play.
James wanted to sell the guitar to fund his retirement, and so it was auctioned at Abbey Road Studios by Cooper Owen on 28 July, 2006, with the winning bid going to Craig Jackson, who owns the elite American Collectible car auction house, Barrett-Jackson.
The guitar was accompanied by a letter of authenticity written by McCartney on his personal headed paper dated 24 March 2006, which read:
"The above guitar belonging to my old school pal Ian James was the first guitar I ever held. It was also the guitar on which I learnt my first chords in his house at 43 Elswick Street Liverpool 8".
The lot also contained a photograph of James playing the guitar taken by McCartney in 1957, and also one of McCartney playing the guitar in his office in 2006.
Check availability of Rex Acoustic guitars at:
#5 – Jimi Hendrix' "Burned" Stratocaster – £280,000 ($560,000 at the time)
Jimi Hendrix became known for burning guitars on stage. However, he only ever burned two or three. This 1965 Fender Stratocaster was the first guitar that he set alight, which took place on 31 March at the Finsbury Astoria in London in 1967.
It was during the performance of his song Fire, at the end of the set, that Hendrix ended up setting fire to his guitar. He was later taken to hospital with minor hand injuries.
One of Hendrix' press officers at the time, Tony Garland, kept the remains of the guitar and stored it in his parents garage in Hove, where it was kept until 40 years later, in 2007, when Garland's nephew found it.
It was auctioned by The Fame Bureau, in September 2008, and was bought by an American collector, Daniel Boucher. The guitar was expected to sell in the region of $1.5 million, so Boucher remarked on how "reasonable" the cost was in the end!
It was later claimed that the guitar sold at this auction might not be the same guitar that Hendrix set on fire that night. Seems to be a pretty convincing argument!
Shop for lefty Stratocasters at:
#6 – Paul McCarney's 1978 Yamaha BB-1200 Bass Guitar – $496,100 (£374,905)

In Los Angeles, on December 11, 2021, a charity auction was held, featuring instruments from some of the biggest names in music!
Artists included The Edge (U2), Joe Walsh (The Eagles), Vince Gill, Steve Miller (Steve Miller Band), Lzzy Hale (Halestorm), Alex Lifeson (Rush), Flea (Red Hot Chili Peppers), Slash (Guns N' Roses), Paul Stanley (KISS), Chris Martin (Coldplay), Bruce Springsteen, Dave Grohl (Foo Fighters, Nirvana), Tom Morello (Rage Against The Machine), Eddie Vedder (Pearl Jam), and many more!
The auction raised more than $2 million in the "Guitar Icons: A Music Instrument Auction to Benefit Music Rising" auction, in support of live music in New Orleans.
Among the many items, was lot #31; Sir Paul McCartney's tour and studio played left-handed Cherry Burst Yamaha BB-1200 electric bass guitar, which he on Wings' final studio album, Back to the Egg (1979), and on that album's subsequent tour.
He also used it on his next two solo albums, McCartney II (1980) and Tug of War (1982).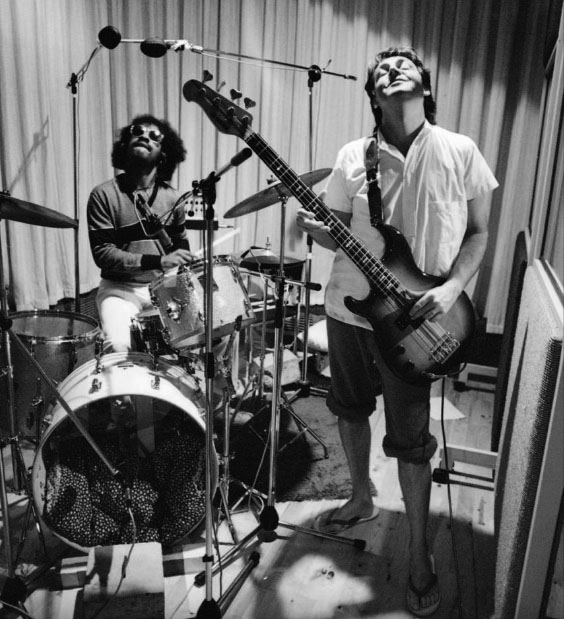 This bass broke the world record, to become the most expensive bass guitar ever to be sold at auction! The record was previously held by Rolling Stones bassist Bill Wyman, with his 1969 Fender Mustang bass, sold in 2020 for $384,000.
Auctioned by Van Eaton Galleries on December 11, 2021.
#7 Kurt Cobain's Smashed 1973 Fender Mustang – $486,400
Here is one of Kurt Cobain's Fender Mustangs, smashed up during a performance at Sonic Temple in Wilkinsburg, Pennsylvania on July 9, 1989, and because of the destruction of this guitar, and the smashing of a second Univox guitar at another performance, Cobain didn't have a guitar to play at Nirvana's next gig on July 15, 1989, in Boston!
So he had to perform the nine-song set without a guitar!
So Cobain then had to get himself another guitar to carry on with the tour…
At the time, Cobain was staying at the apartment of the seller of the Mustang, Sluggo Cawley, from bands The Grannies and Hullabaloo. Sluggo said he traded a working Gibson SG for the smashed Mustang during Nirvana's first US tour.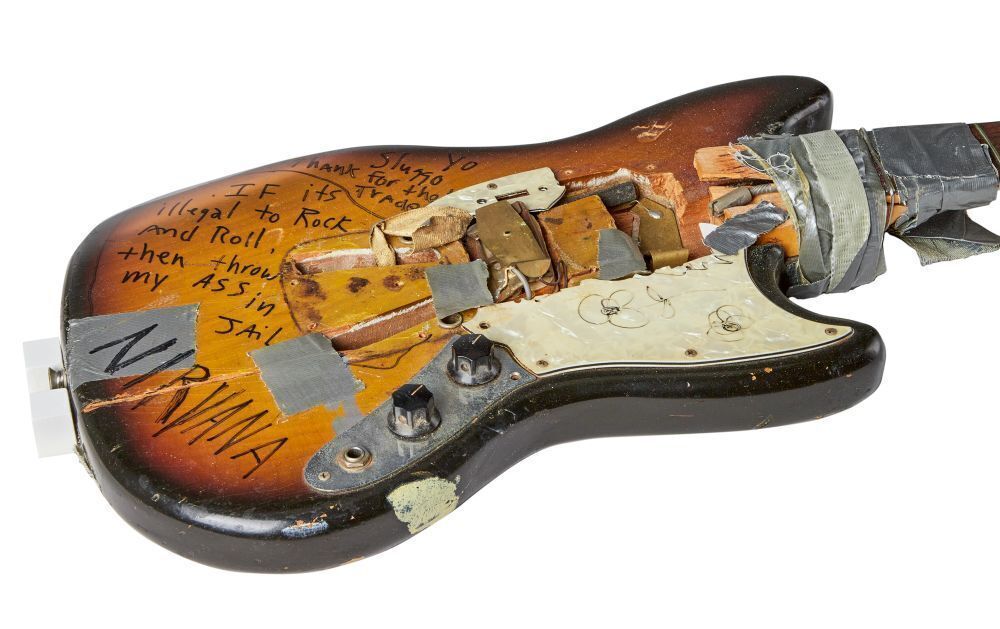 In mock guitar hero worship, Sluggo asked Cobain to sign the guitar for him.
Cobain wrote:
"Yo Sluggo, thanx for the trade. IF its illegal to Rock and Roll, then throw my ASS in Jail. NIRVANA."
He also wrote "vox pick-up" with an arrow on a now lost piece of the pickguard. There are also two flowers that Cobain liked to draw on things.
The guitar's serial number is 4900 1853 and is in three or 4 pieces held together by duct tape.
The smashed-up Mustang went on auction at New York City's Hard Rock Cafe, and sold for $486,400 (£413,926), which was more than double the $200,000 estimate.
Auctioned by Julien's Auctions on November 11 2022.
Also sold was Cobain's 1980s Boss DS-1 Distortion pedal for $75,000.
Shop for Fender Mustangs at:
#8 – Jimi Hendrix' 1966 Fender Mustang – $490,000
This 1966 Red Fender Mustang, serial number 126288, is the only Hendrix guitar on this list that isn't a Fender Stratocaster!
This is the guitar Jimi used to record on The Jimi Hendrix Experience's second album Axis: Bold as Love (1966) and also on his cover of Bob Dylan's "All Along The Watchtower" on his 1967 album Electric Ladyland.
This is another right handed guitar strung left handed, as was quite usual for a Jimi Hendrix guitar.
Auctioned by Julien's Auctions on April 27, 2007.
Shop for Fender Mustangs at:
#9 – Jimi Hendrix' 1964 Fender Stratocaster – $390,000
Jimi Hendrix gave this Sunburst Fender Stratocaster to his brother Leon on February 12, 1968 in Seattle to help him start a band. Leon cared for the instrument for nearly 50 years and finally put it up for auction in 2015.
Leon Hendrix had then kept the guitar ever since then and when it went to auction, it had been set up right handed. Also included in the auction was the original guitar case Jimi was using to tour with.
At the time of this auction, it was described as "The last remaining legitimate Jimi Hendrix owned guitar out there." It was used by Hendrix between 1967-1968.
The guitar appears to have been sold again two years later (2017), but didn't sell for as much.
Auctioned by Ted Owen & Co. on April 1, 2015.
Shop for Lefty Stratocasters at:
#10 – Kurt Cobain's 1993 Fender Mustang Custom – $340,000
Here is Kurt Cobain's Sky Blue Fender Mustang from Nirvana's 1993 In Utero tour. It was custom built in 1993 for Cobain by Scott Zimmerman, who was a prototype and custom builder for Japanese guitar manufacturers FujiGen, with serial number PO13572.
Fender Guitar's artist relations manager had contacted Zimmerman, who had built the necks for Cobain's first two Jagstang guitars, because the Fender Custom shop wasn't equipped to build left-handed Mustangs at the time.
When the guitar arrived from Japan to the United States, Cobain's guitar tech then added a black Seymour Duncan JB pickup instead of the stock single-coil, and a Gotoh Tune-o-Matic bridge. The guitar was known as "Skystang III", which was on a label on the original case.
The guitar had been exhibited at the Rock & Roll Hall of Fame and during this time, a fan jumped the barrier and stole two of the knobs! The museum then had to replace them with identical ones.
Also included in the lot was a letter from Courtney Love on her own personal headed Courtney Love Cobain paper. The letter read:
"I may shock you, but yr letter touched me a lot & this was one of his favorite Guitars. When they delivered all of them the other day I felt so horrible, Kurt loved, more than anything, that kids liked his music and i just felt him over my shoulder when i read your letter – Kurt is left handed so you have to have the guitar professionally turned around or simply restring it – Good luck. Courtney"
Auctioned by Julien's Auctions on October 26, 2019.
Shop for Fender Mustangs at:
#11 Jimi Hendrix' Monterey 1966 Fender Stratocaster – £237,000 ($288,493 at the time)
This is Jimi's Black Fender Stratocaster used at the 1967 Monterey Pop Festival where, at the end of his set during his version of "Wild Thing", he famously set his guitar on fire.
Prior to his set at the festival, The Who's Pete Townshend had performed and smashed up his guitar. Of course Hendrix didn't want to be outdone, and so chose to set his axe on fire to go one better!
He asked for some lighter fluid, and then unknown to the crowd, secretly swapped his favorite guitar (at that time) for another, less valuable Strat.
This act went down in Rock 'n' Roll history, cementing Hendrix' legendary status!
This Fender Stratocaster is not the one Hendrix set on fire! It's the one he played most of his Monterey set with.
The Strat is a CBS era Fender was sold with its original candy apple case, and was sold by The Fame Bureau on November 27, 2012.
Shop for Lefty Stratocasters at:
#12 Jimi Hendrix' 1951 Epiphone FT 79 Acoustic Guitar – $209,000
According to Bonhams, who auctioned this guitar, Jimi Hendrix owned this Tobacco Sunburst Epiphone FT 79 acoustic guitar, with serial number 62262, for almost three years, which is longer than any other documented Hendrix guitar.
Hendrix bought this Epiphone with the money he earned from Monterey and some of his American concerts. Noel Redding, a bass player for the Jimi Hendrix Experience, said that Jimi bought it second hand, for about $25, in New York after their first tour of America.
After returning to London from America, the Epiphone became Jimi's favorite guitar and it was his constant companion for much of the next three years and was his main songwriting guitar.
Hendrix' girlfriend at the time, Kathy Etchingham, said "it was used very, very heavily, continuously, all the time. Jimi had music coming out of every pore. One minute he'd be eating his breakfast, the next he'd say 'hey' and pick up the guitar and play the riffs in his head."
Jimi Hendrix Experience Manager, Chas Chandler, also said that Jimi loved this guitar so much, that he would take it to the bathroom with him!
In March 1970 Hendrix gave the guitar away to Blue Mink guitarist, Alan Parker, who subsequently used it on recordings for recordings Dusty Springfield, the Walker Brothers, Blue Mink, Paul McCartney, and also on David Bowie's 'Diamond Dogs'.
Auctioned by Bonhams of London on December 15, 2016.
Shop for the Epiphone FT 79 at:
#13 Paul McCartney's Presentation Hofner Violin Bass – $204,800
This is a left handed Hofner violin bass with gold-plated hardware and no serial number, which was custom made for Sir Paul McCartney in 1964. The violin bass became so synonymous with McCartney and his music, that it became known as the "Beatle Bass".
The Selmer London Company, which distributed the German Hofner guitars in the UK, presented this bass to McCartney in 1964 and it was then displayed at the London music trade show at the Russell Hotel. It is one of only three basses made by Hofner for McCartney during The Beatles' lifetime.
Sir Paul still plays his favorite 1963 model on stage to this day, and his first violin bass, purchased in Hamburg in 1961, was lost a long time ago, this unique bass was the only one available to purchase with a direct link to McCartney himself.
Also included in the sale was its original Selmer tweed case. Auctioned by Julien's Auctions on December 6, 2013.
Shop for Lefty Hofner violin basses at:
#14 Left Handed 1959 Gibson Les Paul Standard – $194,500
The most sought-after electric guitars in the world are the Gibson Les Paul sunbursts from the first three years of their manufacture; 1958-1960. Only around 1,600 were ever produced and only four of them were left handed; two made in 1959 and two in 1960.
This 1959 Gibson Les Paul Standard in Sunburst finish (Serial No. 90136) is one of those two left handed models made in '59. The whereabouts of the other lefty '59 lefty Les Paul is currently unknown.
An extremely rare guitar!
The two 1960 lefty Les Paul sunbursts are just as rare as the 1959 models. One of those two is owned by Beatles legend Sir Paul McCartney. The other 1960 lefty Gibson Les Paul sunburst (serial number 01475) was also up for sale that day.
The 1959 Gibson was brought to auction along with a batch of other rare instruments and equipment from the United States Marshals Service, with profits from the sales going to the victims of the Aspen Energy Oil and Gas Investment Scheme.
It was also once the property of left handed tennis star John McEnroe.
The guitar's neck had been refretted and the neck pickup ring and jackplate on the guitar had been replaced (the original broken jackplate was included in the sale). It featured original electronics, but the bridge pickup cover had been removed. The tuners had also been replaced with older Kluson single wind tuners with no writing on the back. The original hard case was also included.
It was identified as the same guitar pictured with John McEnroe on the cover of the Guitar Aficionado, Vol. 1, No. 4.
Sold by Heritage Auctions on October 27, 2012.
Shop for Lefty Gibson Les Paul Standard at:
#15 Jimi Hendrix' 1970 Fender Stratocaster – $187,500
Here we have Jimi Hendrix's righty 1970 Sunburst Fender Stratocaster, serial number 274200.
On the back of the guitar is the message "Good Luck, Noel Redding" and a couple other messages to someone named Richard. The guitar was bought by Hendrix at Manny's Musical Instruments in New York on July 14, 1970; Jimi was recording at his newly built Electric Lady Studios nearby. He sadly passed away just two months later, after having only spent ten days of those two months working on his album The Cry of Love at Electric Lady. The album was released after his death.
Even though Hendrix had only used his studios for a few days, it has since been used by many artists and bands, including AC/DC, Guns N' Roses, Led Zeppelin, The Rolling Stones, and many more.
Included in the auction was a copy of the original Manny's receipt for the guitar at $275.60; the original was signed by Eugene McFadden, Hendrix's road manager. There was also a handwritten letter from Manny's Music's Stuart Muskowitz confirming that the guitar was signed for by Eugene McFadden and hand-selected for Hendrix.
There was also confirmation of authenticity from Eugene McFadden confirming the signature on the receipt for the guitar and also a handwritten letter from Noel Redding dated October 4, 1994 stating that this guitar was used at the Electric Lady Studios opening party in August 1970.
Also present were two notes written by Albert and Arthur Allen (AKA. The Aleem Twins, Hendrix's backup singers "Ghetto Fighters") which also confirmed that Hendrix played this guitar at the Electric Lady Studio opening party.
It also came with a Fender hardshell case with "J.H. EXP" stenciled on the side.
Auctioned June 24, 2010, by Julien's Auctions.
Shop for Lefty Stratocasters at:
#16 Left Handed 1960 Gibson Les Paul Standard – $134,500
This 1960 Gibson Les Paul Standard in sunburst finish (serial number 01475) was being sold at the same auction event as the 1959 lefty Gibson Les Paul sunburst, also in this list.
It is one of only two 1960 left handed Gibson Les Paul sunburst Standard models ever made; the other being owned by Sir Paul McCartney.
The guitar had had a Headstock break and had been professionally repaired by Gibson Custom Shop specialist Tom Murphy; everything else was original to the guitar. There was one odd route in the bridge position because of the left-handed construction; also moderate weathering and fret wear. The original hard case was included in the sale.
Sold by Heritage Auctions on October 27, 2012.
Shop for Lefty Gibson Les Paul Standard at:
#17 Kurt Cobain's 1960s Mosrite Gospel – $131,450
This is Kurt Cobain's 1960s Mosrite Gospel Mark IV Guitar with a sunburst finish; it was one of his favorite guitars, which saved it from what usually happened to his guitars when performing live – getting smashed!
He'd smashed loads of cheaper (usually Univox) copies of Mosrite guitars, but actually owned two Mosrites; the other one was damaged, though and given away.
Cobain purchased the guitar from Real Guitars in San Francisco in 1990.
It's a stock right handed guitar but was modified for the left handed Cobain with a strap button added to the opposite horn, and the metal string guide was flipped so it could be strung left handed.
Cobain used white-out on the tiny Mosrite dot inlays so he could see them when playing live. This was later removed by the subsequent owner, but residue remains on the fingerboard.
The sale included the original case, which has "NIRVANA" and "F**K Elvis" painted on in white. The words were painted over with white paint, but they can still be seen through it.
Courtney Love tried to claim ownership of the guitar before the auction but Cobain had already sold the guitar before they got married.
Also included in the sale was a hand-written letter from Chris Cobb, owner of Real Guitars, who sold the guitar to Cobain.
The letter, dated 3.30.04, reads:
"To whom it may concern,
"Real Guitars is San Francisco's oldest and most well known vintage guitar store. I have owned it since we leased the building in the fall of 1985. On March 20th 1987 we purchased a Mosrite "Gospel" model electric guitar, serial #B1697. We have a record of this purchase.
"In the fall of 1990, a scraggly blonde-haired young man came in and bought this guitar. The transaction was uneventful. We later learned the buyer was Kurt Cobain who was still relatively unknown and was on tour with his band "Nirvana" supporting their "Bleach" CD.
"We have heard from a number of sources that this was his favorite guitar. Considering his later popularity, we are honored to have played some part in his musical life.
"Chris Cobb, owner Real Guitars"
Sold on April 14, 2006.
Shop for Mosrite Gospel at:
=#18 Jimi Hendrix' Olympic White 1963 Fender Stratocaster – $125,000
Hendrix famously loved playing Fender Stratocasters and this is the fifth one on this list. This one is his Olympic White 1963 Fender Strat, serial number L14985, which was one of the first Stratocasters that he owned.
In 1965 Hendrix went by the name Jimmy James and recorded frequently with Henry "Juggy" Murray. Jnr. at Juggy's Sound Studios in New York, where the guitar was kept for Hendrix on his request.
Hendrix later gave the guitar to his friend and chief studio engineer Skip Juried, after recording his Band of Gypsies album in 1970.
Juried passed away in 1988 and the guitar was passed down to a young relative, Neil Kanoff. Included in the sale were letters signed by Leon Hendrix (Jimi's brother) and the Kanoff confirming the guitar's authenticity.
Auctioned June 2, 2007, by The Fame Bureau.
Shop for Lefty Fender Stratocasters at:
=#18 Paul McCartney's Rented 1966 Hofner Bass – $125,000
Sir Paul McCartney is well-known for playing Hofner violin bass guitars in his time with The Beatles.
This is a left-handed model, circa 1966, which was often rented by McCartney from Harris Hire in Beckenham, England.
Included in the sale was a handwritten letter signed by Phil Harris of Harris Hire, dated January 10, 2014. It states that the bass was rented to McCartney in 1997, 2002, and twice in 2012.
Harris stated that the bass had been at Harris Hire since the 1980s and later was part of an exhibition in November 2013, Universal Music also rented the bass to promote the 2013 release of The Beatles, On Air – Live at the BBC Volume 2.
The sale also included various Harris Hire invoices with the Hofner violin bass
Auctioned by Julien's Auctions on May 17, 2014.
Shop for lefty Hofner violin basses at:
Other Notable Lefty Guitars Sold at Auction
A limited run of Gibson Les Paul Custom electric guitars was auctioned to raise money to help victims of the war in Ukraine. One of these, made for Paul McCartney, which he played on stage in support of Gibson Gives during his 2022 summer tour, was sold for $76,800, on November 11, 2022. It was custom-made in a blue and yellow finish in honor of the Ukrainian flag
Another Jimi Hendrix guitar, the first he used on stage, a Sears Silvertone, owned by childhood friend Joe Gray. At Washington Junior High School in 1958-59, both wanted to play guitar, but only Gray owned one, so Hendrix would borrow it to play with his band The Velvetones. When Hendrix borrowed it, he'd string it left-handed and then restring for Gray when he returned it. Sold for $64,000.
On July 17, 2022, Paul McCartney's 1988 Left Handed Gibson Les Paul Custom was up for auction and sold for $43,001. It was made for him for the 1988 HBO Special "Les Paul and Friends A Tribute Concert", which starred, among others, Paul McCartney, Eddie Van Halen, David Gilmour, B.B King, and Carly Simon.

McCartney, however, was unable to stay for the rehearsal and concert, so was taped talking about Les Paul's influence, and playing a Les Paul song on the guitar.
On May 30, 2020, Tony Iommi donated an Epiphone SG, along with some items from his personal collection, which were sold at auction with proceeds going to a hospital charity. The guitar sold for £11,300 (approximately $14,000).
Here's another one from Jimi; a 1963 Fender Stratocaster, serial number L09784, owned by Gary Boyle of the Brian Auger Trinity and played by Hendrix whilst performing in the London club scene at various times between 1966-1967. It was sold at Christies for £9,350 on May 26, 1994.
Elliot Easton of The Cars had a smashed black Kramer guitar, which sold for a modest $768 on December 3, 2011. He signed it "Elliot Easton '87" and drew various marks and drawings in white crayon on it. The neck was snapped and folded back on itself and the headstock was broken.

Easton had written the words "Door To Door" on the front of the guitar body, which was the name of the Cars last album, made in 1987. On the album Easton can be heard smashing the guitar.
Other Ridiculously Expensive Guitars (Right Handed)
Obviously there are a load of right handed guitars that sold for silly-money too! Here are a few notable ones:
The iconic 1969 Black Strat previously owned by David Gilmour of Pink Floyd sold for a then-record $3,975,000 in 2019.
John Lennon's main song-writing guitar, a 1962 Gibson J-160E. It was on this guitar that Lennon and McCartney wrote some of their classics, including "She Loves You", "I Want to Hold Your Hand", "Please, Please, Me", "All My Loving" and "From Me to You". Sold for $2,892,000.
The Reach Out to Asia Fender Stratocaster, which sold for $2.7 million in 2005, was sold in Qatar at an auction raising money for Reach Out to Asia, a charity formed to help tsunami victims.
It was signed by Mick Jagger, Keith Richards, Eric Clapton, Brian May, Jimmy Page, David Gilmour, Jeff Beck, Pete Townsend, Mark Knopfler, Ray Davies, Liam Gallagher, Ronnie Wood, Tony Iommi, Angus and Malcolm Young, Paul McCartney, Sting, Ritchie Blackmore, Def Leppard, and Bryan Adams.
The one-of-a-kind Fender Custom Shop Pine Cone Strat was hand-crafted by Master Builder Yuriy Shishkov and insured for $1 million. Shishkov took inspiration from the original Carl Fabergé Pine Cone Egg and took a year to create this work of art.
It features 550 hand-embedded high-grade diamonds, level with its surface; the pine-cone scales were gilded with fine silver and 18-karat gold, and engraved gold-plated hardware. It was bought by an Asian collector; the price was not revealed.
Stevie Ray Vaughan's "Lenny" guitar was a 1965 Fender Stratocaster and was given to him as a 26th birthday present by his wife Lenora. Vaughan couldn't afford the $350 price tag at the time, so Lenny convinced some of his friends to contribute $50 each to help buy the guitar.
It was given to him on October 3rd, 1980, at Steamboat Springs, where he often played. He had the neck replaced with a mid-1950s shape maple neck given to him by Billy Gibbons (ZZ Top) and then added his signature and the SRV initials. It sold for $623,500 on June 24, 2004.
Final Thoughts
In this list, apart from the two Gibsons, it looks like the most expensive left handed guitars ever have been played and owned by the big three lefty guitarists; Kurt Cobain, Jimi Hendrix, and Paul McCartney!
The top-selling artist on this list was Kurt Cobain, selling guitars worth a massive total of $11,655,350!
The second highest in value was Jimi Hendrix, with a hefty $4,249,993 worth of guitars.
Paul McCartney was in third place selling guitars worth $1,155,250.
The two left handed sunburst Gibson Les Paul guitars totaled $329,000.
Jimi Hendrix has, by far, had the highest number of guitars sold in this list: 8
Kurt Cobain and Paul McCartney both have 4 in this Top 19 list.
Here are the number of each guitar brand in this list:
It was very difficult to find any lefty guitars not previously owned by the big three, and any I did find were worth pennies by comparison!
Just goes to show, that some people will pay handsomely for vintage guitars with a pedigree! I don't think I'll ever afford anything like those on the list, but there have been some fantastic guitars with some interesting stories behind them.
Did I miss any other expensive left handed guitars? Which are your favorites on this list? Let me know your thoughts in the comments below.