Last Updated on December 4, 2022 by Chris
When it comes to acoustic guitars, one of the biggest names you'll hear is C.F. Martin & Co. and they're one of the most lefty-friendly guitar companies out there! Let's see what left handed Martin guitars are available!
Martin is one of the top acoustic guitar companies in the world, with artists such as Chris Cornell, John Lennon, David Crosby, Roger McGuinn, Steve Howe, Rivers Cuomo, Willie Nelson, and even Elvis Presley using them.
Martin is possibly the most lefty-friendly guitar company around, because of their rather large range of guitars, almost all of them are available left handed! It used to be that every single model was available as a left handed version, but at the moment there are a few series that aren't available.
I've checked the Martin website, clicking on each and every model, and reading the specifications to check for left handed availability; at the time of writing, there are 85 different left handed Martin guitars! That's huge!
On top of that, there are also 12 Ukuleles.
That's a massive 85 different left handed Martin guitars, as well as one left handed bass guitar, and 12 left handed ukes, making it 98 left handed instruments from Martin!
Schecter seems to be the only guitar company that comes close, with more than 80 electric models, but if you're looking for a quality acoustic guitar, then Martin has you covered!
Please note: Some of the links on this page are affiliate links, which means that at no extra cost to you, I may get a small commission if you buy anything when you click through. If you do make a purchase, then thank you so much! It really helps me keep this website going.
Go straight to the left handed Martin guitars.
Read on to find out more about C.F. Martin & Co.
Related reading – Check out the wide range of left handed Gibson acoustic guitars!
Who Are Martin?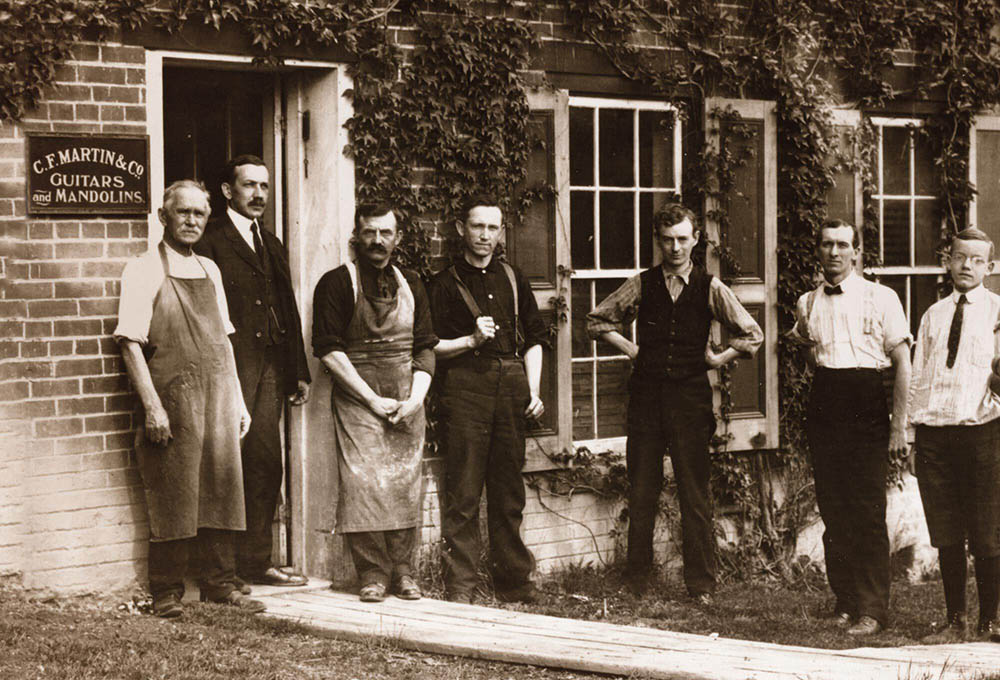 C.F. Martin & Co. was established in 1833 by German immigrant Christian Frederick Martin; that's almost two centuries ago! They've got some history and can claim to be the oldest guitar company in the world!
Since then, six generations of the Martin family have been at the helm, leading the company through many changes and innovations in music and the world.
As of June 14, 2021, Martin announced their new CEO, Thomas Ripsam, the first Martin CEO who isn't a descendant of the Martin family. He took over from C. F. Martin IV.
Martin invented X-bracing in the mid-19th century, strengthening a guitar's body and helping to produce a rich tone. It's still widely used to this day.
It was Martin that developed the design of the American flat-top acoustic guitar, a design still used the world over.
Sometime around 1916, Martin, then headed by Frank Henry Martin, went on to develop the now-famous Dreadnaught guitar. Its design was larger and deeper than what had come before, bringing with it extra volume and bass.
The dreadnaught is perhaps the most important and most influential guitar design ever.
Although the company has produced solid and hollow-bodied electric guitars in the past, the company is better known for producing high-quality acoustic guitars combining both tradition and innovation.
What Do I Think About Martin Guitars?
Martin guitars are some of the best acoustic guitars out there; with their quality instruments, they've built a very strong reputation, and have been used by many well-respected and famous musicians.
I really like them, however, they can be expensive. At the time of writing, the Martin D-200 Deluxe, selling as a limited run of only 50, is priced at an astronomical $124,999!
Many of their guitars cost several thousand dollars, however they do have quite a lot of Mexican-made guitars that cost between $299 and $1300. Martin's USA-made guitars start at an MSRP of $1,499.
Pros and Cons of Buying a Martin Guitar
Martin acoustic guitars are designed in the USA and handmade at their Nazareth, Pennsylvania, and Navajoa, Mexico factories.
The Martin reputation is one of high-quality, great-sounding instruments.
Here's a list of pros and cons when thinking about buying a Martin guitar.
Pros:
Guitars available at various price points to suit several kinds of budgets.
An absolutely massive selection of left handed Martin guitars are available to suit your sound and playing style.
Fantastic quality instruments, both USA and Mexican-made.
Great sounding instruments.
Very playable; can handle many types of guitar setup.
Many models have the option of including or omitting built-in electronic systems.
Martin provides a limited lifetime warranty to owners of a new Martin instrument if purchased in the US or Canada. There are some exclusions though. Little Martin models, Backpackers, and ukuleles manufactured in Mexico have a one-year limited warranty.
The resale value is quite high, due to the Martin name and reputation.
Cons:
Some models can be expensive.
At the time of writing, there aren't many left handed Martin bass guitars; just one! A huge disparity compared to the number of guitars available.
If buying outside the US or Canada, you don't get a limited lifetime warranty.
Any damage caused by installing a pickup or strap button is not covered by the lifetime warranty if not installed by an authorized Martin Service Center.
Martin's warranty used to cover neck resets. However, now this appears not to be included.
Related reading – Check out these award-winning acoustic guitars from Faith Guitars!
The Different Types of Martin Guitars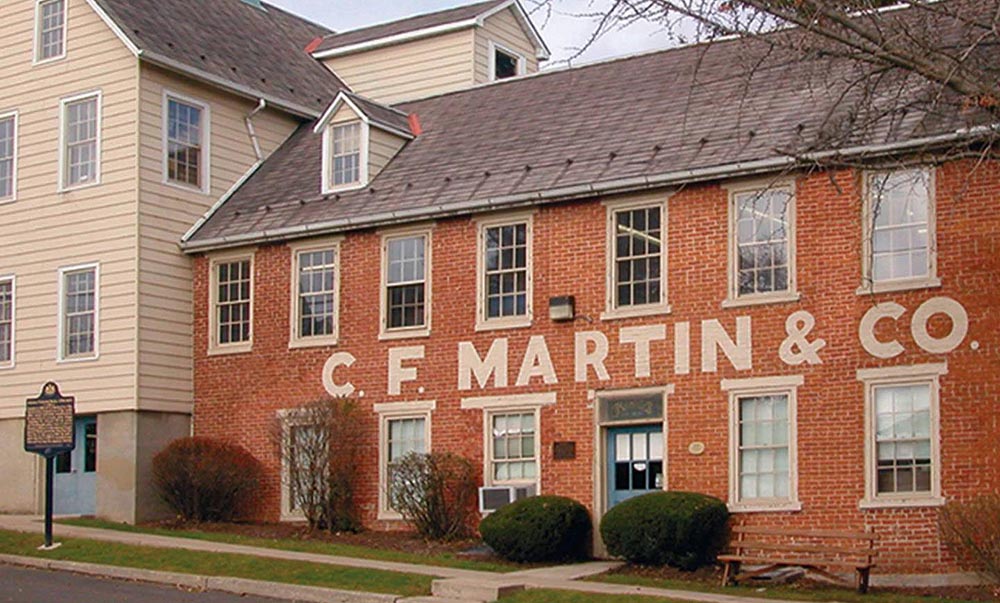 When it comes to acoustic guitars, Martin produces several model types:
Standard Series – Martin's distinguished designs that set the template for the American acoustic flattop.
X Series – A more affordable range of guitars made at Martin's factory in Navajoa, Sonora, Mexico.
Modern Deluxe – Designed to offer the best of the past with the best of today.
Junior Series – Built for comfort and playability, these guitars are a little smaller than a full-sized Martin.
Authentic Series – Made to look and sound just like the Golden Era Martin's, using the same construction techniques as those pre-war guitars.
15 Series – These are the lowest priced US-made Martins and are well-crafted, versatile workhorses.
16-17 Series – A contemporary Martin guitar built for playing live and in the studio.
Road Series – A professional grade guitar, built for studio and stage.
Little Martin Series – Martin's small guitar range. Built for students, or as a portable guitar to take with you out and about.
Backpacker Series – This slender, portable guitar is designed to be played anytime, anywhere. It's the first guitar to be played in outer space!
Not bad! So let's see which ones can we buy in a left handed configuration?
Left Handed Martin Guitars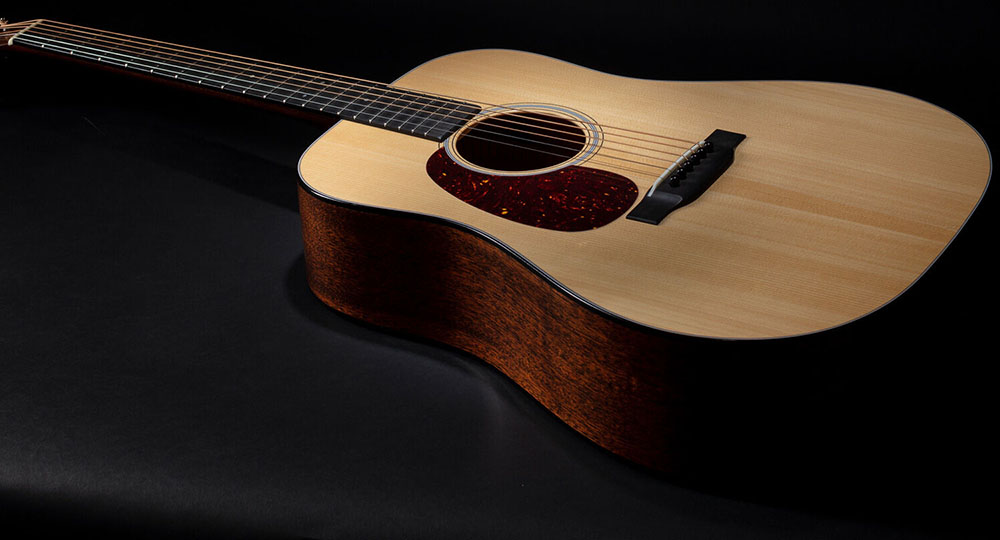 Martin is one of the biggest names in acoustic guitars and has many different models available to our right handed friends. Lucky for us, the number of left handed Martin guitars available almost matches their right handed counterparts!
Please note: As there are no images of left handed Martin guitars on the Martin website, I have reversed the images of the right handed models to show how they'd look.
Related reading – See what Guild guitars and basses are available left handed!
Backpacker Series
Steel-String Backpacker Travel Guitar

$299 MSRP, Made in Mexico
Little Martin Series
STRINGS: 6
BODY SIZE: Backpacker
TOP: Sapele
BRACING PATTERN: Backpacker
BRACE SHAPE: Non-Scalloped
BACK: Sapele
SIDE: Sapele
BINDING: None
SCALE: 24″
NECK: Select Hardwood
NECK SHAPE: Backpacker
NECK FINISH: Hand-Rubbed
FINGERBOARD: FSC Certified Richlite with White Plastic inlays
FRETS: 15
NECK JOINS BODY AT:15th Fret
NUT TYPE: Black Corian
NUT WIDTH: 42.9 mm (1 11/16″)
BRIDGE: FSC Certified Richlite with Compensated Black Tusq saddle
ELECTRONICS: No
PICKGUARD: None
TUNERS: Black Enclosed Gear
FINISH: Hand-Rubbed
PLEKED: No
Check price/availability at:
Little Martin Series
Martin LX1 Little Martin

$399 – $499 MSRP, Made in Mexico
Little Martin Series
STRINGS: 6
BODY SIZE: Modified 0-14 Fret
TOP: Sitka Spruce
BRACING PATTERN: X-Brace
BRACE SHAPE: Non-Scalloped
BACK: HPL
SIDE: HPL
BINDING: None
SCALE: 23″
NECK: Rust Birch Laminate with Mortise & Tenon Joint
NECK SHAPE: Modified Low Oval
NECK FINISH: Hand-Rubbed
FINGERBOARD: FSC Certified Richlite with no inlays
FRETS: 20
NECK JOINS BODY AT:14th Fret
NUT TYPE: White Corian
NUT WIDTH: 42.9 mm (1 11/16″)
BRIDGE: FSC Certified Richlite with Compensated White Tusq saddle
ELECTRONICS: No
PICKGUARD: None
TUNERS: Chrome Enclosed Gear
FINISH: None
PLEKED: No
Check price/availability at:
Martin LXK2 Little Martin

$399 MSRP, Made in Mexico
Little Martin Series
STRINGS: 6
BODY SIZE: Modified 0-14 Fret
TOP: HPL
BRACING PATTERN: X-Brace
BRACE SHAPE: Non-Scalloped
BACK: HPL
SIDE: HPL
BINDING: None
SCALE: 23″
NECK: Natural Birch Laminate with Mortise & Tenon Joint
NECK SHAPE: Modified Low Oval
NECK FINISH: Hand-Rubbed
FINGERBOARD: FSC Certified Richlite with no inlays
FRETS: 20
NECK JOINS BODY AT:14th Fret
NUT TYPE: White Corian
NUT WIDTH: 42.9 mm (1 11/16″)
BRIDGE: FSC Certified Richlite with Compensated White Tusq saddle
ELECTRONICS: No
PICKGUARD: None
TUNERS: Chrome Enclosed Gear
FINISH: None
PLEKED: No
Check price/availability at:
Martin LX1R Little Martin

$499 MSRP, Made in Mexico
Little Martin Series
STRINGS: 6
BODY SIZE: Modified 0-14 Fret
TOP: Sitka Spruce
BRACING PATTERN: X-Brace
BRACE SHAPE: Non-Scalloped
BACK: HPL
SIDE: HPL
BINDING: None
SCALE: 23″
NECK: Rust Birch Laminate with Mortise & Tenon Joint
NECK SHAPE: Modified Low Oval
NECK FINISH: Hand-Rubbed
FINGERBOARD: FSC Certified Richlite with no inlays
FRETS: 20
NECK JOINS BODY AT:14th Fret
NUT TYPE: White Corian
NUT WIDTH: 42.9 mm (1 11/16″)
BRIDGE: FSC Certified Richlite with Compensated White Tusq saddle
ELECTRONICS: Fishman Sonitone
PICKGUARD: Tortoise Pattern
TUNERS: Chrome Enclosed Gear
FINISH: Hand-Rubbed
PLEKED: No
Check price/availability at:
X Series
Martin 0-X1E

$549 MSRP, Made in Mexico
X Series
STRINGS: 6
BODY SIZE: 0-14 Fret
TOP: HPL
BRACING PATTERN: X-Brace
BRACE SHAPE: Scalloped
BACK: HPL
SIDE: HPL
BINDING: None
SCALE: 24.9″
NECK: Rust Birch Laminate with Mortise & Tenon Joint
NECK SHAPE: Performing Artist
NECK FINISH: Hand-Rubbed
FINGERBOARD: FSC Certified Richlite with Mother-of-Pearl Dot inlays
FRETS: 20
NECK JOINS BODY AT:14th Fret
NUT TYPE: White Corian
NUT WIDTH: 44 mm (1 3/4″)
BRIDGE: FSC Certified Richlite with Compensated White Tusq saddle
ELECTRONICS: Fishman MX
PICKGUARD: None
TUNERS: Chrome Enclosed Gear
FINISH: None
PLEKED: No
Check price/availability at:
Martin D-X1E



$549 MSRP, Made in Mexico
X Series
STRINGS: 6
BODY SIZE: D-14 Fret
STYLE: Sitka, Mahogany, Black, Koa
TOP: HPL
BRACING PATTERN: X-Brace
BRACE SHAPE: Scalloped
BACK: HPL
SIDE: HPL
BINDING: None
SCALE: 25.4″
NECK: Rust Birch Laminate with Mortise & Tenon Joint
NECK SHAPE: Performing Artist
NECK FINISH: Hand-Rubbed
FINGERBOARD: FSC Certified Richlite with Mother-of-Pearl Dot inlays
FRETS: 20
NECK JOINS BODY AT:14th Fret
NUT TYPE: White Corian
NUT WIDTH: 44 mm (1 3/4″)
BRIDGE: FSC Certified Richlite with Compensated White Tusq saddle
ELECTRONICS: Fishman MX
PICKGUARD: Brown Tortoise Pattern
TUNERS: Chrome Enclosed Gear
FINISH: None
PLEKED: No
Check price/availability at:
Martin OMC-X1E

$599 MSRP, Made in Mexico
X Series
STRINGS: 6
BODY SIZE: 000-14 Fret Cutaway
TOP: HPL
BRACING PATTERN: X-Brace
BRACE SHAPE: Scalloped
BACK: HPL
SIDE: HPL
BINDING: None
SCALE: 25.4″
NECK: Black Birch Laminate with Mortise & Tenon Joint
NECK SHAPE: Performing Artist
NECK FINISH: Hand-Rubbed
FINGERBOARD: FSC Certified Richlite with Mother-of-Pearl Dot inlays
FRETS: 20
NECK JOINS BODY AT:14th Fret
NUT TYPE: Black Corian
NUT WIDTH: 44 mm (1 3/4″)
BRIDGE: FSC Certified Richlite with Compensated Black Tusq saddle
ELECTRONICS: Fishman MX
PICKGUARD: None
TUNERS: Chrome Enclosed Gear
FINISH: None
STYLE: Black
PLEKED: No
Check price/availability at:
Martin 000-X2E

$649 MSRP, Made in Mexico
X Series
STRINGS: 6
BODY SIZE: 000-14 Fret
TOP: Sitka Spruce
BRACING PATTERN: X-Brace
BRACE SHAPE: Scalloped
BACK: HPL
SIDE: HPL
BINDING: None
SCALE: 24.9″
NECK: Select Hardwood with Mortise & Tenon Joint
NECK SHAPE: Performing Artist
NECK FINISH: Hand-Rubbed
FINGERBOARD: Select Hardwood with Mother-of-Pearl Dot inlays
FRETS: 20
NECK JOINS BODY AT:14th Fret
NUT TYPE: White Corian
NUT WIDTH: 44 mm (1 3/4″)
BRIDGE: Select Hardwood with Compensated White Tusq saddle
ELECTRONICS: Fishman MX
PICKGUARD: Brown Tortoise Pattern
TUNERS: Chrome Enclosed Gear
FINISH: Hand-Rubbed
PLEKED: Yes
Check price/availability at:
Martin 00-X2E

$649 MSRP, Made in Mexico
X Series
STRINGS: 6
BODY SIZE: 00-14 Fret
TOP: Sitka Spruce
BRACING PATTERN: X-Brace
BRACE SHAPE: Scalloped
BACK: HPL
SIDE: HPL
BINDING: None
SCALE: 24.9″
NECK: Select Hardwood with Mortise & Tenon Joint
NECK SHAPE: Performing Artist
NECK FINISH: Hand-Rubbed
FINGERBOARD: Select Hardwood with Mother-of-Pearl Dot inlays
FRETS: 20
NECK JOINS BODY AT:14th Fret
NUT TYPE: White Corian
NUT WIDTH: 44 mm (1 3/4″)
BRIDGE: Select Hardwood with Compensated White Tusq saddle
ELECTRONICS: Fishman MX
PICKGUARD: Brown Tortoise Pattern
TUNERS: Chrome Enclosed Gear
FINISH: Hand-Rubbed
PLEKED: Yes
Check price/availability at:
Martin D-X2E 12 String

$649 MSRP, Made in Mexico
X Series
STRINGS: 12
BODY SIZE: D-14 Fret
TOP: Sitka Spruce
BRACING PATTERN: X-Brace
BRACE SHAPE: Non-Scalloped
BACK: HPL
SIDE: HPL
BINDING: None
SCALE: 25.4″
NECK: Select Hardwood with Mortise & Tenon Joint
NECK SHAPE: Low Profile
NECK FINISH: Hand-Rubbed
FINGERBOARD: Select Hardwood with Mother-of-Pearl Dot inlays
FRETS: 20
NECK JOINS BODY AT:14th Fret
NUT TYPE: White Corian
NUT WIDTH: 47.6 mm (1 7/8″)
BRIDGE: Select Hardwood with Compensated White Tusq saddle
ELECTRONICS: Fishman MX
PICKGUARD: Brown Tortoise Pattern
TUNERS: Chrome Enclosed Gear
FINISH: Hand-Rubbed
PLEKED: Yes
Check price/availability at:
Martin DX Woodstock 50th

$649 MSRP, Made in Mexico
X Series
STRINGS: 6
BODY SIZE: D-14 Fret
STYLE: Custom Artwork by Robert F. Goetzl
TOP: HPL
BRACING PATTERN: X-Brace
BRACE SHAPE: Scalloped
BACK: HPL
SIDE: HPL
BINDING: None
SCALE: 25.4″
NECK: Rust Birch Laminate with Mortise & Tenon Joint
NECK SHAPE: Performing Artist
NECK FINISH: Hand-Rubbed
FINGERBOARD: FSC Certified Richlite with White Plastic Dot inlays
FRETS: 20
NECK JOINS BODY AT:14th Fret
NUT TYPE: White Corian
NUT WIDTH: 44 mm (1 3/4″)
BRIDGE: FSC Certified Richlite with Compensated White Tusq saddle
ELECTRONICS: Fishman Sonitone
PICKGUARD: None
TUNERS

: Chrome Enclosed Gear

FINISH: None
PLEKED: No
Check price/availability at:
Martin D-X2E





$649 MSRP, Made in Mexico
X Series
STRINGS: 6
BODY SIZE: D-14 Fret
STYLE: Rosewood, Macassar, Mahogany, Koa, Burst
TOP: Sitka Spruce
BRACING PATTERN: X-Brace
BRACE SHAPE: Scalloped X with Non-Scalloped Tone Bars
BACK: HPL
SIDE: HPL
BINDING: None
SCALE: 25.4″
NECK: Select Hardwood with Mortise & Tenon Joint
NECK SHAPE: Performing Artist
NECK FINISH: Hand-Rubbed
FINGERBOARD: Katalox with Mother-of-Pearl Dot inlays
FRETS: 20
NECK JOINS BODY AT:14th Fret
NUT TYPE: White Corian
NUT WIDTH: 44 mm (1 3/4″)
BRIDGE: Katalox with Compensated White Tusq saddle
ELECTRONICS: Fishman MX
PICKGUARD: Tortoise Pattern or Black
TUNERS

: Chrome Enclosed Gear

FINISH: Hand-Rubbed
PLEKED: Yes
Check price/availability at:
Martin GPC-X2E



$749 MSRP, Made in Mexico
X Series
STRINGS: 6
BODY SIZE: Grand Performance 14 Fret Cutaway
STYLE: Rosewood, Macassar, Mahogany
TOP: Sapele (Rosewood) / Sitka Spruce (Macassar) / Sitka Spruce (Mahogany)
BRACING PATTERN: X-Brace
BRACE SHAPE: Scalloped
BACK: HPL
SIDE: HPL
BINDING: None
SCALE: 25.4″
NECK: Select Hardwood with Mortise & Tenon Joint
NECK SHAPE: Performing Artist
NECK FINISH: Hand-Rubbed
FINGERBOARD: Select Hardwood with Mother-of-Pearl Dot inlays
FRETS: 20
NECK JOINS BODY AT:14th Fret
NUT TYPE: White Corian
NUT WIDTH: 44 mm (1 3/4″)
BRIDGE: Select Hardwood with Compensated White Tusq saddle
ELECTRONICS: Fishman MX
PICKGUARD: Brown Tortoise Pattern
TUNERS

: Chrome Enclosed Gear

FINISH: Hand-Rubbed
PLEKED: Yes
Check price/availability at:
Martin DC-X2E



$699 – $749 MSRP, Made in Mexico
X Series
STRINGS: 6
BODY SIZE: D-14 Fret Cutaway
STYLE: Rosewood, Macassar, Mahogany
TOP: Sitka Spruce
BRACING PATTERN: X-Brace
BRACE SHAPE: Scalloped
BACK: HPL
SIDE: HPL
BINDING: None
SCALE: 25.4″
NECK: Select Hardwood with Mortise & Tenon Joint
NECK SHAPE: Performing Artist
NECK FINISH: Hand-Rubbed
FINGERBOARD: Select Hardwood with Mother-of-Pearl Dot inlays
FRETS: 20
NECK JOINS BODY AT:14th Fret
NUT TYPE: White Corian
NUT WIDTH: 44 mm (1 3/4″)
BRIDGE: Select Hardwood with Compensated White Tusq saddle
ELECTRONICS: Fishman MX
PICKGUARD: Brown Tortoise Pattern
TUNERS

: Chrome Enclosed Gear

FINISH: Hand-Rubbed
PLEKED: Yes
Check price/availability at:
Junior Series
Martin DJr-10


$499 – $699 MSRP, Made in Mexico
Junior Series
STRINGS: 6
BODY SIZE: D Junior-14 Fret (000 Depth)
STYLE: Sitka, Sapele
TOP: Sitka Spruce, Sapele
BRACING PATTERN: X-Brace
BRACE SHAPE: Scalloped
BACK: Sapele
SIDE: Sapele
BINDING: Black
SCALE: 24″
NECK: Select Hardwood with Mortise & Tenon Joint
NECK SHAPE: Dreadnought Junior
NECK FINISH: Hand-Rubbed
FINGERBOARD: FSC Certified Richlite with Mother-of-Pearl Dot inlays
FRETS: 20
NECK JOINS BODY AT:14th Fret
NUT TYPE: White Corian
NUT WIDTH: 44 mm (1 3/4″)
BRIDGE: FSC Certified Richlite with Compensated White Tusq saddle
ELECTRONICS: Optional
PICKGUARD: Tortoise Pattern
TUNERS

: Chrome Enclosed Gear

FINISH: Hand-Rubbed
PLEKED: Yes
Check price/availability at:
Martin 000Jr-10

$549 MSRP, Made in Mexico
Junior Series
STRINGS: 6
BODY SIZE: 000 Junior-14 Fret
TOP: Sitka Spruce
BRACING PATTERN: X-Brace
BRACE SHAPE: Scalloped
BACK: Sapele
SIDE: Sapele
BINDING: Black
SCALE: 24″
NECK: Select Hardwood with Mortise & Tenon Joint
NECK SHAPE: Junior
NECK FINISH: Hand-Rubbed
FINGERBOARD: FSC Certified Richlite with Mother-of-Pearl Dot inlays
FRETS: 20
NECK JOINS BODY AT:14th Fret
NUT TYPE: White Corian
NUT WIDTH: 44 mm (1 3/4″)
BRIDGE: FSC Certified Richlite with Compensated White Tusq saddle
ELECTRONICS: No
PICKGUARD: None
TUNERS

: Chrome Enclosed Gear

FINISH: Satin
PLEKED: Yes
Check price/availability at:
Martin 000CJr-10E

$649 MSRP, Made in Mexico
Junior Series
STRINGS: 6
BODY SIZE: 000 Junior-14 Fret Cutaway
TOP: Sitka Spruce
BRACING PATTERN: X-Brace
BRACE SHAPE: Scalloped
BACK: Sapele
SIDE: Sapele
BINDING: Black
SCALE: 24″
NECK: Select Hardwood with Mortise & Tenon Joint
NECK SHAPE: Junior
NECK FINISH: Hand-Rubbed
FINGERBOARD: FSC Certified Richlite with Mother-of-Pearl Dot inlays
FRETS: 20
NECK JOINS BODY AT:14th Fret
NUT TYPE: White Corian
NUT WIDTH: 44 mm (1 3/4″)
BRIDGE: FSC Certified Richlite with Compensated White Tusq saddle
ELECTRONICS: Yes
PICKGUARD: None
TUNERS

: Chrome Enclosed Gear

FINISH: Satin
PLEKED: Yes
Check price/availability at:
Martin DJR-10E StreetMaster

$699 MSRP, Made in Mexico
Junior Series
STRINGS: 6
BODY SIZE: D Junior-14 Fret (000 Depth)
TOP: Sapele
BRACING PATTERN: X-Brace
BRACE SHAPE: Scalloped
BACK: Sapele
SIDE: Sapele
BINDING: None
SCALE: 24″
NECK: Select Hardwood
NECK SHAPE: Dreadnought Junior
NECK FINISH: Hand-Rubbed
FINGERBOARD: FSC Certified Richlite with Mother-of-Pearl Pattern Dot inlays
FRETS: 20
NECK JOINS BODY AT:14th Fret
NUT TYPE: White Corian
NUT WIDTH: 44 mm (1 3/4″)
BRIDGE: FSC Certified Richlite with Compensated White Tusq saddle
ELECTRONICS: Fishman Sonitone
PICKGUARD: None
TUNERS

: Chrome Enclosed Gear

FINISH: Satin
PLEKED: Yes
Check price/availability at:
Road Series
Martin 000-10E

$899 MSRP, Made in Mexico
Road Series
STRINGS: 6
BODY SIZE: 000-14 Fret
TOP: Sapele
BRACING PATTERN: X-Brace
BRACE SHAPE: Scalloped
BACK: Sapele
SIDE: Sapele
BINDING: None
SCALE: 24.9″
NECK: Select Hardwood with Mortise & Tenon Joint
NECK SHAPE: Performing Artist
NECK FINISH: Hand-Rubbed
FINGERBOARD: FSC Certified Richlite with Mother-of-Pearl Pattern Dot inlays
FRETS: 20
NECK JOINS BODY AT:14th Fret
NUT TYPE: White Corian
NUT WIDTH: 44 mm (1 3/4″)
BRIDGE: FSC Certified Richlite with Compensated White Tusq saddle
ELECTRONICS: Fishman MX-T
PICKGUARD: Tortoise Pattern
TUNERS

: Chrome Enclosed Gear

FINISH: Satin
PLEKED: Yes
Check price/availability at:
Martin D-10E


$899 MSRP (Sapele) – $949 MSRP (Sitka), Made in Mexico
Road Series
STRINGS: 6
BODY SIZE: D-14 Fret
STYLE: Sitka, Sapele
TOP: Sitka Spruce
BRACING PATTERN: X-Brace
BRACE SHAPE: Scalloped
BACK: Sapele
SIDE: Sapele
BINDING: Black
SCALE: 25.4″
NECK: Select Hardwood with Mortise & Tenon Joint
NECK SHAPE: Performing Artist
NECK FINISH: Hand-Rubbed
FINGERBOARD: FSC Certified Richlite with Mother-of-Pearl Pattern Dot inlays
FRETS: 20
NECK JOINS BODY AT:14th Fret
NUT TYPE: White Corian
NUT WIDTH: 44 mm (1 3/4″)
BRIDGE: FSC Certified Richlite with Compensated White Tusq saddle
ELECTRONICS: Fishman MX-T
PICKGUARD: Tortoise Pattern
TUNERS

: Chrome Enclosed Gear

FINISH: Satin
PLEKED: Yes
Check price/availability at:
Martin GPC-11E

$1,099 MSRP, Made in Mexico
Road Series
STRINGS: 6
BODY SIZE: Grand Performance 14 Fret Cutaway
TOP: Sitka Spruce
BRACING PATTERN: X-Brace
BRACE SHAPE: Scalloped
BACK: Sapele
SIDE: Sapele
BINDING: Black
SCALE: 25.4″
NECK: Select Hardwood with Mortise & Tenon Joint
NECK SHAPE: Performing Artist
NECK FINISH: Hand-Rubbed
FINGERBOARD: FSC Certified Richlite with Mother-of-Pearl Pattern Dot inlays
FRETS: 20
NECK JOINS BODY AT:14th Fret
NUT TYPE: White Corian
NUT WIDTH: 44 mm (1 3/4″)
BRIDGE: FSC Certified Richlite with Compensated White Tusq saddle
ELECTRONICS: Fishman MX-T
PICKGUARD: Tortoise Pattern
TUNERS

: Chrome Enclosed Gear

FINISH: Gloss
PLEKED: Yes
Check price/availability at:
Martin 000-12E

$1,349 MSRP, Made in Mexico
Road Series
STRINGS: 6
BODY SIZE: 000-14 Fret
TOP: Sitka Spruce
BRACING PATTERN: X-Brace
BRACE SHAPE: Scalloped
BACK: Koa Fine Veneer
SIDE: Koa Fine Veneer
BINDING: Black
SCALE: 24.9″
NECK: Select Hardwood with Mortise & Tenon Joint
NECK SHAPE: Performing Artist
NECK FINISH: Hand-Rubbed
FINGERBOARD: FSC Certified Richlite with Mother-of-Pearl Pattern Dot inlays
FRETS: 20
NECK JOINS BODY AT:14th Fret
NUT TYPE: White Corian
NUT WIDTH: 44 mm (1 3/4″)
BRIDGE: FSC Certified Richlite with Compensated White Tusq saddle
ELECTRONICS: Fishman MX-T
PICKGUARD: Black
TUNERS

: Chrome Enclosed Gear

FINISH: Gloss
PLEKED: Yes
Check price/availability at:
Martin D-12E


$1,349 MSRP, Made in Mexico
Road Series
STRINGS: 6
BODY SIZE: D-14 Fret
STYLE: Sapele, Koa
TOP: Sitka Spruce
BRACING PATTERN: X-Brace
BRACE SHAPE: Scalloped
BACK: Sapele / Koa Fine Veneer
SIDE: Sapele / Koa Fine Veneer
BINDING: Black
SCALE: 25.4″
NECK: Select Hardwood with Mortise & Tenon Joint
NECK SHAPE: Performing Artist
NECK FINISH: Hand-Rubbed
FINGERBOARD: FSC Certified Richlite with Mother-of-Pearl Pattern Dot inlays
FRETS: 20
NECK JOINS BODY AT:14th Fret
NUT TYPE: White Corian
NUT WIDTH: 44 mm (1 3/4″)
BRIDGE: FSC Certified Richlite with Compensated White Tusq saddle
ELECTRONICS: Fishman MX-T
PICKGUARD: Black
TUNERS

: Nickel Open Gear

FINISH: Gloss
PLEKED: Yes
Check price/availability at:
Martin D-13E

$1,399 MSRP, Made in Mexico
Road Series
STRINGS: 6
BODY SIZE: D-14 Fret
STYLE: Ziricote
TOP: Sitka Spruce
BRACING PATTERN: X-Brace
BRACE SHAPE: Scalloped X with Non-Scalloped Tone Bars
BACK: Ziricote Fine Veneer
SIDE: Ziricote Fine Veneer
BINDING: White
SCALE: 25.4″
NECK: Select Hardwood with Mortise & Tenon Joint
NECK SHAPE: Performing Artist
NECK FINISH: Hand-Rubbed
FINGERBOARD: FSC Certified Richlite with Mother-of-Pearl Pattern Dot inlays
FRETS: 20
NECK JOINS BODY AT:14th Fret
NUT TYPE: White Corian
NUT WIDTH: 44 mm (1 3/4″)
BRIDGE: FSC Certified Richlite with Compensated White Tusq saddle
ELECTRONICS: Fishman MX-T
PICKGUARD: Tortoise Pattern or Black
TUNERS

: Chrome Enclosed Gear

FINISH: Gloss
PLEKED: Yes
Check price/availability at:
Martin GPC-13E


$1,449 MSRP (Ziricote), $1,549 MSRP (Burst), Made in Mexico
Road Series
STRINGS: 6
BODY SIZE: Grand Performance 14 Fret Cutaway
TOP: Sitka Spruce
BRACING PATTERN: X-Brace
BRACE SHAPE: Scalloped
BACK: Ziricote Fine Veneer
SIDE: Ziricote Fine Veneer
BINDING: White
SCALE: 25.4″
NECK: Select Hardwood with Mortise & Tenon Joint
NECK SHAPE: Performing Artist
NECK FINISH: Hand-Rubbed
FINGERBOARD: FSC Certified Richlite with Mother-of-Pearl Pattern Dot inlays
FRETS: 20
NECK JOINS BODY AT:14th Fret
NUT TYPE: White Corian
NUT WIDTH: 44 mm (1 3/4″)
BRIDGE: FSC Certified Richlite with Compensated White Tusq saddle
ELECTRONICS: Fishman MX-T
PICKGUARD: Black
TUNERS: Chrome Enclosed Gear
FINISH: Gloss
PLEKED: Yes
Check price/availability at:
15 Series
Martin 000-15M

$1,499 MSRP, Made in the USA
15 Series
STRINGS: 6
BODY SIZE: 000-14 Fret
TOP: Mahogany
BRACING PATTERN: X-Brace
BRACE SHAPE: Non-Scalloped
BACK: Mahogany
SIDE: Mahogany
BINDING: None
SCALE: 25.4″
NECK: Mahogany with Simple Dovetail Joint
NECK SHAPE: Modified Low Oval
NECK FINISH: Satin
FINGERBOARD: East Indian Rosewood with Abalone Diamond and Square inlays
FRETS: 20
NECK JOINS BODY AT:14th Fret
NUT TYPE: Bone
NUT WIDTH: 42.9 mm (1 11/16″)
BRIDGE: East Indian Rosewood with Compensated Bone saddle
ELECTRONICS: Optional – Fishman Gold Plus Natural I, Fishman Infinity Matrix, Fishman Presys Plus, or Fishman Ellipse Matrix Blend
PICKGUARD: Tortoise Pattern or Black
TUNERS

: Nickel Open Gear

FINISH: Satin
PLEKED: Yes
Check price/availability at:
Martin D-15M

$1,499 MSRP, Made in the USA
15 Series
STRINGS: 6
BODY SIZE: D-14 Fret
TOP: Mahogany
BRACING PATTERN: X-Brace
BRACE SHAPE: Non-Scalloped
BACK: Mahogany
SIDE: Mahogany
BINDING: None
SCALE: 25.4″
NECK: Mahogany with Simple Dovetail Joint
NECK SHAPE: Modified Low Oval
NECK FINISH: Satin
FINGERBOARD: East Indian Rosewood with Abalone Diamond and Square inlays
FRETS: 20
NECK JOINS BODY AT:14th Fret
NUT TYPE: Bone
NUT WIDTH: 42.9 mm (1 11/16″)
BRIDGE: East Indian Rosewood with Compensated Bone saddle
ELECTRONICS: Optional – Fishman Gold Plus Natural I, Fishman Infinity Matrix, Fishman Presys Plus, or Fishman Ellipse Matrix Blend
PICKGUARD: Tortoise Pattern or Black
TUNERS

: Nickel Open Gear

FINISH: Satin
PLEKED: Yes
Check price/availability at:
Martin 00-15M

$1,499 MSRP, Made in the USA
15 Series
STRINGS: 6
BODY SIZE: 00-14 Fret
TOP: Mahogany
BRACING PATTERN: X-Brace
BRACE SHAPE: Non-Scalloped
BACK: Mahogany
SIDE: Mahogany
BINDING: None
SCALE: 25.4″
NECK: Mahogany with Simple Dovetail Joint
NECK SHAPE: Modified Low Oval
NECK FINISH: Satin
FINGERBOARD: East Indian Rosewood with Abalone Diamond and Square inlays
FRETS: 20
NECK JOINS BODY AT:14th Fret
NUT TYPE: Bone
NUT WIDTH: 42.9 mm (1 11/16″)
BRIDGE: East Indian Rosewood with Compensated Bone saddle
ELECTRONICS: Optional – Fishman Gold Plus Natural I, Fishman Infinity Matrix, Fishman Presys Plus, or Fishman Ellipse Matrix Blend
PICKGUARD: Tortoise Pattern or Black
TUNERS

: Nickel Open Gear

FINISH: Satin
PLEKED: Yes
Check price/availability at:
Martin 000-15M StreetMaster

$1,599 MSRP, Made in the USA
15 Series
STRINGS: 6
BODY SIZE: 000-14 Fret
TOP: Mahogany
BRACING PATTERN: X-Brace
BRACE SHAPE: Non-Scalloped
BACK: Mahogany
SIDE: Mahogany
BINDING: None
SCALE: 25.4″
NECK: Mahogany with Simple Dovetail Joint
NECK SHAPE: Modified Low Oval
NECK FINISH: Satin
FINGERBOARD: Katalox with Abalone Diamond and Square inlays
FRETS: 20
NECK JOINS BODY AT:14th Fret
NUT TYPE: Bone
NUT WIDTH: 42.9 mm (1 11/16″)
BRIDGE: Katalox with Compensated Bone saddle
ELECTRONICS: Optional – Fishman Gold Plus Natural I, Fishman Infinity Matrix, Fishman Presys Plus, or Fishman Ellipse Matrix Blend
PICKGUARD: None
TUNERS

: Golden Age Relic Nickel

FINISH: Satin
PLEKED: Yes
Check price/availability at:
Martin D-15M StreetMaster

$1,599 MSRP, Made in the USA
15 Series
STRINGS: 6
BODY SIZE: D-14 Fret
TOP: Mahogany
BRACING PATTERN: X-Brace
BRACE SHAPE: Non-Scalloped
BACK: Mahogany
SIDE: Mahogany
BINDING: None
SCALE: 25.4″
NECK: Mahogany with Simple Dovetail Joint
NECK SHAPE: Modified Low Oval
NECK FINISH: Satin
FINGERBOARD: Katalox with Abalone Diamond and Square inlays
FRETS: 20
NECK JOINS BODY AT:14th Fret
NUT TYPE: Bone
NUT WIDTH: 42.9 mm (1 11/16″)
BRIDGE: Katalox with Compensated Bone saddle
ELECTRONICS: Optional – Fishman Gold Plus Natural I, Fishman Infinity Matrix, Fishman Presys Plus, or Fishman Ellipse Matrix Blend
PICKGUARD: None
TUNERS

: Golden Age Relic Nickel

FINISH: Satin
PLEKED: Yes
Check price/availability at:
Martin 000-15SM

$1,799 MSRP, Made in the USA
15 Series
STRINGS: 6
BODY SIZE: 000-12 Fret
TOP: Mahogany
BRACING PATTERN: X-Brace
BRACE SHAPE: Non-Scalloped
BACK: Mahogany
SIDE: Mahogany
BINDING: None
SCALE: 25.4″
NECK: Mahogany with Simple Dovetail Joint
NECK SHAPE: Modified Low Oval
NECK FINISH: Satin
FINGERBOARD: East Indian Rosewood with Abalone Diamond and Square inlays
FRETS: 20
NECK JOINS BODY AT:12th Fret
NUT TYPE: Bone
NUT WIDTH: 44 mm (1 3/4″)
BRIDGE: East Indian Rosewood with Compensated Bone saddle
ELECTRONICS: Optional – Fishman Gold Plus Natural I, Fishman Infinity Matrix, Fishman Presys Plus, or Fishman Ellipse Matrix Blend
PICKGUARD: Tortoise Pattern or Black
TUNERS

: Golden Age Bright Nickel Side Mount

FINISH: Satin
PLEKED: Yes
Check price/availability at:
16 & 17 Series
Martin DSS-17

$1,799 MSRP, Made in the USA
17 Series
STRINGS: 6
BODY SIZE: D-14 Fret Slope Shoulder
STYLE: Whiskey Sunset
TOP: Sitka Spruce
BRACING PATTERN: X-Brace
BRACE SHAPE: Scalloped
BACK: Mahogany
SIDE: Mahogany
BINDING: Antique White
SCALE: 25.4″
NECK: Select Hardwood with Simple Dovetail Joint
NECK SHAPE: Modified Low Oval
NECK FINISH: Satin
FINGERBOARD: Rosewood with Mother-of-Pearl Dot inlays
FRETS: 20
NECK JOINS BODY AT:14th Fret
NUT TYPE: Bone
NUT WIDTH: 44 mm (1 3/4″)
BRIDGE: Rosewood with Compensated Bone saddle
ELECTRONICS: Optional – Fishman Gold Plus Natural I, Fishman Infinity Matrix, Fishman Presys Plus, Fishman Ellipse System, or LR Baggs Anthem
PICKGUARD: Tortoise Pattern or Black
TUNERS

: Golden Age Relic Nickel

FINISH: Satin
PLEKED: Yes
Check price/availability at:
Martin 000-17


$1,799 – $1,999 MSRP, Made in the USA
17 Series
STRINGS: 6
BODY SIZE: 000-14 Fret
STYLE: Black Smoke, Whiskey Sunset
TOP: Sitka Spruce
BRACING PATTERN: X-Brace
BRACE SHAPE: Scalloped
BACK: Mahogany
SIDE: Mahogany
BINDING: Antique White
SCALE: 24.9″
NECK: Select Hardwood with Simple Dovetail Joint
NECK SHAPE: Modified Low Oval
NECK FINISH: Satin
FINGERBOARD: Rosewood with Mother-of-Pearl Dot inlays
FRETS: 20
NECK JOINS BODY AT:14th Fret
NUT TYPE: Bone
NUT WIDTH: 44 mm (1 3/4″)
BRIDGE: Rosewood with Compensated Bone saddle
ELECTRONICS: Optional
PICKGUARD: Ivoroid
TUNERS

: Golden Age Relic Nickel

FINISH: Satin
PLEKED: Yes
Check price/availability at:
Martin GPC-16E


$1,949 MSRP (Mahogany) $1,999 MSRP (Rosewood), Made in the USA
16 Series
STRINGS: 6
BODY SIZE: Grand Performance 14-Fret Cutaway (000 Depth)
STYLE: Rosewood, Mahogany
TOP: Sitka Spruce
BRACING PATTERN: Forward-Shifted X-Brace
BRACE SHAPE: Scalloped
BACK: East Indian Rosewood
SIDE: East Indian Rosewood
BINDING: Antique White
SCALE: 25.4″
NECK: Select Hardwood with Simple Dovetail Joint
NECK SHAPE: Modified Low Oval
NECK FINISH: Satin
FINGERBOARD: Ebony with Mother-of-Pearl Dot inlays
FRETS: 20
NECK JOINS BODY AT:14th Fret
NUT TYPE: Bone
NUT WIDTH: 44 mm (1 3/4″)
BRIDGE: Ebony with Compensated White Tusq saddle
ELECTRONICS: Fishman Matrix VT Enhance NT2
PICKGUARD: Tortoise Pattern or Black
TUNERS

: Golden Age Relic Nickel

FINISH: Gloss
PLEKED: Yes
Check price/availability at:
Martin D-16E


$1,949 MSRP (Mahogany), $1,999 MSRP (Rosewood), Made in the USA
16 Series
STRINGS: 6
BODY SIZE: D-14 Fret (000 Depth)
STYLE: Rosewood, Mahogany
TOP: Sitka Spruce
BRACING PATTERN: Forward-Shifted X-Brace
BRACE SHAPE: Scalloped
BACK: East Indian Rosewood
SIDE: East Indian Rosewood
BINDING: Antique White
SCALE: 25.4″
NECK: Select Hardwood with Simple Dovetail Joint
NECK SHAPE: Modified Low Oval
NECK FINISH: Satin
FINGERBOARD: Ebony with Mother-of-Pearl Dot inlays
FRETS: 20
NECK JOINS BODY AT:14th Fret
NUT TYPE: Bone
NUT WIDTH: 44 mm (1 3/4″)
BRIDGE: Ebony with Compensated White Tusq saddle
ELECTRONICS: Fishman Matrix VT Enhance NT2
PICKGUARD: Tortoise Pattern or Black
TUNERS

: Nickel Open Gear

FINISH: Gloss
PLEKED: Yes
Check price/availability at:
Martin 000-16 StreetMaster

$1,999 MSRP, Made in the USA
16 Series
STRINGS: 6
BODY SIZE: 000-14 Fret
TOP: Adirondack Spruce with VTS
BRACING PATTERN: X-Brace
BRACE SHAPE: Scalloped
BACK: East Indian Rosewood
SIDE: East Indian Rosewood
BINDING: None
SCALE: 24.9″
NECK: Mahogany with Simple Dovetail Joint
NECK SHAPE: Modified Low Oval
NECK FINISH: Satin
FINGERBOARD: Rosewood with Abalone Diamond & Square inlays
FRETS: 20
NECK JOINS BODY AT:14th Fret
NUT TYPE: Bone
NUT WIDTH: 44 mm (1 3/4″)
BRIDGE: Rosewood with Compensated Bone saddle
ELECTRONICS: None
PICKGUARD: None
TUNERS: Golden Age Relic Nickel
FINISH: Satin
PLEKED: Yes
Check price/availability at:
Martin 000C12-16E Nylon

$2,199 MSRP, Made in the USA
16 Series
STRINGS: 6
BODY SIZE: 000-12 Fret Cutaway
TOP: Sitka Spruce
BRACING PATTERN: Unique (A-Frame) X-Brace System
BRACE SHAPE: Non-Scalloped
BACK: Mahogany
SIDE: Mahogany
BINDING: Brown Tortoise Pattern
SCALE: 26.44″
NECK: Select Hardwood with Simple Dovetail Joint
NECK SHAPE: Low Profile
NECK FINISH: Satin
FINGERBOARD: Ebony with no inlays
FRETS: 20
NECK JOINS BODY AT:12th Fret
NUT TYPE: Bone
NUT WIDTH: 47.6 mm (1 7/8″)
BRIDGE: Ebony with White Tusq saddle
ELECTRONICS: Fishman Matrix VT Enhance NT1
PICKGUARD: None
TUNERS

: Gold Side Mount

FINISH: Gloss
PLEKED: Yes
Check price/availability at:
Martin Grand J-16E 12 String

$2,299 MSRP, Made in the USA
16 Series
STRINGS: 12
BODY SIZE: Grand J-14 Fret (000 Depth)
TOP: Sitka Spruce
BRACING PATTERN: X-Brace
BRACE SHAPE: Scalloped
BACK: East Indian Rosewood
SIDE: East Indian Rosewood
BINDING: Antique White
SCALE: 25.4″
NECK: Select Hardwood
NECK SHAPE: 12 String
NECK FINISH: Satin
FINGERBOARD: Ebony with Mother of Pearl Dot inlays
FRETS: 20
NECK JOINS BODY AT:14th Fret
NUT TYPE: Bone
NUT WIDTH: 46 mm (1 13/16″)
BRIDGE: Ebony with Compensated White Tusq saddle
ELECTRONICS: Fishman Matrix VT Enhance NT2
PICKGUARD: Tortoise Pattern or Black
TUNERS

: Chrome Enclosed Gear

FINISH: Gloss
PLEKED: Yes
Check price/availability at:
Certified/Sustainable
Martin OME Cherry

$2,199 MSRP, Made in the USA
Sustainable Guitar
STRINGS: 6
BODY SIZE: 000-14 Fret
TOP: Sitka Spruce
BRACING PATTERN: X-Brace
BRACE SHAPE: Scalloped
BACK: Cherry
SIDE: Cherry
BINDING: Antique White
SCALE: 25.4″
NECK: FSC Certified Select Mahogany with Simple Dovetail Joint
NECK SHAPE: Modified Low Oval
NECK FINISH: Satin
FINGERBOARD: FSC Certified Ebony with Mother-of-Pearl Diamond and Square inlays
FRETS: 20
NECK JOINS BODY AT:14th Fret
NUT TYPE: Bone
NUT WIDTH: 44 mm (1 3/4″)
BRIDGE: FSC Certified Ebony with Compensated White Tusq saddle
ELECTRONICS: Fishman Matrix VT Enhance NT1
PICKGUARD: Tortoise Pattern or Black
TUNERS

: Gold Open Gear

FINISH: Gloss
PLEKED: Yes
Check price/availability at:
Martin 00L Earth

$2,299 MSRP, Made in the USA
Sustainable Guitar
STRINGS: 6
BODY SIZE: 00-14 Fret Slope Shoulder
TOP: Sitka Spruce
BRACING PATTERN: X-Brace
BRACE SHAPE: Scalloped
BACK: Sapele
SIDE: Sapele
BINDING: FSC Certified European Flame Maple
SCALE: 24.9″
NECK: FSC Certified Sipo
NECK SHAPE: Modified Low Oval
NECK FINISH: Satin
FINGERBOARD: FSC Certified Ebony with FSC Certified Sapele Dot inlays
FRETS: 20
NECK JOINS BODY AT:14th Fret
NUT TYPE: Bone
NUT WIDTH: 44 mm (1 3/4″)
BRIDGE: FSC Certified Ebony with Compensated Bone saddle
ELECTRONICS: None
PICKGUARD: None
TUNERS

: Nickel Open Gear

FINISH: Satin
PLEKED: Yes
Check price/availability at:
Standard Series
Martin D-18

$2,799 MSRP, Made in the USA
Standard Series
STRINGS: 6
BODY SIZE: D-14 Fret
TOP: Sitka Spruce
BINDING: Faux Tortoise
BRACING PATTERN: Forward-Shifted X-Brace
BRACE SHAPE: Scalloped
BACK: Genuine Mahogany
SIDE: Genuine Mahogany
SCALE: 25.4″
NECK: Select Hardwood with Dovetail Joint
NECK SHAPE: Modified Low Oval
NECK FINISH: Satin
FINGERBOARD: Ebony with Abalone dot inlays
FRETS: 20
NECK JOINS BODY AT:14th Fret
NUT TYPE: Bone
NUT WIDTH: 44 mm (1 3/4″)
BRIDGE: Ebony with Compensated Bone saddle
ELECTRONICS: Optional
PICKGUARD: Tortoise Pattern
TUNERS: Nickel Open Gear
FINISH: Gloss
PLEKED: Yes
Check price/availability at:
Martin 0-18

$2,799 MSRP, Made in the USA
Standard Series
STRINGS: 6
BODY SIZE: 0-14 Fret
TOP: Sitka Spruce
BRACING PATTERN: X-Brace
BRACE SHAPE: Scalloped X with Non-Scalloped Tone Bars
BACK: Genuine Mahogany
SIDE: Genuine Mahogany
BINDING: Faux Tortoise
SCALE: 24.9″
NECK: Select Hardwood with Dovetail Joint
NECK SHAPE: Modified Low Oval
NECK FINISH: Satin
FINGERBOARD: Ebony with Abalone dot inlays
FRETS: 20
NECK JOINS BODY AT:14th Fret
NUT TYPE: Bone
NUT WIDTH: 44 mm (1 3/4″)
BRIDGE: Ebony with Compensated Bone saddle
ELECTRONICS: Optional – Fishman Gold Plus Natural I, Fishman Infinity Matrix, Fishman Presys Plus, Fishman Ellipse Matrix Blend, or LR Baggs Anthem
PICKGUARD: Tortoise Pattern
TUNERS: Nickel Open Gear
FINISH: Gloss
PLEKED: Yes
Check price/availability at:
Martin 00-18

$2,799 MSRP, Made in the USA
Standard Series
STRINGS: 6
BODY SIZE: 00-14 Fret
TOP: Sitka Spruce
BRACING PATTERN: X-Brace
BRACE SHAPE: Scalloped
BACK: Genuine Mahogany
SIDE: Genuine Mahogany
BINDING: Faux Tortoise
SCALE: 24.9″
NECK: Select Hardwood with Dovetail Joint
NECK SHAPE: Modified Low Oval
NECK FINISH: Satin
FINGERBOARD: Ebony with Abalone dot inlays
FRETS: 20
NECK JOINS BODY AT:14th Fret
NUT TYPE: Bone
NUT WIDTH: 44 mm (1 3/4″)
BRIDGE: Ebony with Compensated Bone saddle
ELECTRONICS: Optional
PICKGUARD: Tortoise Pattern
TUNERS: Nickel Open Gear
FINISH: Gloss
PLEKED: Yes
Check price/availability at:
Martin 000-18

$2,799 MSRP, Made in the USA
Standard Series
STRINGS: 6
BODY SIZE: 000-14 Fret
TOP: Sitka Spruce
BRACING PATTERN: X-Brace
BRACE SHAPE: Scalloped
BACK: Genuine Mahogany
SIDE: Genuine Mahogany
BINDING: Faux Tortoise
SCALE: 24.9″
NECK: Select Hardwood with Dovetail Joint
NECK SHAPE: Modified Low Oval
NECK FINISH: Satin
FINGERBOARD: Ebony with Abalone dot inlays
FRETS: 20
NECK JOINS BODY AT:14th Fret
NUT TYPE: Bone
NUT WIDTH: 44 mm (1 3/4″)
BRIDGE: Ebony with Compensated Bone saddle
ELECTRONICS: Optional
PICKGUARD: Tortoise Pattern
TUNERS: Nickel Open Gear
FINISH: Gloss
PLEKED: Yes
Check price/availability at:
Martin OM-21

$2,999 MSRP, Made in the USA
Standard Series
STRINGS: 6
BODY SIZE: 000-14 Fret
TOP: Sitka Spruce
BRACING PATTERN: X-Brace
BRACE SHAPE