Last Updated on November 15, 2022 by Chris
Edit: I have now received the amp! Go here now to read the full review!
Note: This post contains affiliate links. If you make a purchase through any of those links, I will get a commission at no extra cost to you. Thanks in advance if you do!
While watching YouTube a few months back, I was shown an advert for a new guitar practice amp; the Positive Grid Spark 40. Positive Grid is a company best known for their guitar software BIAS Amp and BIAS FX, however, they have already ventured into the guitar amp market with the BIAS Head among others. The Spark looked really cool, with many fantastic features, so I decided to pre-order one.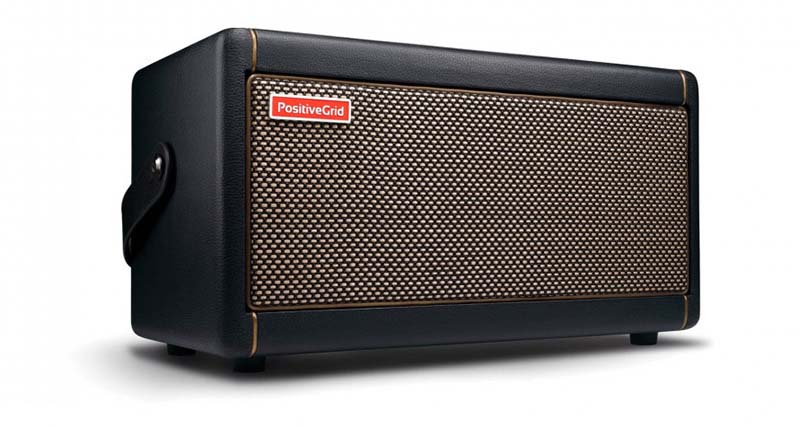 What Is It?
At its core, the Positive Grid Spark 40 is no different from any other guitar amplifier. You plug your electric guitar into it and sound comes out when you play. It has all the usual controls; Gain, Bass, Mid, Treble, and Master Volume. It not only has these but also Amp Type, Modulation, Delay, Reverb, Output Volume, and Music Volume. Music volume being the volume at which you play music being streamed via Bluetooth.
The Spark amp is quite portable at 350mm x 180mm x 190mm (13.78″ x 7.08″ x 7.48″), and weighs 5.2 kg (11.46 lb).
It also comes with a special iOS or Android app, which connects to the amp via Bluetooth. The amp works independently from the app, but by using the app, many extra features are accessible.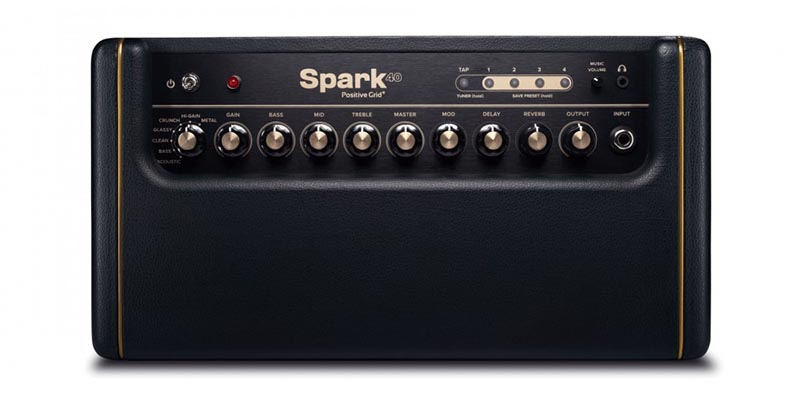 What Features Are Available Via the App?
This amp looks set to be extremely versatile, with some impressive features:
30 Amp Models – Powered by PG's BIAS engine.
40 Effects – Noise Gate, Compressor, Distortion, Modulation, Delay, and Reverb. Powered by PG's BIAS engine.
Smart Jam feature – The Spark app analyses your playing, and then generates bass and drums on the Spark amp based on the chords, rhythm, and tempo you are playing.
Voice control – Ask the Spark to play one of the app's built-in backing tracks for you to play along to.
Access to PG's ToneCloud – 10,000+ electric, acoustic and bass guitar amp and effects.
Auto Chord feature – Stream any songs from Spotify, iTunes, or YouTube and the Spark automatically analyses the songs and displays the chords and chord shapes in real-time as the song plays. Any part of or the whole song can be slowed down and looped in order to learn to play it.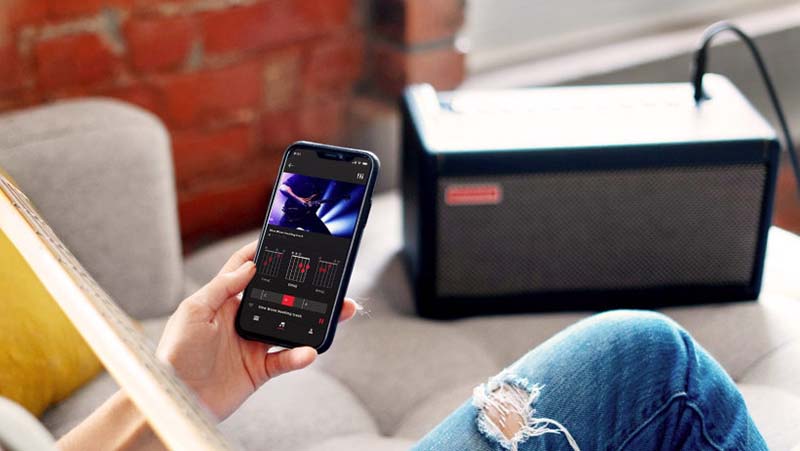 What Features Are Available on the Positive Grid Spark 40?
USB Interface for Recording – Plug the amp straight into your computer via USB to record straight to your DAW – The Spark amp comes with PreSonus Studio One Prime for you to use if you don't already have a DAW.
Built-in tuner.
Built-in metronome.
40W stereo speakers.
Bluetooth audio.
1/4″ Guitar Input, 1/8″ Aux Input, 1/8″ Headphone.
Get SPARK – the smart amp & app with Voice Command, Auto Chords, 10k+ Tones, and Smart Jam technology
Does the Positive Grid Spark 40 Have Any Negatives?
Although this amp has loads of features, there are a few things that some would find negative:
No footswitch control – There is no way at present to switch presets, or amp models without using your hands via the preset buttons or the Spark app.
Not as many amps or effects as some versions of the BIAS software.
It does not currently work with any of the BIAS software, you can only download or save presets via the Spark app.
No line out, only headphone out.
No FX Loop or physical output on the amp.
No desktop editor, iOS, or Android only.
Spark must be plugged in; there is no battery power.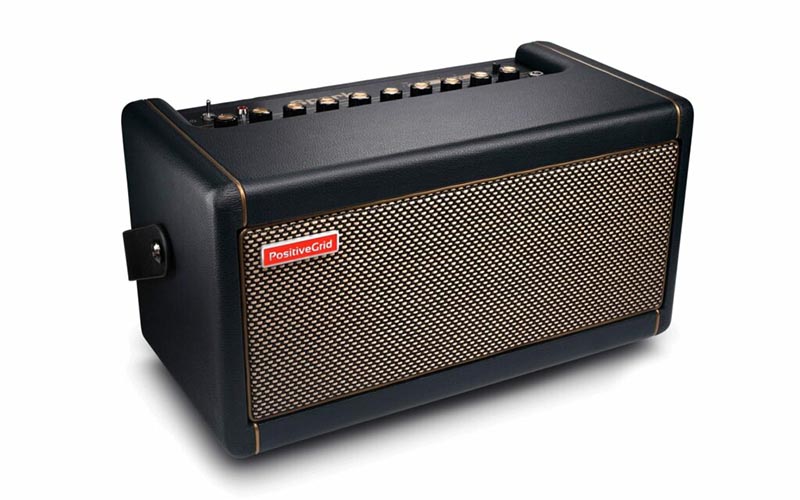 The Pre-Ordering Process
Positive Grid had started pre-orders in three different packages; the Positive Grid Spark 40 on its own, with a carry case, and with a pair of PreSonus HD-9 Headphones. These "Super Early Bird" pre-orders come with a rather large discount off the proposed $299 RRP.
Each of the packages having a massive 40% saving ($179 for the amp on its own, $209 with the bag, and $229 with the headphones), and were in a very limited run of 100 each. After these had sold out, Positive Grid updated their website with a new "Early Bird" price; this time there was a 35% discount off the RRP.
After the Early Birds had sold out, a new price point was set, this time called "Power Supporter", which was the tier at which I paid. I opted for the Spark amp with the Spark bag, which was $244. The Spark is currently available with a 25% discount off the RRP.
I tried to pay with PayPal, but there seemed to be a problem actually paying. I tried a different credit card on my PayPal account, which seemed to work, and I was emailed order confirmation along with my order number. Some Facebook users were also claiming to have problems paying with PayPal.
I had ordered my Positive Grid Spark 40 amp, along with carry case at the beginning of November 2019; from what I can tell, they've been on sale since October or so.
Reaction From Spark Customers
Positive Grid have created an extremely high level of anticipation for this amplifier, and understandably so many people have become really excited to get their hands on one. At the time of writing, almost 17,000 units have been pre-ordered.
Originally, according to the Positive Grid website, the Super Early Birds were due to be delivered in December 2019, as were the Early Bird units. The end of December came and went, and still, nobody had received their Sparks yet. On Facebook, customers started to get annoyed, voicing their dissatisfaction, with some even canceling their orders, branding the Spark amp a scam. There was not much communication from PG, and many customers were asking where their Spark amps were; PG would post a link to send their order numbers, and hopefully find out when their amps were due to be delivered. Many however said that they got no response, so there seems to be a fair number of disgruntled customers…
PG recently (January 10th) emailed an update about the status of the Sparks' production and delivery. The email they sent me is as follows:
"Dear Spark Power Supporter,

We've heard your questions and concerns related to shipping and would like to provide clear and honest communications so you know what to expect. This message is an update related to your Spark order.

We are a few weeks delayed from our original estimated ship dates that are posted on our website (www.positivegrid.com/spark). Why the delay? The response to Spark has gone way beyond what we anticipated for pre-orders. Your overwhelming interest and support of Spark created a unique situation where we had to make major updates to our original production plan. Those changes created a production delay of a few short weeks. We sincerely apologize for the delay and we appreciate your patience. We are confident you will agree that Spark is worth the slight delay after you receive your Spark order.

Our team has been hard at work through the holiday season to ensure Spark units are shipped as quickly as possible. The original shipping estimate for your Spark order was January 2020. We anticipate your Spark order will ship by the end of February.

If you have any questions, please don't hesitate to let us know by writing to us at support@positivegrid.com.

Thanks again for your continued support and excitement about Spark. We can't wait for you to get your hands on your Spark!

– The Spark Team"
For some people, it seems, this is too little too late, and they are still unhappy with how PG has handled it.
Another thing that people are a little unhappy about, is (at the time of writing) the lack of videos online of people demonstrating the Smart Jam feature of the app. Several YouTube channels have been given a Spark to demo; most of them mention the Smart Jam feature, but don't actually use it in the video. There are two or three videos online showing Smart Jam, but it may be that PG might have asked the YouTubers not to demo this feature.
Edit: The amp was demonstrated at NAMM 2020, here is a video from the show illustrating the features of the amp, including Smart Jam:
Get SPARK – the smart amp & app with Voice Command, Auto Chords, 10k+ Tones, and Smart Jam technology
My Thoughts
Huge anticipation has built up over this amplifier, largely due to some really cool features at a very attractive price point and I for one can't wait to get it. However, with delays due to demand and changes to Positive Grid's production plan, many customers are not happy with the way PG has dealt with the pre-order process.
For me, it really doesn't bother me that there is a month or two delay. I have pre-ordered other products before, and sometimes support crowdfunded projects too, and these kinds of delays seem quite common. In fact, I am still waiting for one Kickstarter product, and one on Indigogo!
I guess I'm used to it, so I'm happy to just wait until it arrives. For the price and all the features that this amp has, I really think it'll be worth the wait!
I do think PG could maybe have handled things better; they possibly could have kept their customers in the loop with more frequent updates, instead of waiting until after the time when the first Sparks were due to be delivered had passed. They say that they were delayed by a few weeks, so who knows, maybe they could have let their customers know a few weeks earlier.
I think once Positive Grid have caught up with orders, everything should be fine and people should get their amps fairly quickly.
Regardless of the current delays, there's no doubt that this new amplifier promises to be something special!
You can find more information or order the Positive Grid Spark 40 here.
Edit: I have now received the amp! Go here to read the review!
What do you think of the Positive Grid Spark 40? Let me know in the comments below.
Image Credits: Positive Grid