Last Updated on July 15, 2021 by Chris
Note: For anyone who already has a Positive Grid Spark, it's a good idea to make sure you have the latest firmware.
Positive Grid Spark Amplifier
A few months back, I pre-ordered this new all-singing, all-dancing guitar practice amp; the Positive Grid Spark 40 (to give it its full title). Now that it has arrived, I'm gonna see if I can answer the question… Is this the best guitar practice amp?
From the advertising campaign, this seemed like the best amp ever made! Packed full of features that really captured people's imagination, and seemed to promise all kinds of cool stuff for guitarists and bassists alike. All for less than $300!
You want more than 10,000 guitar tones? You got it!
You want a virtual band that analyzes your playing and then creates bass and drums for you to play along with? You got it!
You want to plug your amp straight into your computer and start recording with nothing more than a USB lead? You got it!
The Positive Grid Spark seems to be able to do it all, and everyone else who had heard about it seems to think the same.
Anyway, I'd first recommend you check out the Spark 40's features. Here's Rabea Massaad's video…
Note: This post contains affiliate links. If you purchase through any of those links, I'll get a commission at no extra cost to you. Thanks so much if you do!
Get $50 Off SPARK Smart Guitar Amp + FREE Carrying Bag with code SPARK20. Ends soon!
Get SPARK – the smart amp & app with Voice Command, Auto Chords, 10k+ Tones, and Smart Jam technology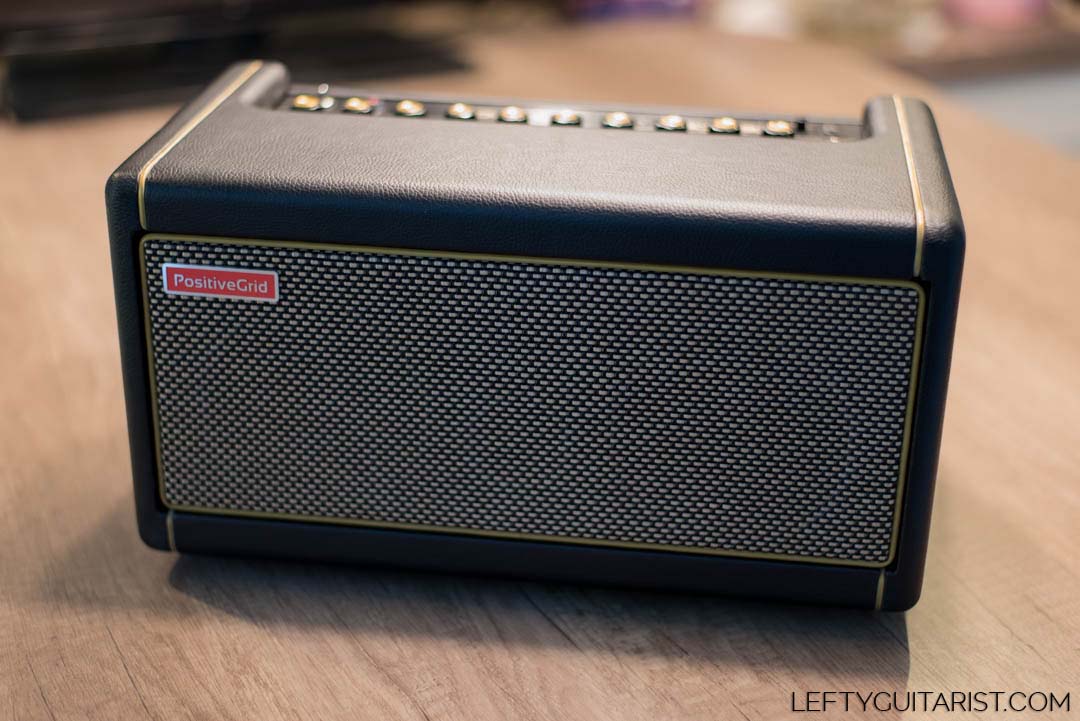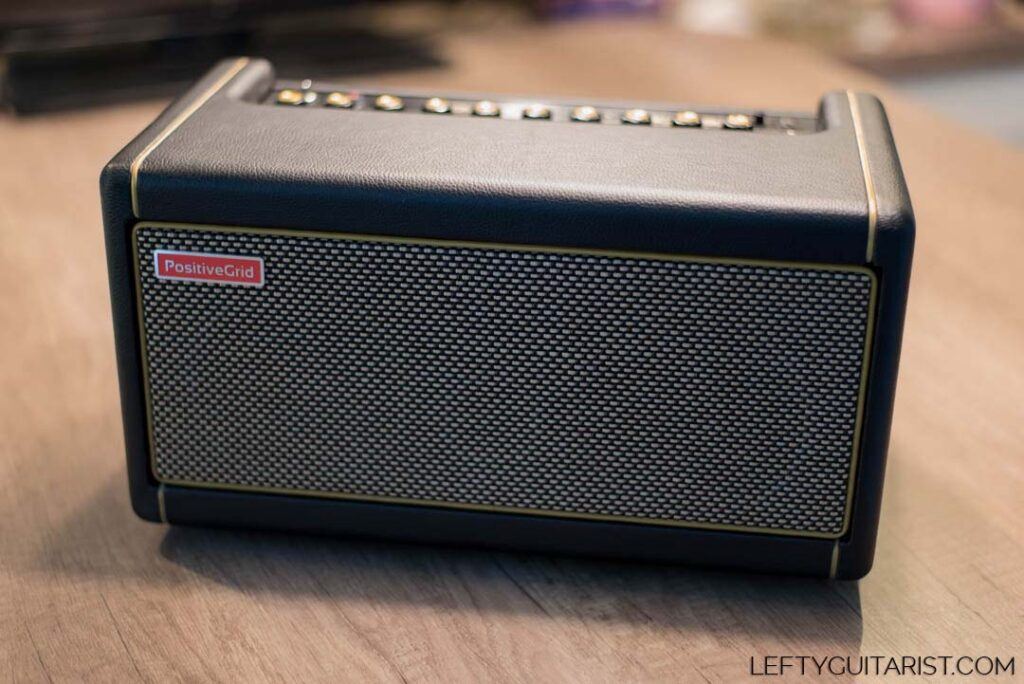 Pre-order Delays
For such a perfect sounding guitar amp, the pre-ordering process wasn't quite as perfect. It was really easy to order, but the whole process was hit by delays. After around four and a half months of waiting, I finally got my Spark 40 smart amplifier from Positive Grid. I ordered it on November 7th, 2019, and it arrived on March 16th, 2020. It was initially due for delivery in January 2020.
Positive Grid says the delays were due to an overwhelming response with pre-orders going through the roof. A lot of people were complaining online, some accusing the Spark of being a scam! It's definitely NOT a scam though, as I actually received my Spark amp, albeit later than I'd hoped! They also said that after 20,000 pre-orders of the Spark amp, there was a shortage of an essential component, and although there was no mention in any of PG's emails sent to me, I'm pretty sure the COVID-19 virus outbreak had also affected production in and delivery from China too.
Once they catch up with the pre-orders, Positive Grid should have no problems with getting people their orders on time.
Update (26 Dec 2020): As far as I'm aware, right now it's taking roughly 10 days to be delivered.
Buying gifts for the guitar player in your life? Or maybe you want to treat yourself. Check this list of the best gifts for guitar players!
So What's In The Box?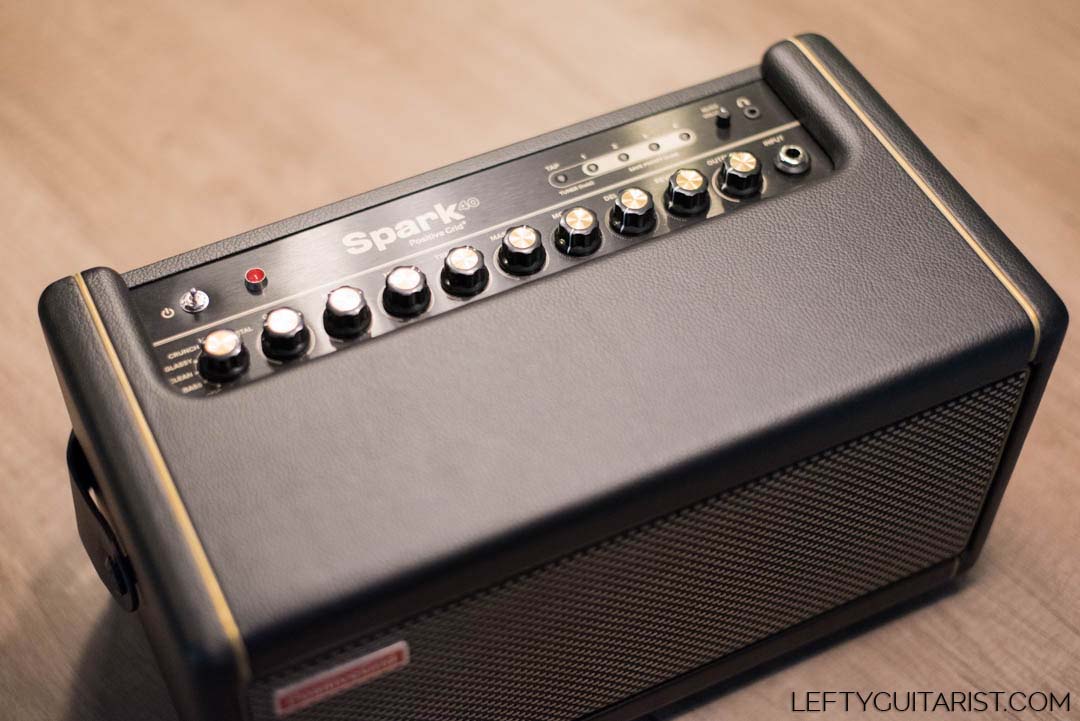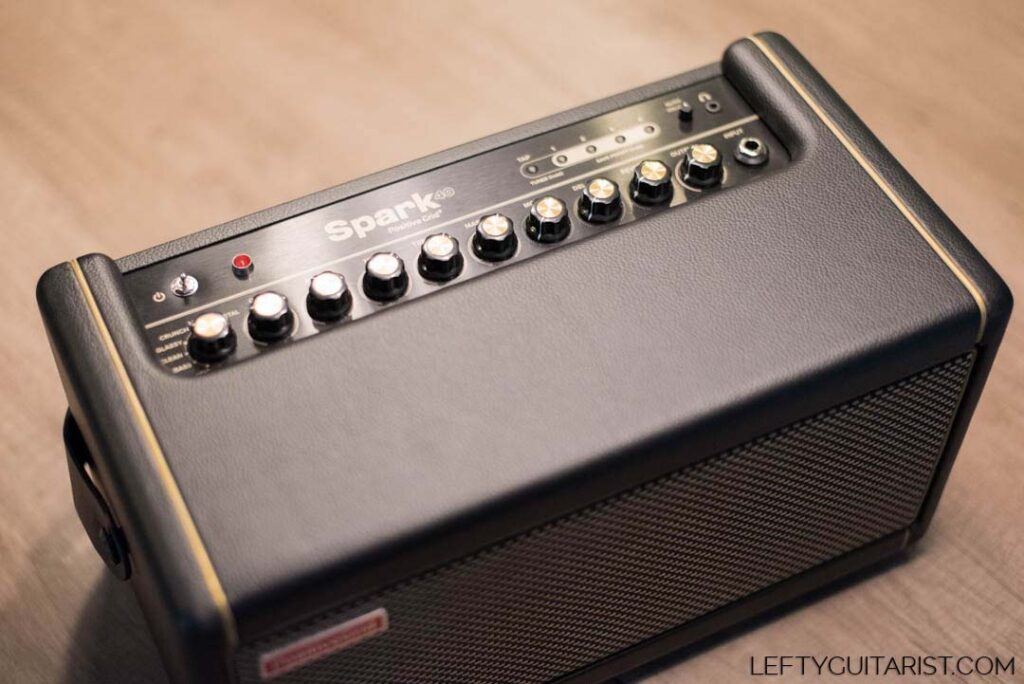 Power Supply and Cable
USB Cable (for recording)
Download Code for PreSonus Studio One Prime
App download on Apple App Store / Google Play
Plug In and Play – Amp Overview
The 40-Watt practice amp is very easy to set up and use straight out of the box. All you need to do is connect the power supply and cable to the back of the amp, plug into a wall socket, plug in your guitar, switch on and you're good to go!
When you first power on, it seems just like any guitar amp – the usual knobs and settings. There's the gain, bass, mid, treble and master controls. There are also mod, delay, and reverb controls too.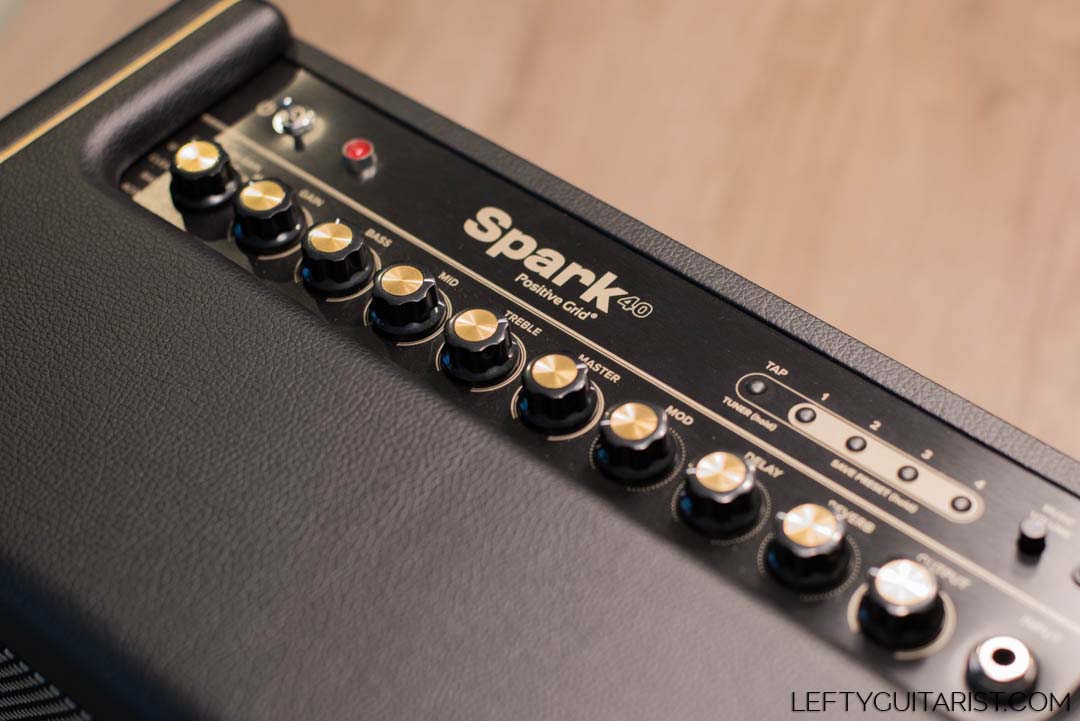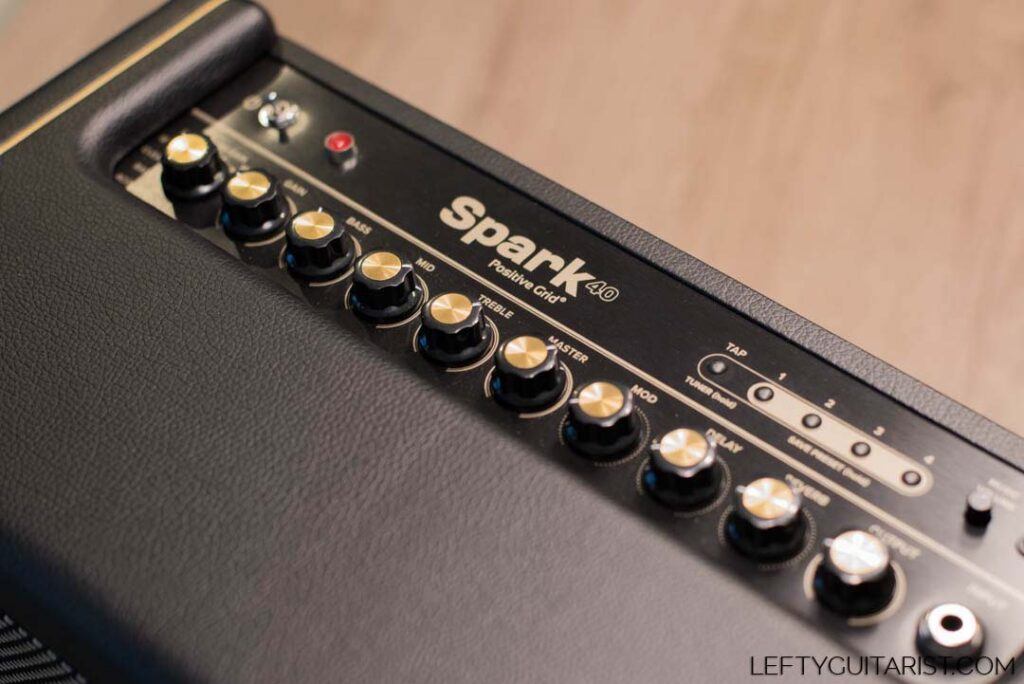 The first knob on the left gives you some preset amp sounds; Acoustic, Bass, Clean, Glassy, Crunch, Hi-Gain, and Metal. You can then further refine these amp sounds with the aforementioned controls.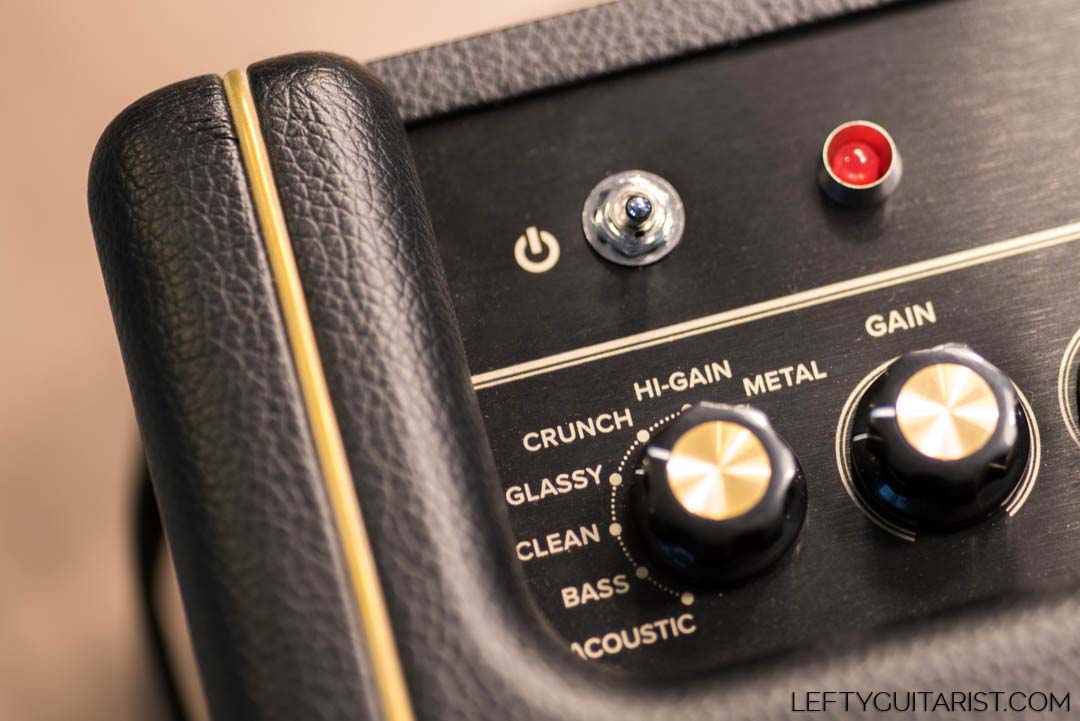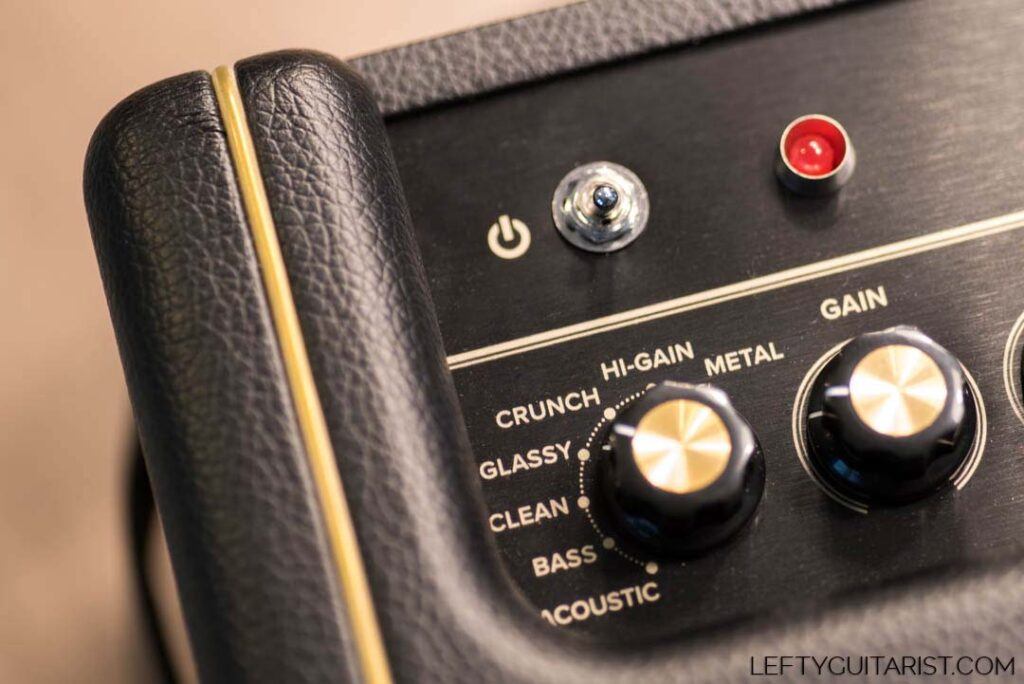 There are also 4 preset amp setups programmed into the four preset memory buttons.
Clean
Crunch
HighGain
Metal
Since the amp was released, some users have found that the amplifier gives off a hum when they switch their amp on. This appears to either be an issue with the Noise Gate, or more commonly a grounding issue, as the power supply provided with the Spark is not grounded.
Personally, I don't seem to have this problem. For your information, I use the UK 3-pin plug with my Spark amp. For those that have had the problem, Positive Grid has been shipping free replacement grounded power supplies to rectify the problem.
Please check out the SparkAmpLovers.com Knowledge Base on how to get rid of the hum.
Built-In Guitar Tuner
The preset buttons also double up as a guitar tuner. To activate the tuner:
Press and hold the "Tap" tempo button. Once you do this, the preset and "Tap" tempo LEDs both switch themselves off.
Pluck the individual strings to get them in tune.

If a string is in tune, the No.2 LED will light green.
If it is flat, No.1 and 2 LEDs will light red. If it's really flat, the "Tap" tempo LED will also light.
If the string is sharp, No.2 and 3 LEDs will light red. If it's really sharp, the No.4 LED will light too

The tuner doesn't tell you what note your strings are tuned to, so you could tune them wrongly, but if you know how to tune them relative to each other, this isn't a problem at all.
To deactivate the guitar tuner, just press the "Tap" tempo button again (for Spark amps with an earlier firmware, you may need to press and hold the "Tap" tempo down for a couple of seconds. If this is the case, you should download the latest firmware).
The amp itself has dual stereo speakers (20W each), which sound pretty loud for their relatively small physical size (4 inches each), and they're very clear sounding too. There is also a 1/8″ headphone socket, which sounds good too, although I guess that depends on how good your headphones are.
All these features make for a pretty versatile amp straight out of the box, but it doesn't end there! The Positive Grid Spark amp pairs with a dedicated app that you can install on your iOS or Android device; phone or tablet.
Get SPARK – the smart amp & app with Voice Command, Auto Chords, 10k+ Tones, and Smart Jam technology
Connecting With The Spark App
For this review, I was using the Android version of the app on a phone using Android 9. I did have access to an iPad too, so I did manage to try some of the functions on iOS too.
Update: I have now updated to a new Android phone running Android 11 and have experienced no problems with the app.
You can download the Spark app for free and use it without the amp. I recommend doing so and having a play around with it if you're interested in buying this amp. Get it on the App Store or Google Play.
Anyway, connecting the Positive Grid Spark amp to the Spark app is very easy:
Switch on the amp and load up the app on your phone or tablet, making sure that Bluetooth on your iOS or Android device is switched on.
Next press the "Connect Hardware" button.
The app should now connect to the amp.
You will then be shown the main screen.
On iPad, I managed to connect easily, however you also need to connect the iPad to the Spark amp as a Bluetooth speaker as well. The iPad I was using didn't always connect, so any audio, such as backing tracks, would only come out of the iPad speakers rather than the Spark amp itself. Hopefully, this bug will be solved with an app update.
When using an iOS device, make sure your Bluetooth is connected to Spark 40 Audio, NOT Spark 40 BTE. If you are connected to Spark 40 BTE, try turning off your Bluetooth and then turning it back on and connecting to Spark 40 Audio.
Even when doing this, some iOS users have reported the same issue. Again make sure you have the latest firmware and app version and hopefully, you shouldn't have any issue.
Buying gifts for the guitar player in your life? Or maybe you want to treat yourself. Check this list of the best gifts for guitar players!
Amps and Effects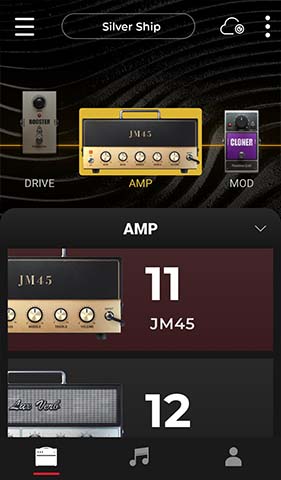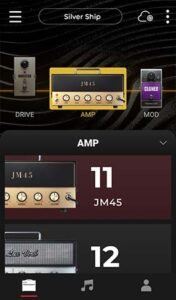 After connecting the app, you'll have loads of new features available to you, that you wouldn't have if you were just using the amp on its own. You can now choose from 30 different amplifier models, including 4 acoustic and 4 bass amps.
Each one is modeled on a well-known amplifier; some of these include the Fender Twin Reverb, Vox AC30, Marshall JTM45, Mesa Boogie Triple Rectifier, among many others. Check out the full list of amps on the Positive Grid website.
You can also choose any of the 40 effects available from a Noise Gate, 5 Compressors, 9 Drives, 10 Modulation, 6 Delays, and 9 Reverbs. Each has its individual controls as you would if you had a physical pedal available. The full list of effects are on the Positive Grid website.
After shaping your tone, you can then save it to one of your four preset buttons if you wish.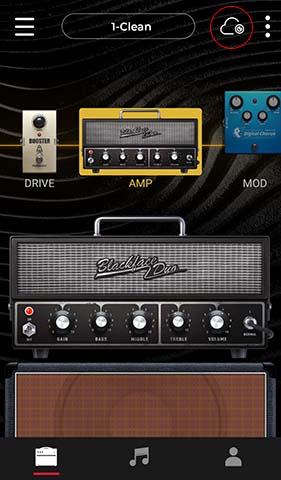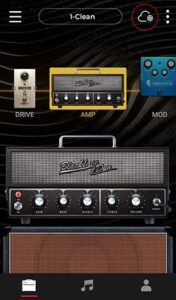 Also on this screen, you can select from 24 built-in presets, and also access Positive Grid's Tone Cloud. You'll need to log into your Positive Grid account to have access to more than 10,000 tones that have been made by famous guitar players and other users of the Tone Cloud.
To access the Tone Cloud, click on the small cloud-shaped icon in the top right corner. If you haven't logged in to the Tone Cloud yet, touch the three horizontal lines in the top-left corner and choose "Log-In".
You can then search for any tone you might be interested in, such as "Slipknot" (there happens to be one Slipknot tone available). Once you have found a tone you like, you can download it to your device or assign it to one of your amp's four preset buttons. Or you could just play without saving it, however, you can't edit the tone if you don't download it.
You can also choose a tone by genre. Underneath the search bar, there are several filters to choose from:
All
Favorite
Pop
Blues
Rock
Metal
Alternative
Bass
Acoustic
This makes it easier to choose a tone if you know the general style you want to play, or aren't looking for a particular guitar tone. If you are, then it's best to use the search bar.
Get SPARK – the smart amp & app with Voice Command, Auto Chords, 10k+ Tones, and Smart Jam technology
Using The "Music" Tab
This section of the app is where you find all the backing tracks available to stream through your Spark amp, and it's also where you'll find the Smart Jam feature.
To find a backing track:
Touch the magnifier icon to type in your search term. For example "12 bar blues in Am" or "pop backing track 120bpm".
You can also search for a particular song, or a backing track for a particular song, for example, "Crazy Train backing track".
Once you have chosen a song, the app will display the chords used within that song, helping you to play along. If the song has never been analyzed before, the app may need a few minutes to check the track before it can display the chords.
Basically, the app just looks for the backing tracks and songs on YouTube, so if it's on YouTube, you'll be able to stream it through your Spark amplifier.
You can control the volume of the backing tracks you play through the Spark amp by adjusting the Bluetooth volume on your device, or by turning the "Music Volume" knob on the amp.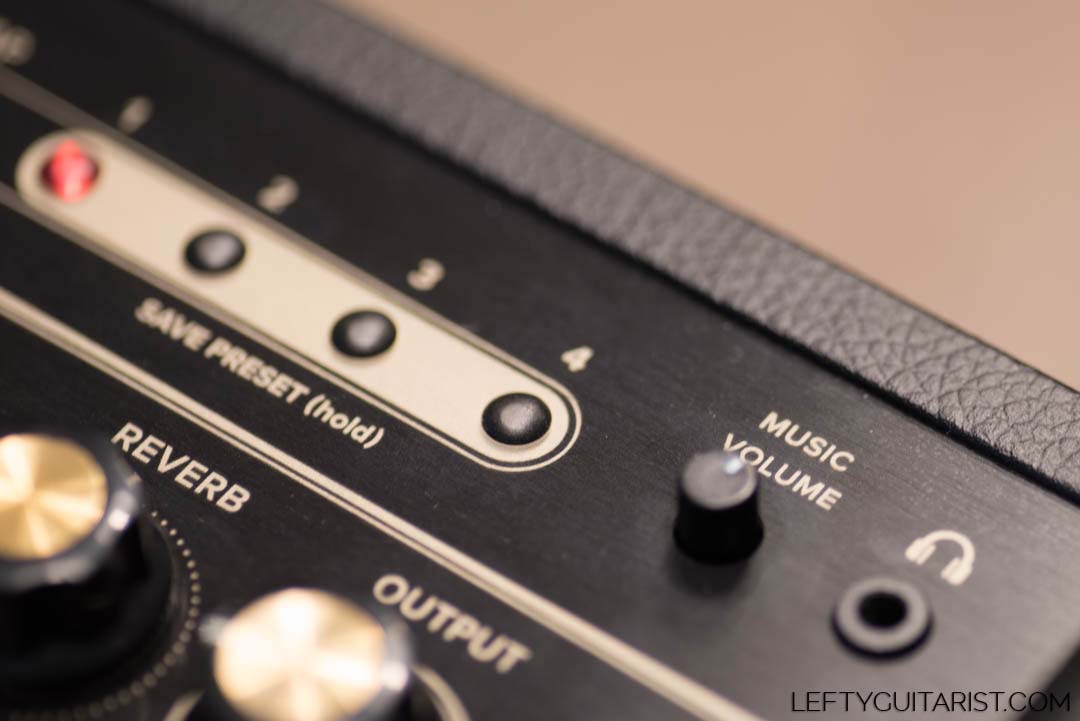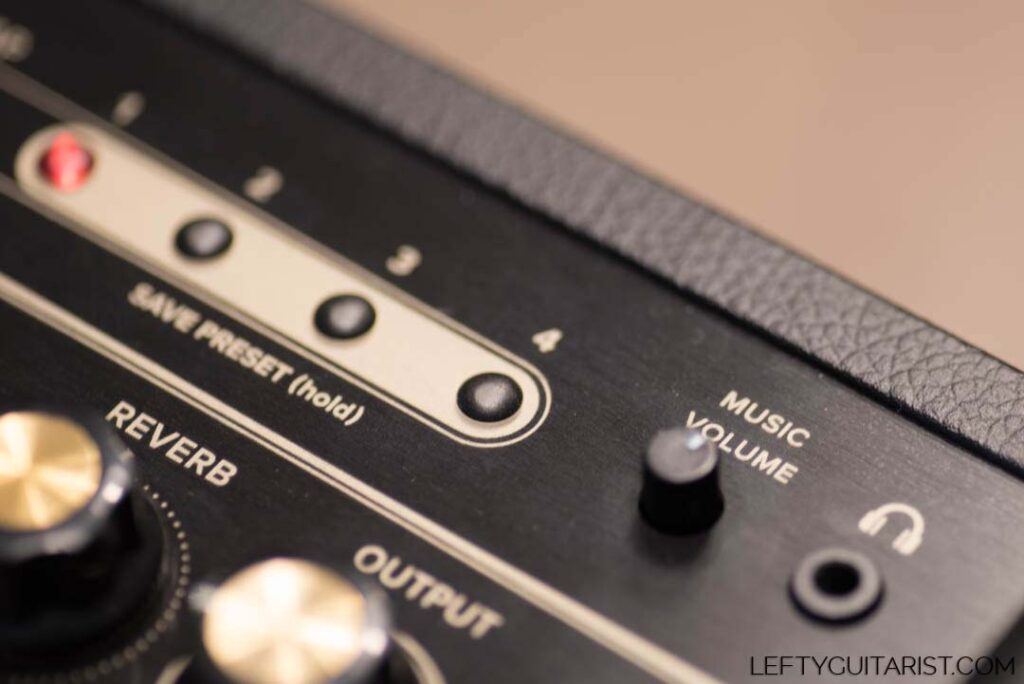 Check out these awesome guitar shirts! Show your lefty guitarist pride with these cool tees!
Using Smart Jam
In the Smart Jam section, there are some YouTube backing tracks available to stream. There are also some pre-generated "Quick Jams"; one each of Pop, Rock, Funk, and Blues. Aside from these, you can also use the Smart Jam function.
Smart Jam is one of the features of the Positive Grid Spark that got a lot of people excited before it launched. The idea is that you would play a short chord progression or a few riffs of your own and the app would then analyze what you played and then create drums and a bassline according to what you played.
To use Smart Jam:
Touch the "+" button to "Create" a Smart Jam.
Choose from one of the preset profiles. At the time of review, only one is available; "Dave". He apparently "Loves Rock & Pop, plays loud and proud, and loves guitarists who plays power chords!"
Touch "Let's Jam"
Touch "Tap" at the tempo you'd like to play and then touch "Start".
Play up to 8 bars on your guitar and wait for the app to analyze your playing. I would recommend you do play power chords as it suggests; Smart Jam seems to recognize them a little better in my opinion.
After a few seconds, the app will generate drums and a bassline to what you just played.
The app will also display the chords of your new Smart Jam, helping you with your playing over the top.
Overall, the Smart Jam feature works quite well, but sometimes I find it doesn't always analyze your playing very accurately. That's why I think it's better to stick to power chords and keep it simple.
I tried playing just two open chords, Em and Gmaj, and Smart Jam only seemed to recognize the G and so created a jam where all the chords were G.
Get SPARK – the smart amp & app with Voice Command, Auto Chords, 10k+ Tones, and Smart Jam technology
Video Recording
There is now also a video recording tab, added late September, which allows guitarists to record themselves, using their mobile device's camera. You can also edit your video clips from within the app itself too.
So now you can record yourself while jamming along to a backing track, or Smart Jam. It even allows you to share your video to social media once you have finished.
Voice Commands
Also in the app, you are able to touch a microphone button in the bottom right of your screen and then give the app a voice command, such as "Play a Blues Backing Track".
If you do use the "Play a blues backing track" voice command, the app only searches for a blues backing track, and waits for you to choose one to play. It doesn't actually automatically play one. Whether this is a good or bad thing is up to you.
"Profile" Tab and Side Menu
The final tab on the app is your Personal Profile, which shows your recently played songs and also songs taken from your Spotify playlists. From the side menu in the app (accessible from the 3 horizontal lines in the top-left of the screen), you can log into your Spotify account and/or Apple Music account and access your playlists to find songs to use as backing tracks.
Touch the Spotify or Apple Music icons to log-in to those accounts and access your playlists.
Any song you choose from those playlists is then added to your Personal Profile, where it can be streamed from YouTube again, rather than Spotify or Apple Music.
The app again auto displays the chords of any song you choose.
Also in the side menu is the option to use the app's built-in metronome. This is fine, but I'd sooner stream a drum beat or backing track.
Recording With Your Positive Grid Spark
The Positive Grid Spark amplifier comes supplied with a USB cable that connects the amp directly to your computer. You are also able to download a free copy of PreSonus Studio One Prime.
I've never done any recording to a computer before, and haven't really used a DAW (Digital Audio Workstation) before either. So I decided to install PreSonus Studio One Prime, as this is the DAW that Positive Grid is bundling with the amp, so you would expect it to definitely be compatible.
I'm not sure how easy it is to get this thing working on a Mac, but I couldn't get it to work on my Windows laptop straight away.
There isn't a lot of documentation about setting up your PC to record with the Spark. I tried just plugging the amp into my laptop via the supplied USB cable, but the PC was unable to recognize the amp as a USB device.
After searching a bit online, I found that you need to install the Spark Windows ASIO driver. After installing this, my laptop recognized the Spark, however, I couldn't get anything recorded within Studio One Prime, as I couldn't set the Spark up as an audio device.
Next, I made sure I updated Windows to the most recent update. I'm not sure if this made any difference, as I still couldn't connect properly.
I then tried using a different USB socket. This time my PC found the amp, but for whatever reason, I still couldn't record anything.
So now what?! Switch off and then restart the Spark amp, that's what! This seemed to do the trick, and I was able to set up the Spark as an audio device within Studio One Prime. I had to make sure the sample rate was set to 48kHz and then everything seemed to work!
Next, to actually start recording within Studio One Prime:
Click on "Create a new Song".
As I'd never used Studio One Prime before, I then chose "Vocal + Guitar"
Change "Sample Rate" to 48kHz.
Click "OK".
Studio One has assigned the Spark to the Vocal Track, so I just deleted the "Guitar" Track and changed the name of the "Vocal" track to "Guitar". I know there'll be a quicker way to do this, but I've never used this software before!
Now just press the "Record" button at the bottom of Studio One Prime, and start playing! Press the "Stop" button to stop recording.
Finally! I'd spent the best part of the afternoon trying to get the thing to work! Hopefully, this will help any of you Windows users to connect your Sparks to your PC, and hopefully, you Mac users don't have any problems anyway.
Pros
You get a whole lotta amp for a pretty cheap price. It's available at a discounted pre-order price at the time of review, but that will go up later. Check the Positive Grid website for the latest price.
Great sounding and versatile amp straight out of the box.
Thirty different amp models, each with many options and controls.
Forty effects, including Drives, Delays, Reverbs, and many others. Again, plenty of control over the sound of each effect.
Amps and Effects are based on Positive Grid's famous BIAS engine, and they sound fantastic!
More than 10,000 downloadable Amp+Effects presets from the Tone Cloud.
Loads of backing tracks and songs by your favorite artists to stream through the app.
Auto Chords feature is handy when improvising over a backing track or song.
Smart Jam feature is pretty good when it works properly.
Handy built-in guitar tuner.
Once set up, being able to plug the amp straight into your computer makes it a handy way to record.
Decent sound just using the amp as a Bluetooth speaker.
Cons
I had problems with the iPad sometimes being unable to connect to the Spark as a Bluetooth speaker, so backing tracks, etc. would only come from the iPad speakers.
Some users complained of humming when turning the amp on. Please check out the Positive Grid Knowledge Base on how to get rid of the hum.
Can't have more than one of the same type of pedal in the effects chain.
You cannot change the order of the effects chain.
Tone Cloud is a little unorganized, however, you can filter by music style. There isn't necessarily a preset for every tone you search for either. For example, searching for "Slash" yields 42 results at the time of writing this review. Some have titles like "paradise city intro slash" or "sweet child" so you have some idea which to try, but some are just called "Slash" or "Guns & Roses", so you will have to try every one until you find the right one.
Auto Chords aren't always that accurate.
Voice commands work okay but don't particularly give you much control.
Downloadable "Studio One Prime" is freely available to download anyway.
Barely any documentation or instructions on how to set up the Spark as a device to record.
A few bugs in the app, which should be ironed out and remedied as updates are released.
Buying gifts for the guitar player in your life? Or maybe you want to treat yourself. Check this list of the best gifts for guitar players!
The Positive Grid Spark Amp Rocks!
It definitely does, but of course, you can also play pop, jazz, blues, funk; whatever you like! You'll definitely be able to find some suitably fantastic sounding tones to play with.
Overall, this new smart amp is amazing! It sounds brilliant, providing some great clean tones and some even nicer distorted ones too. The thing has so many options to shape and fine-tune your sound, or if you prefer to sound like your favorite guitarist, then it's pretty amazing at emulating those too.
You can find many of them on the Tone Cloud, but you may have to wade through a few before you find the one you want.
It's pretty loud for its size, however, you probably couldn't hear yourself over a drummer so I doubt it'd be suitable for live conditions. You might be able to mic it up to be loud enough though…
There is so much stuff packed into the Positive Grid Spark, making it a great learning and practice tool. And above all else, it's fun!
The fact that you can use this amp as an audio interface is a brilliant feature. It may take a beginner a while to set this up properly (on PC anyway), but once it's done, recording is really easy to do.
All this is available at less than $300 (there is a 25% pre-order discount at the time of writing); well worth the money in my opinion.
The Positive Grid Spark was also awarded Best Guitar Amp of NAMM 2020 by both musicradar and Guitar.com.
Despite there being a few bugs in the app, Positive Grid seems to be releasing regular app updates, so these should all get fixed as time goes by. You can also download the latest firmware for the amp itself for more bug fixes (file link is at the bottom of the article).
So is it the best practice amp? All in all, I think so, although I haven't tried many of its competitors, I'd definitely recommend this. It's a fantastic practice and learning tool. Buy yours here!
I hope you enjoyed this review or found it helpful. If you have any questions about the amp or have your own thoughts about it, please leave a comment below.
Summary and Final Score
Positive Grid Spark 40
$249
Pros
Great sounding and versatile amp straight out of the box.
30 amp models and 40 effects, each with many options and controls.
More than 10,000 downloadable Amp+Effects presets from the Tone Cloud.
Smart Jam feature creates bass and drums based on what you play. Works well most of the time.
Able to plug the amp straight into your computer makes it a handy way to record.
Cons
A few bugs in the app, which should be fixed as updates are released.
Some connection issues with iPad.
Tone Cloud is quite unorganized, so finding exactly what you want can be difficult.
Barely any documentation or instructions on how to set up the Spark as a device to record.
Positive Grid Spark Review – Is It The Best Guitar Practice Amp?