Last Updated on October 24, 2022 by Chris
Introduction
Here we have the ESP LTD EC-1000 VB Deluxe! Obviously, mine is a left handed version; one of a wide range of left handed guitars from ESP. ESP is one guitar company that is very lefty-friendly!
I first took note of the EC-1000 around 2010 when I saw a left handed Gold Top model on eBay; it looked fantastic! So I did some research on it and found that it had loads of cool features and seemed to get plenty of positive reviews at the time, so I decided that this was the guitar for me!
So I bid on it a few times, but unfortunately, I didn't win that auction, so I just carried on with my life. Now and then I'd check eBay again for another Gold Top, but never managed to get one. Finding a used left handed Gold Top is quite difficult here in the UK, they're very few and far between.
Eight years later, it appeared on my radar again. This time I'd seen the Vintage Black version and thought that it looked even better than the Gold Top. I loved the matte finish coupled with the gold hardware, and I'd never had a guitar with active pickups before. This time I said to myself "I'm gonna get a brand new one!"
I went online and found out there was one in stock at a guitar store an hour's drive away, so I went and tried it out for a while. I liked it so much, I decided to buy it!
Now I was the proud owner of a brand new left handed ESP LTD EC-1000 VB Deluxe. Just so you know, mine is a 2018 Korean-made model, which I picked up for £739 here in England (approx. US$920). Some of the newer models are now produced in Indonesia as well.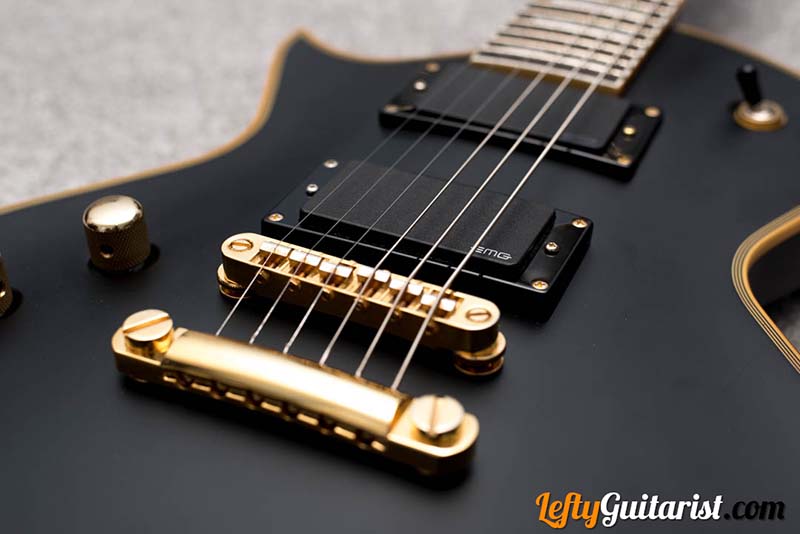 Quality, Value, and a Guitar to Melt Your Friends' Faces Off!
ESP is very highly regarded, especially when it comes to guitars for rock and metal players. The ESP LTD series guitars are basically mass-produced versions of the more expensive, hand-crafted ESP range. This doesn't mean their quality is inferior; far from it! ESP LTD guitars are well-known for being great quality instruments with real value for money.
Please note: Some of the links on this page are affiliate links, which means that at no extra cost to you, I may get a small commission if you buy anything when you click through. If you do make a purchase, then thank you so much! It really helps me keep this website going.
The ESP LTD EC-1000 Deluxe is known for being just that; a fantastic guitar that isn't ridiculously expensive and is used by both hobbyists and professional musicians alike. Notable pro guitarists who have played the LTD EC-1000 include:
As you can probably tell from these bands, the EC-1000 is very popular with guitarists playing stuff like Pop Punk or Metal! So if you love playing modern-sounding heavier music, then the EC-1000's active EMG pickups could be right up your street! That doesn't mean that the EC-1000 doesn't have great sounding clean tones as well; it absolutely does!
The LTD EC-1000 Deluxe is one of ESP's most popular guitars, partly because of its premium feel, and pro-quality features. You get a lot of bang for your buck with this high-end LTD guitar and it looks supremely cool too! Just the thing for the budding guitar hero!
Now, if only I had the skills to back up my guitar hero credentials…
Check price/availability at:
Hmmm… Tell Me More About This Guitar…
OK, I will!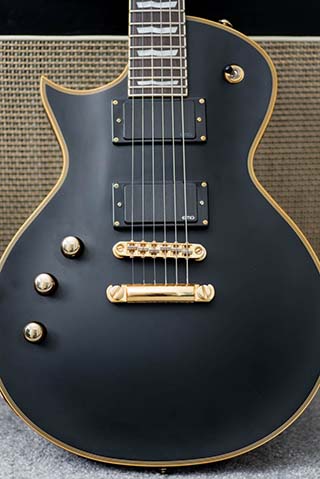 First of all, here are the EC-1000's specs:
STRINGS

: 6

SCALE

: 24.75″

BODY

: Mahogany

BODY FINISH

: Vintage Black

Satin
NECK

: Set-Thru 3-Piece Mahogany

NECK FINISH

: Vintage Black Satin

FINGERBOARD

: Macassar Ebony

FINGERBOARD RADIUS

: 350mm

NUT WIDTH

: 42mm

NUT TYPE

: Molded

FRETS

: 24 Extra Jumbo

HARDWARE COLOR

: Gold

TUNERS

: LTD Locking Tuners

BRIDGE

: Tonepros Locking TOM & Tailpiece

NECK PICKUP

: EMG 60 Active Pickup

BRIDGE PICKUP

: EMG 81 Active Pickup
The EC-1000 is not just available in Vintage Black; there are also a variety of other colors and finishes to choose from, with some amazing-looking guitars.
Also, some of the other available EC-1000 guitars are fitted with Seymour Duncan or Fishman Fluence pickups instead of the EMGs, so if you have a preference between passive or active pickups, you have quite a number of options.
Build Quality and Construction
This being a higher-end guitar in the LTD range, this "Deluxe" model in the EC series certainly feels like a premium guitar. The Vintage Black model's smooth luxurious matte finish feels fantastic and it extends to cover the neck too, so it's incredibly easy to play, your hands never stick to the finish, even if your hands are drenched with sweat!
The neck itself has a thin U profile; it is a three-piece mahogany neck with an ebony fingerboard featuring 24 extra-jumbo frets. On my model at least, there are no rough fret ends and all frets are level – No fret buzz at all; the quality control here is remarkable.
Based on the even more luxurious ESP E-II Eclipse DB, much of that guitar's styling and features are present here in the EC-1000 VB Deluxe, though some of the features have been substituted, and it doesn't come with a hardshell case.
The body is ESP's version of the classic single-cutaway Les Paul shape, though this looks more contemporary with its sharper, more pointed horn, metal knobs, and I'll mention it again, the matte finish! I love the matte finish!
It feels solid, but at the same time, not too heavy (about 7.3lb/3.2kg); probably due to a thinner body than a standard Gibson Les Paul type of guitar, and as far as I'm aware, it's a solid mahogany body with no weight relief/chambering in the body.
Hardware
The feature-packed LTD EC-1000 is chock-full of good stuff, including two active EMG humbuckers; an 81 at the bridge, and a 60 at the neck. Being active pickups, you will need a standard 9-volt battery to power them, which is inserted into a compartment in the back of the guitar. EMG claims that the battery will last for about 1000 hours!
The gold-colored hardware really complements the matte black finish, giving this guitar a touch of class. Firstly, there are the LTD locking tuners, which turn nicely and smoothly and are very easy to use.
Each pickup has its own volume control; there's also a master tone knob for both pickups; all are gold-colored again and are nicely ergonomically placed. There's also a 3-way pickup selector switch in the usual Les Paul position.
The EC-1000 also has a gold TonePros locking tune-o-matic style bridge and tailpiece, which are screwed directly into the guitar body, making your guitar even more rock-solid, providing ample tuning stability and great sustain.
If you buy a pre-2018 EC-1000, then it will likely have an Earvana compensated nut fitted. My 2018 model, unfortunately, didn't have one, so I can't really comment on how well it works. I don't have any problems with the nut it came with though.
At the guitar store, I did try another EC-1000 VB, which was, I think, a 2017 model and I'm pretty sure that did have an Earvana compensated nut. I think I did hear a difference at the time but opted to buy the newer model as I preferred not to have the "EC-1000" badge at the 12th fret, which the older version has.
Check price/availability at:
How Does it Play?
Though the EC-1000's styling is strongly influenced by Gibson's Les Paul, there are a few things that make it feel very different to play. The neck and body are thinner, making it a lot easier to play faster and there are 24 frets, as opposed to Gibson Les Pauls usually having 22 frets, so you can hit even higher notes if you need to.
It's easy enough to reach them, but because this is a single-cutaway guitar, your thumb can't really go past the 17th fret, without going behind the guitar body, making it ever so slightly uncomfortable, but this is something that is present in all single-cutaway designs. To me, it's easier to play than most other single-cutaway guitars that I've played.
As mentioned before, this guitar is fairly light, so playing it for extended periods isn't a chore, and there's also a belly-cut in the back, so it's very comfortable to play as well.
How Does it Sound?
Even though the EC-1000 is styled like a Les Paul, it really doesn't sound like one. As mentioned before, the EC-1000 has active EMG pickups which provide a slightly harsher sound and don't have the warmth of a Gibson Les Paul, but this guitar doesn't really claim to. The EMG 81 at the bridge does, however, sound closer to a classic Les Paul sound.
As it's geared towards players of heavier music, the active EMG pickups provide power and punch! Stick your distortion on and this thing will scream! With loads of high-gain output, the tone that this guitar makes is monstrous!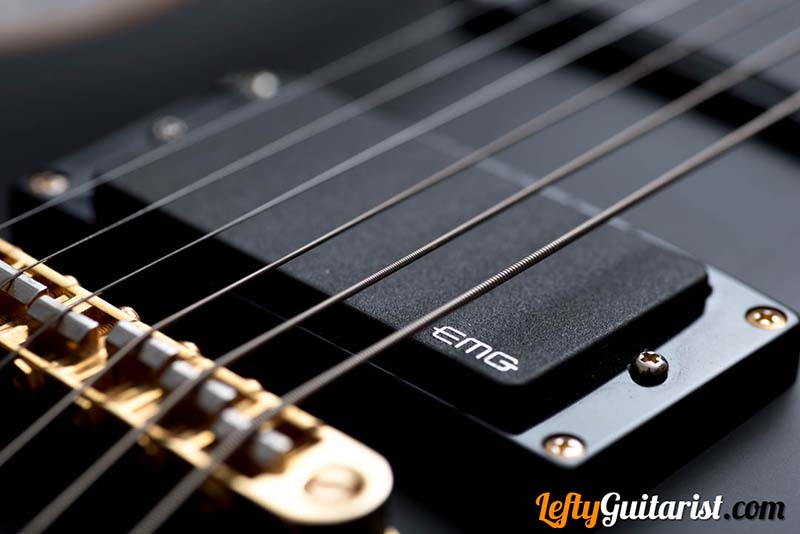 Pinch harmonics are easy to pull off, and because of the way this thing is built, it can certainly take a beating. No matter how hard you play, no matter how much you bend the strings, everything seems to carry on strong and in tune. Fantastic!
When played clean, the EC-1000 offers some very nice, clear, and crisp tones too.
If you're not a fan of the EMGs, there is a Vintage Black EC-1000 Deluxe fitted with Seymour Duncan JB/59 passive pickups, but alas, they're only available in righty configuration! There are, however, other colors and finishes available left handed with the Seymour Duncans, or alternatively Fishman Fluences.
I'm actually more of a fan of passive pickups, but I have to admit, the tone from these EMGs sounds great to my ears!
Check price/availability at:
Who is the LTD EC-1000 Deluxe for?
I'm into playing varying styles of music, and although the EC-1000 is more suited to playing metal and heavy rock, it's a very versatile guitar and still sounds fantastic when it comes to playing classic rock, punk, pop, or even blues too.
As I mentioned before, if you're into your heavy music, then you can't go wrong by getting yourself the ESP LTD EC-1000! If you're into shredding up and down the neck or chugging metal rhythms, the EMG 81/60 pickups sound MASSIVE!
What's Good About the ESP LTD EC-1000 Deluxe?
As you can probably tell, I'm a big fan of this guitar, so there's a lot to love:
Matte finish looks amazingly cool and the gold hardware really complements the overall look.
The high gain output from the EMG 81/60 pickups will blow your socks off!
Great sounding clean tones.
Fast neck and well-balanced construction make it so easy to play.
Excellent build quality; fit and finish is almost flawless.
What's Bad About the ESP LTD EC-1000 Deluxe?
For me, there's very little wrong with this guitar. However, if I have to think of any cons to this guitar, then you may want to bear these in mind:
Matte finish – Dings and greasy fingerprints may easily show up.
You may not like the active EMG pickup sound. Some people find them a little harsh and prefer the more organic, warmer tones of passive pickups in their axe. If that's the case, I'd recommend taking a look at the Seymour Duncan models.
Pre-2018 models had a 42mm Earvana Compensated Nut. This feature is no longer present.
It does not come with a hardshell case.
Other EC-1000 Variants
The ESP LTD EC-1000 Deluxe is not just available in Vintage Black; there are quite a few color options considering these are lefty models.
Some EC-1000s come with the option of passive Seymour Duncan pickups instead of the active EMGs.
Also, some EC-1000s come with the option of active Fishman Fluence pickups.
Is The ESP LTD EC-1000 Deluxe a Badass Guitar?
You bet it is! If you want a high spec electric guitar that's built to have the hell played out of it, I'd definitely recommend an ESP LTD guitar. And if you're gonna buy a left handed LTD guitar, I'd say definitely go for the ESP LTD EC-1000 Deluxe!
It's extremely playable and really comfortable, standing or seated; the sound is immense, especially at high gain and it produces some wonderfully smooth clean tones as well.
If you're after any of these things, I definitely think you should buy one! European guitarists may want to buy from Thomann for free shipping to Europe.
What do you think of the EC-1000? Have you got one or played one? EMGs or Seymour Duncans? Please comment below.
Summary and Final Score
ESP LTD EC-1000 LH Vintage Black
$1049
Pros
Matte finish looks cool, complemented by attractive gold hardware.
Powerful sound, especially high gain.
Great sounding clean tones.
Superb playability; super-fast thin neck and lightweight.
Excellent build quality; fit and finish is almost flawless.
Cons
Matte finish could show dings or greasy fingerprints.
Some find EMG pickups a little harsher sounding than passive pickups.
No longer comes with an Earvana Compensated Nut.
Doesn't come with a hard shell case.