Last Updated on April 19, 2023 by Chris
Please note: As an Amazon Associate I earn from qualifying purchases, so if you decide to buy anything through any of their links, I'll get a commission at no extra cost to you. I may also earn from other links on this page too. If you do make a purchase, then thanks so much!
Eric Gales is an American lefty blues/rock guitarist from Memphis, Tennessee, who's been around, professionally, since the early nineties after the release of his album The Eric Gales Band at the age of 16.
More than thirty years later, in January 2022, he released his album Crown, which was produced by and features Joe Bonamassa.
Read on to find out more about this Blues-Rock master!
Who Is Eric Gales?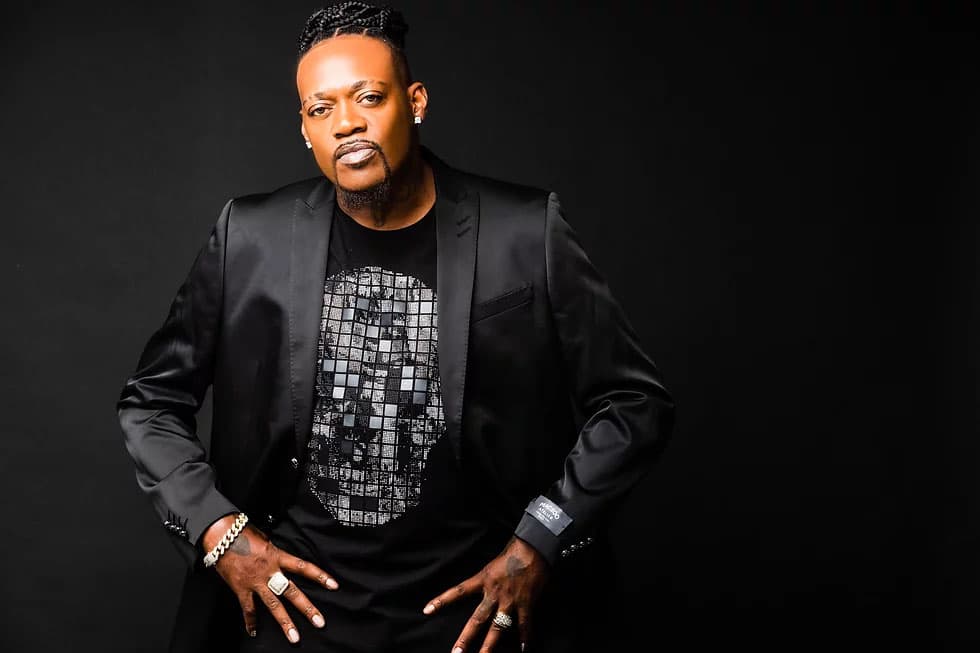 Eric Gales was born October 29, 1974, in Memphis, Tennessee, and at the tender age of four, Gales picked up a guitar and began learning from his two lefty guitar-playing older brothers, Eugene and Emmanuel (Little Jimmy King).
Copying his brothers, Gales plays upside-down right handed guitars, which have not been restrung the left handed way; just like Otis Rush, Albert King, and Dick Dale.
His brothers weren't the only musical members of the family; his mother was the eldest sister to six younger brothers who performed in a gospel group. His grandfather, Dempsey Garrick Sr, who was a minister in the church, used to jam with Howlin' Wolf and Muddy Waters.
As a young touring guitarist, Gales would go to school Monday to Friday, and then go on tour on the weekends and over the summer. He didn't tell anyone at school that he played guitar; he was better known as a drummer, but then after an appearance on the Arsenio Hall show, all of his schoolmates found out his secret!
He released his first record, The Eric Gales Band, when he was 16 years old, on Elektra Records, and was voted Best New Talent in 1991 in the Guitar World Magazine's Reader's Poll.
After his second album on Elektra, Picture of a Thousand Faces, he teamed up with his two lefty guitarist brothers in 1996 for The Gales Bros. Left Hand Brand album.
As he's played many Jimi Hendrix songs on tour, contributed a cover of May This Be Love to a Jimi Hendrix tribute album, and he plays guitar left handed, he's often compared to that most famous of lefty guitarists.
Of course, he is influenced by the man, but also draws inspiration from many other musicians, especially Eric Johnson, Stevie Ray Vaughan, B.B. King, Albert King, and of course his brother Little Jimmy King! His soulful blues-rock style has gained plaudits by many notable artists, including Carlos Santana, Joe Bonamassa, Mark Tremonti, and Dave Navarro.
As well as his music, he's also led a colorful life, having battled with drink and drugs over many years, and even spending time in jail in 2009 for possession of drugs and a weapon. He even started a band while serving his sentence.
He originally got his nickname, Raw Dawg, from how he lived life in the street, but now he says it refers to how raw his playing is today.
In the years since then, Gales managed to get himself clean and truly focus on his music, gaining many positive reviews, and is widely regarded as a guitar legend!
Gales has won the Blues Music Award for "Blues Rock Artist of the Year" two years running in both 2019 and 2020.
What Guitars Does Eric Gales Play?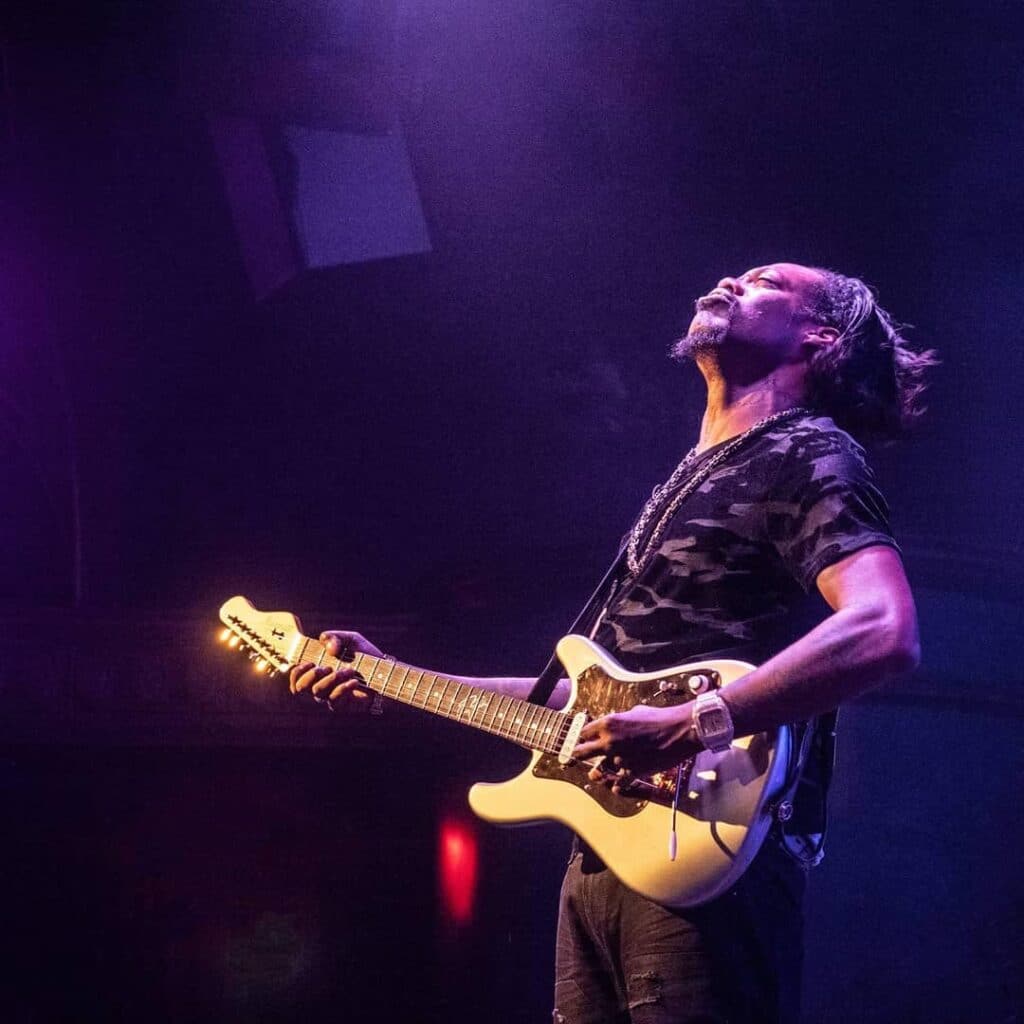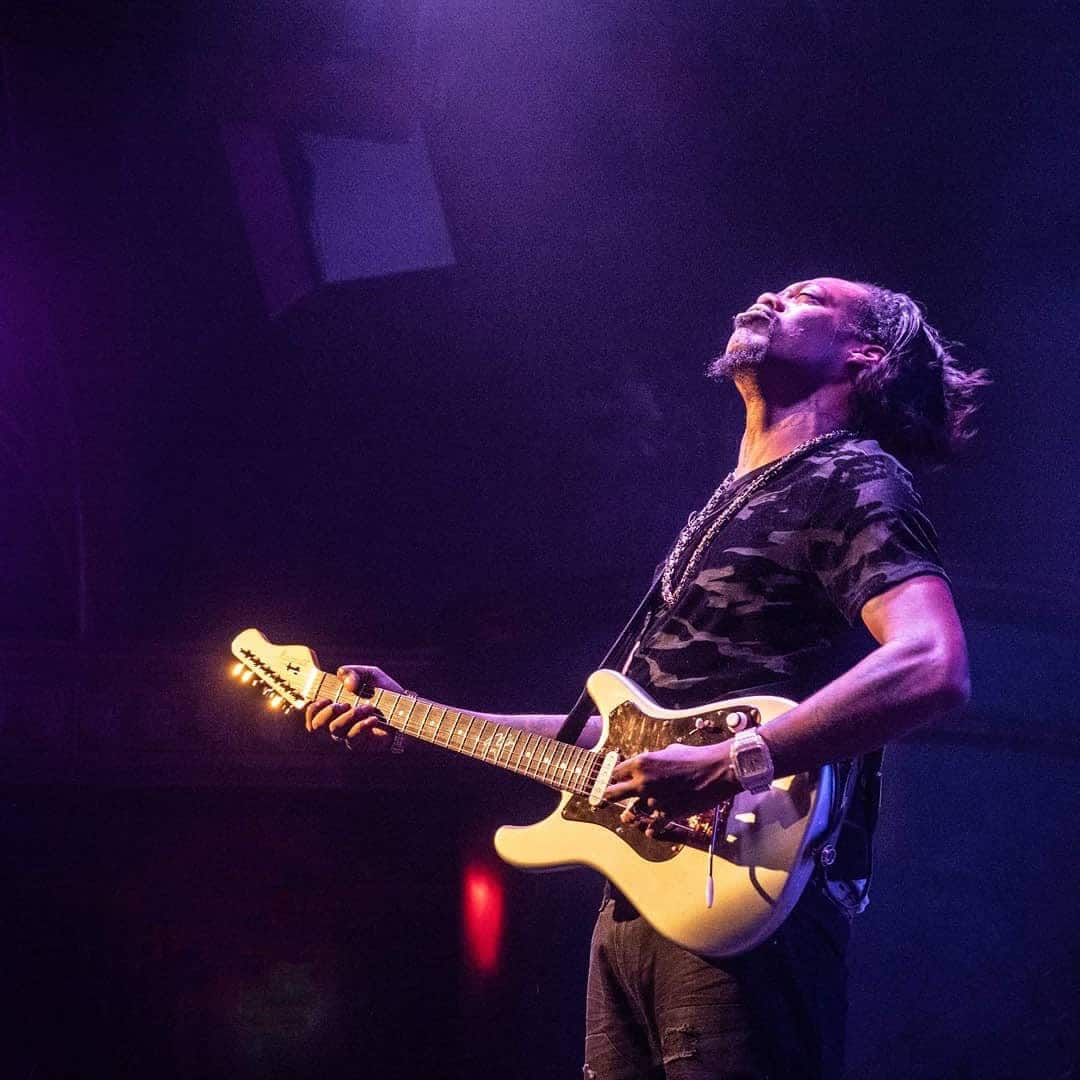 Eric Gales has said that his dream guitar was "just a Strat of any kind", having started playing on a Strat copy. He admitted that Stevie Ray Vaughan was one of the biggest influences on him wanting one, and he got his first Stratocaster around the age of 13.
In the Gales family home when he was growing up, there was also a Hagstrom guitar that everybody played. Whoever got to it first was the one who got to practice!
Most of the time throughout the years, he's often been seen playing Strat-style guitars and has several signature S-type guitars made for him by Magneto Guitars; one of his main guitars being his Magneto Eric Gales Edition Sonnet.
In 2021, Eric Gales collaborated with MXR to develop an overdrive pedal, also called Raw Dawg, based on an Ibanez Tubescreamer, with a few tweaks for a more balanced midrange and a sweet-sounding high gain.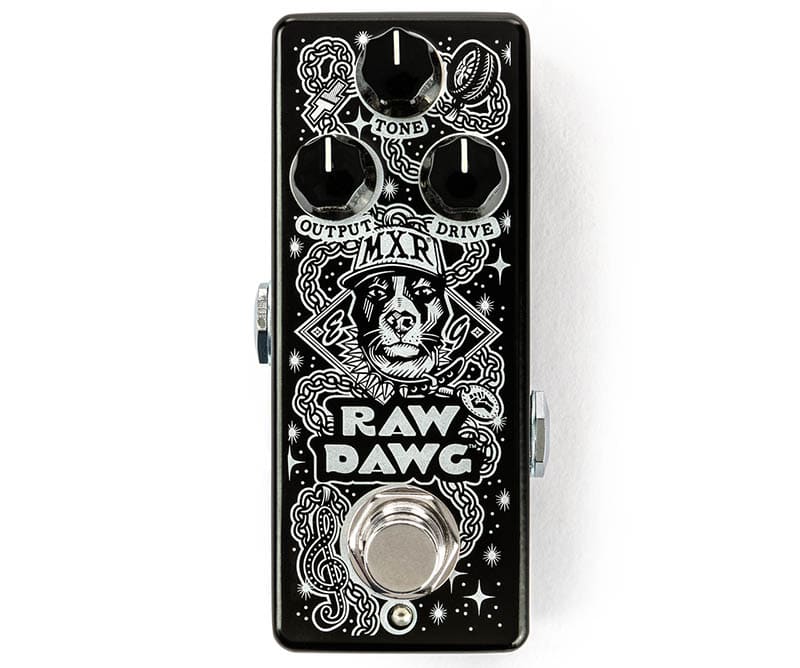 Check the price of the MXR Eric Gales Raw Dawg at:
Is Eric Gales Left Handed?
Fun Fact: Eric Gales is not naturally a left handed person. He plays a left handed guitar because he was taught by his left handed elder brother Emmanuel, professionally known as Little Jimmy King (named after his heroes Jimi Hendrix and Albert King).
He wrote a song about being a lefty guitarist called Southpaw Serenade which featured on his 2019 album The Bookends.
In an interview with Lee Anderton in 2019 on the Andertons Music YouTube channel, Gales talked about the song:
"Southpaw Serenade became to be about, you know, southpaws, as we all know means left handed.

"So the co-writers that I use for this record one is Greg Sain, G-sharp we call him, a longtime friend of the family and he's one of my co-writing partners, and I told him what kind of idea I had, and I wanted to write a song about being left handed and growing up in the world that was not always kind to people that played left handed.

"I tell the story live and, back in the day, it was discouraged to people that played like we do, you know, colleges of music, and I'll leave the names out, but there are some out there that actually told people like me to come back when you learn how to play the right way!

"Imagine that being told to a 9 or 10 year old, and that's the way that they play, and that's how they're comfortable playing. So you know, I think however you play is how you play, and just go forth with it in whatever you do.

"So I said why not? Let's include a good friend of mine, Doyle Bramhall on the record and unless you read in the notes or you actually know his style, there's another left handed player that done quite a bit of the bass work on this record by the name of… he goes by MonoNeon and he is an insanely intense bass player, and he's left handed the same way, so everybody on that track is playing left handed."

Andertons Music Co – June 2019
When asked about whether he's going against his nature by playing a right handed guitar, left handed, and upside down, Gales replied:
"I am, so go figure that one out. To me, it wasn't going against my own nature. Everything about what I do feels natural. That leads me to the question of what makes it natural to me, but to everyone else, it seems wrong?

"Maybe I am doing it right and everyone else is doing it wrong [laughter]. It is just the way I learned to play. It is the first way that I picked it up and it is the way that felt natural to me.

I have tried to play it right handed but I feel like I'm walking on two left feet. That makes me know that even though it is, quote, unquote, wrong…it is right for me.

ClassicRockRevisited.com
In another interview, with Guitar.com, Gales was asked if his unconventional style helps him approach the guitar in a different way than if he played right-handed:
"I wouldn't know!" he exclaims. "I have no way to compare it with how you'd approach things as a right-handed player! I just do what it is that I do and it's unique to everybody else… but to me, it's normal. That said, there definitely is a different approach to how I'm playing compared to people who play right-handed, and that in itself may give me a unique thing in the way that I voice chords or the way that I strum, coming from the top down. But all I know is that it works for me!"

Guitar.com, March 2019
Gales has worked with a number of other lefty guitarists, including dUg Pinnick (Kings X), Doyle Bramhall II, and MonoNeon.
On Tour 2023
May 05 – New Orleans Jazz Festival 2023 – Buy Tickets: Event Tickets Center / SelectATicket.com / SeatGeek
Buy Tickets (May 04 – 4 Day Pass): Event Tickets Center / SelectATicket.com / SeatGeek
May 13 – Buddy Guy Damn Right Farewell Tour, The Corbin Arena, Corbin, KY
Buy Tickets: Event Tickets Center / SelectATicket.com / SeatGeek
May 16 – Elevation 27 Virginia Beach, VA
Buy Tickets: Event Tickets Center / SelectATicket.com / SeatGeek
May 17 – Sixth & I Historic Synagogue, Washington, DC
Buy Tickets: Event Tickets Center / SelectATicket.com / SeatGeek
May 18 – Baltimore Soundstage Baltimore, MD
Buy Tickets: Event Tickets Center / SelectATicket.com / SeatGeek
May 20 – Off The Rails, Worcester, MA
Buy Tickets: Off The Rails Worcester
Jun 07 – Kenny Wayne Shepherd, Backroads Blues Festival, Rose Music Center at The Heights, Huber Heights, OH
Buy Tickets: Event Tickets Center / SelectATicket.com / SeatGeek
Jun 08 – The Kent Stage, Kent, OH
Buy Tickets: Event Tickets Center / SelectATicket.com / SeatGeek
Jun 09 – Old National Centre, Indianapolis, IN
Buy Tickets: Event Tickets Center / SelectATicket.com / SeatGeek
Jun 10 – Manchester Music Hall, Lexington, KY
Buy Tickets: Event Tickets Center / SelectATicket.com / SeatGeek
Jun 11 – Headliners Music Hall, Louisville, KY
Buy Tickets: Headliners Music Hall
Jun 16 – Charleston Music Hall, Charleston, SC
Buy Tickets: Event Tickets Center / SelectATicket.com / SeatGeek
Jun 18 – Salvage Station, Asheville, NC
Buy Tickets: Event Tickets Center / SelectATicket.com / SeatGeek
Jun 21 – Katharine Hepburn Cultural Old Saybrook, CT
Buy Tickets: Katharine Hepburn Cultural Arts Center
Jun 23 – Tupelo Music Hall, Derry, NH
Buy Tickets: Tupelo Music Hall
Jun 24 – Center for the Arts of Homer, Homer, NY
Buy Tickets: Eventbrite
Jun 25 – Babeville, Buffalo, NY
Buy Tickets: Event Tickets Center / SelectATicket.com / SeatGeek
Jul 29 – Charles Bender Performing Arts Center, Humble, TX
Buy Tickets: Charles Bender Performing Arts Center
Aug 01 – Musical Instrument Museum, Music Theater, Phoenix, AZ
Buy Tickets: Event Tickets Center / SelectATicket.com / SeatGeek
Aug 02 – Coach House Concert Hall, San Juan Capistrano, CA
Buy Tickets: Event Tickets Center / SelectATicket.com / SeatGeek
Aug 04 – Buddy Guy Damn Right Farewell Tour, Green Music Center, Rohnert Park, CA
Buy Tickets: Event Tickets Center / SelectATicket.com / SeatGeek
Aug 10 – Buddy Guy Damn Right Farewell Tour, Paramount Theatre, Seattle, WA
Buy Tickets: Event Tickets Center / SelectATicket.com / SeatGeek
Aug 12 – Kenny Wayne Shepherd, Yaamava' Theater, Highland, CA
Buy Tickets: Event Tickets Center / SelectATicket.com / SeatGeek
Europe
Jun 02 – Rory Gallagher International Festival 2023, Ballyshannon, Ireland
Buy Tickets: Rory Gallagher Festival
Jul 20 – Guitare en Scene, Stade Des Burgondes, Saint-julien-en-genevois, France
Buy Tickets: Guitare en Scene
For more info on Eric Gales, visit his Official Website.
Image credits: ericgales.com, Eric Gales Official Facebook