Last Updated on September 15, 2023 by Chris
Guild guitars are known for their playability and rich tone, but are they known for a good range of left handed guitars? Let's find out below.
Go straight to the left handed Guild guitars.
Guild guitars have been used by many famous guitarists and bassists throughout the decades, including Muddy Waters, Buddy Guy, Eric Clapton, Brian May, Jerry Garcia, Jeff Buckley, Billie Joe Armstrong (Green Day), Dan Auerbach (The Black Keys), Jerry Cantrell (Alice In Chains), John Mayer, and many more.
Who Are Guild Guitars?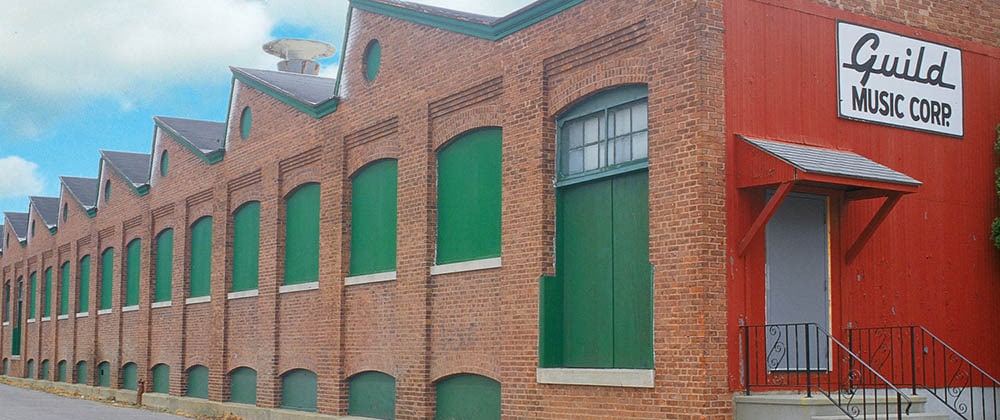 The Guild Guitar Company was founded in 1952 by guitarist and music shop owner Alfred Dronge, and ex-Vice President of Epiphone, George Mann in New York City.
Dronge, a huge fan of jazz music, decided to concentrate on producing full-depth hollow body electric guitars in the first year. Over the next few years, Guild went on to produce flattops, and then acoustic archtops.
Production was moved from New York City to Hoboken, New Jersey in 1956. At this time, they hired Bob Bromberg (general/plant manager), Gilbert Diaz (final assembly), and Carlo Greco (luthier), who were responsible for Guild's huge growth in the sixties.
In the same year, Guild had their first artist collaboration with jazz guitarist Johnny Smith, releasing the Johnny Smith Award model.
Throughout the 1960s, Guild released several models, including the popular Starfire models, the Thunderbird, S-100 Polara, as well as Guild's first 12-string and bass guitars.
Famed artists such as Buddy Guy, Muddy Waters, Bonnie Raitt, and Richie Havens begin using their instruments. Guild also developed more signature models for artists including Bert Weedon and Duane Eddy.
Tragedy struck in 1972 when Guild founder Al Dronge was killed in a plane crash, marking the end of an era. The company appointed Leon Tell as president in 1973.
Guild produced many new models in the '70s, from solid-body guitars and basses to designing the first dreadnought guitar with a cutaway; the D-40C, as well as the first 12-string dreadnought guitars.
The rise in popularity of hard rock and heavy metal in the eighties saw many guitar companies introducing guitars and basses with higher performance features suited to this style. Guild was one of those companies, releasing its X-82 Starfighter, S-80 Flyer, X-79 Skyhawk, SB-66E Bladerunner models, and the SB Pilot basses.
Throughout the nineties, a number of notable high-profile artists play Guild instruments, including Stevie Ray Vaughan, Slash (Guns N' Roses, Velvet Revolver), Brian May (Queen), Kim Thayil (Soundgarden), and John Rzeznik (Goo Goo Dolls).
In 1995, the Guild brand was purchased by Fender Instruments Corporation.
At various times throughout the 2000s, Guild moved their production, from Westerly, Rhode Island to Corona, California in 2001, and then again to Tacoma, Washington in 2004, at which point Guild stopped making US-made electric guitars. A few years later, production moved again; this time to New Hartford, Connecticut.
At this point, Guild guitars continued to be used by a number of famous musicians, including Tom Petty and Sheryl Crow.
By 2013, Guild celebrated their 60th anniversary by opening the Guild Custom Shop, as well as releasing a 60 guitar limited run of their 60th Anniversary model. They also unveiled the Newark Street Collection, which re-released classic models from the '50s and '60s.
The following year, Cordoba Music Group purchased the Guild company from Fender, with the production of USA-made Guilds returning, and moving to Oxnard, California. Luthier Ren Ferguson, who had previously been leading the Gibson Acoustic shop in Bozeman, Montana, signed as Vice President of Research & Development.
Over the last few years, Guild has continued to release quality guitars and basses, cementing their reputation as a premium guitar brand.
What Do I Think of Guild Guitars?

Being only a part-time acoustic player, I haven't had the pleasure of playing a Guild acoustic guitar, but I know they have a reputation for making great quality acoustic guitars with fantastic tone and build quality. They are definitely a brand I would want to check out when I shop for a new acoustic guitar.
Guild are perhaps less well known for their electric models but have still built up a reputation for quality. I do love the look of the semi-hollow Starfire models, and they also have a few other semi-hollow, hollow, and solid body models, some of which are based on some classic guitar designs.
I look forward to trying them in the future!
Different Types of Guild Guitars

Acoustic Guitars:
Guild USA – The building a new state-of-the-art factory in Southern California in 2014 saw the return of USA-made Guild guitars, handcrafted by world-class luthiers. These guitars revisit classic Guild designs, using innovatiion and modern technology.
Westerly Collection – This range of guitars pays homage to Guild's early history; the Westerly, Rhode Island era (1960s to 1990s) renowned for exceptional craftsmanship and quality, using the finest materials and classic Guild designs.
Electric Guitars:
Newark St. Collection – This collection marked the return of some classic Guild electric guitars from the 1950s and '60s.
Bass Guitars:
Westerly Collection Basses – Acoustic basses inspired by Guild's Westerly, Rhode Island era bass guitars (1960s to 1990s).
Newark St. Collection Basses – Some classic Guild electric basses from the 1950s and '60s return to Guild's range of bass guitars.
Left Handed Guild Guitars
Left Handed Guild Acoustic Guitars
Across the current range, there is one left handed Guild acoustic guitar.
Guild D-240E LH

MSRP $439, Made in China
The Guild D-240E LH is known for its robust, deep bass and full midrange. Ideal for strumming and fingerpicking, they deliver a well-rounded, vibrant sound.
This is an ideal guitar if you're looking for volume and projection. Its large body size makes it excellent for live performances.
It's a versatile guitar and can play across many genres; folk, country, rock, and more. Whether you're strumming chords or picking melodies, this guitar can handle it.
Specs:
STRINGS: 6
SHAPE: Dreadnought
TOP: Solid Sitka Spruce
BRACING: Scalloped X
SIDES: Mahogany
BACK: Mahogany
SCALE: 25 1/2″ (648 mm)
NECK: Mahogany with Dual Action Truss Rod
NECK PROFILE: C Shape
FINGERBOARD: Pau Ferro with Mother-Of-Pearl Dot inlays
RADIUS: 16″ (406 mm)
FRETS: 20
NUT TYPE: Bone
NUT WIDTH: 1 11/16″ (43 mm)
BRIDGE: Pau Ferro with Compensated Bone Saddle
ELECTRONICS: Guild/Fishman GT-1 with Volume and Tone controls
ROSETTE: Mother-Of-Pearl / ABS
PICKGUARD: Tortoiseshell
HARDWARE COLOR: Nickel
TUNERS: Guild GBB1 Butterbean Tuning Machines 16:1 Nickel
FINISH: Natural, Satin Polyurethane
Check price/availability at:
Guild M-120L

MSRP $699, Made in China
The Guild M-120L produces a well-balanced tone with pronounced mid-range frequencies, making it ideal for fingerstyle and intricate picking patterns.
The smaller body size makes it easier to hold and play; particularly beneficial for smaller players or those with a shorter reach. It's also easier to transport, whether you're busking in the city or traveling cross-country.
It responds well to a wide range of playing dynamics; whether you're strumming softly or picking aggressively, the Guild M-120L's responsiveness will suit varied styles, as well as offering a more focused and intimate sound – great for solo performances or nuanced recording sessions.
Specs:
STRINGS: 6
SHAPE: M – Concert
TOP: Solid African Mahogany
BRACING: OX Bracing
SIDES: Solid African Mahogany
BACK: Solid African Mahogany
SCALE: 24 3/4″ (629 mm)
NECK: African Mahogany with Dual Action Truss Rod
NECK PROFILE: C Shape
FINGERBOARD: Rosewood with Mother-Of-Pearl Dot inlays
RADIUS: 16″ (406 mm)
FRETS: 20
NUT TYPE: Bone
NUT WIDTH: 1 3/4″ (44.5 mm)
BRIDGE: Rosewood with Bone Saddle
ELECTRONICS: None
ROSETTE: Two Ring, Mother-of-Pearl
PICKGUARD: Tortoiseshell
HARDWARE COLOR: Nickel
TUNERS: Guild Vintage 18 Open Gear Tuners
FINISH: Natural, Gloss Polyurethane
Check price/availability at:
Left Handed Guild Electric Guitars
At the time of writing, there are no left handed Guild electric guitars from the current range. Hopefully, there will be in future years.
Left Handed Guild Bass Guitars
Across the current range, there is one left handed Guild bass guitar.
Guild Starfire I Bass Lefty

MSRP $669, Made in USA
The Guild Starfire I bass is a looker with its retro, semi-hollow design; it immediately grabs attention.
Sound-wise, it's versatile – you can jump from jazz to rock easily. Plus, it's also comfortable to play thanks to its lighter, thinner build.
Not only that, its mid-range price makes this a great pick whether you're just starting out or you've been jamming for years. All in all, it's a solid choice if you're after something a bit different.
In short, the Guild Starfire I bass offers a perfect blend of vintage aesthetics, tonal versatility, and playability, making it a sound investment for bassists looking for something a bit different.
Specs:
STRINGS: 4
TOP: Arched Mahogany
SIDES: Mahogany
BACK: Arched Mahogany
BODY: Semi-hollow
TOP BINDING: Ivory ABS
BODY BINDING: Ivory
SCALE: 30 3/4″ (781mm)
NECK: Mahogany with Dual Action Truss Rod
NECK PROFILE: Modern Thin U
FINGERBOARD: Indian Rosewood with Pearloid Dot inlays
RADIUS: 12.5″ (320mm)
FRETS: 21 Narrow Tall
NUT TYPE: Composite
NUT WIDTH: 1 1/2″ (38mm)
BRIDGE: Guild Bass Tune-O-Matic with Guild Bass Harp Tailpiece
PICKUP: Guild BC-1 BiCoil
CONTROLS: Master Volume and Tone with Push/Pull "Vintage" Switch
HARDWARE COLOR: Nickel
TUNERS: Guild Vintage Style Bass Tuners
FINISH: Cherry Red
Check price/availability at:
Final Thoughts
Just three guitars from Guild at the time of writing; two lefty acoustics and one lefty electric bass. It's a shame there aren't any left handed electric guitars from Guild at the moment, but at least there's something for left handed acoustic players and bassists.
I'd love it if any of the Starfire models or the X-175 Manhattan Special were available in a left handed option. I guess we'll have to wait…
Do you have any left handed Guild guitars? Let us know your experiences with Guild guitars in the comments below.
Image credits: guildguitars.com